Nature & Outdoor Activities · Culture & Traditions · Myths, Secrets & Legends

Four friends from Germany decided to spend active holidays in Bulgaria.
The call
Stanislas contacted us on time – we had booked a time slot on the website – by making a group video call on WhatsApp. It was very convenient as the four of us could participate simultaneously. He asked us several relevant questions about our needs and interests. Within half an hour, we built together our own trip tailored to our preferences.
We were looking for active holidays, including thrilling outdoor activities.
Stanislas presented a few ideas of possible activities suitable for our fitness level. They included hiking in beautiful mountains and amid pyramids and caving. He also suggested that we try out rafting and paragliding – a first for each of us. Both activities seemed thrilling and exactly in line with our expectations. In addition, he recommended more relaxing activities such as wine tasting and an escape game (in English, of course!).
Renting a car was essential in our case, all the more so as Stanislas confirmed that public transportation was limited and far from ideal for a road trip in Bulgaria.
We wanted to stay in comfortable hotels or guest houses of good quality. We requested two rooms that we could share.
The reservation
Stanislas emailed us a detailed description of our tailor-made holidays and a quotation the following week. It included all the elements we discussed and agreed upon during our call. He also provided us with useful advice to purchase our flight tickets.
As a result, we approved and signed the quotation electronically and paid a deposit. As soon as we booked our flight tickets, we forwarded the details to Stanislas so that he could arrange a smooth transfer from the airport. We were looking forward to our active holidays in Bulgaria!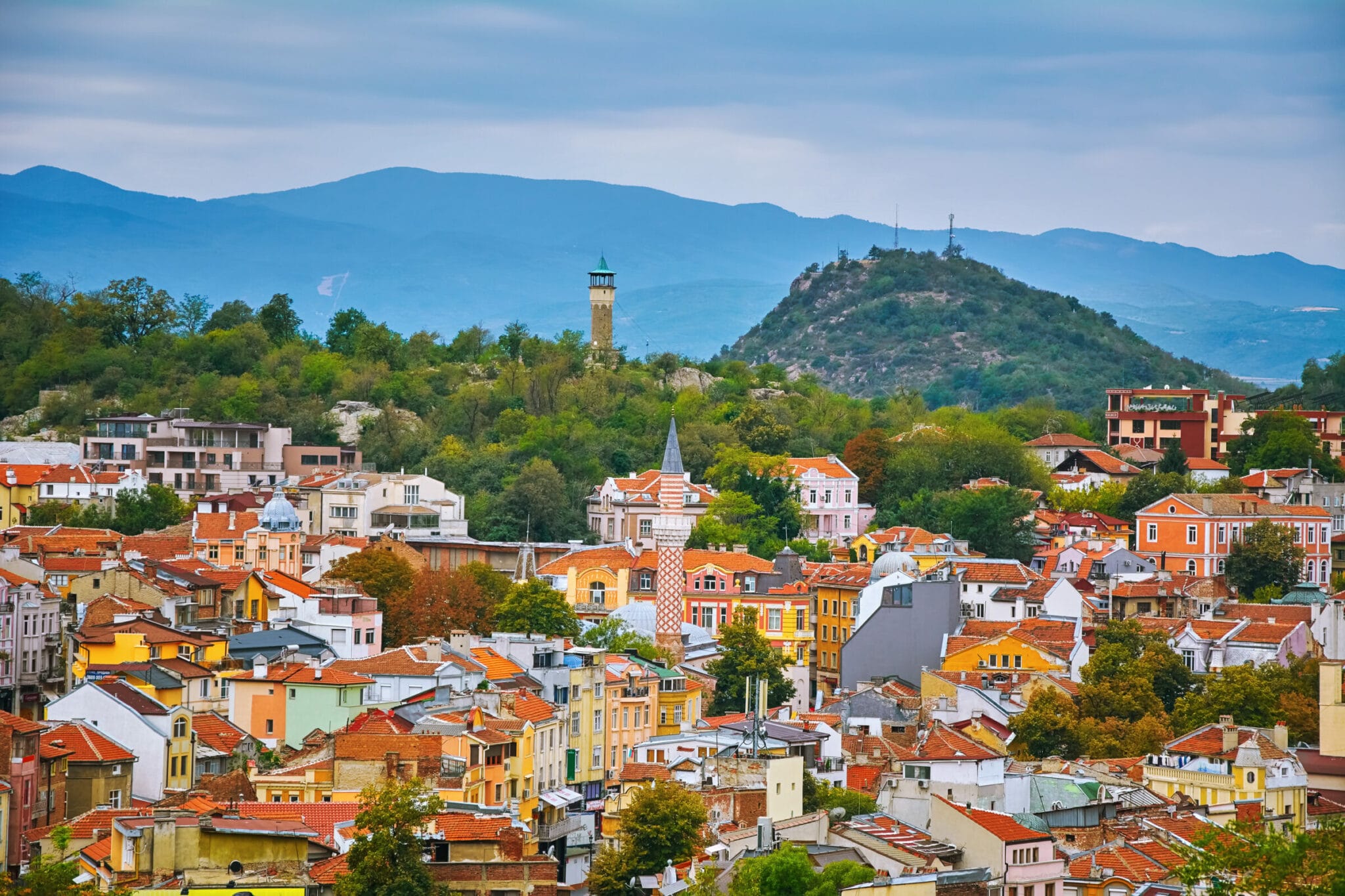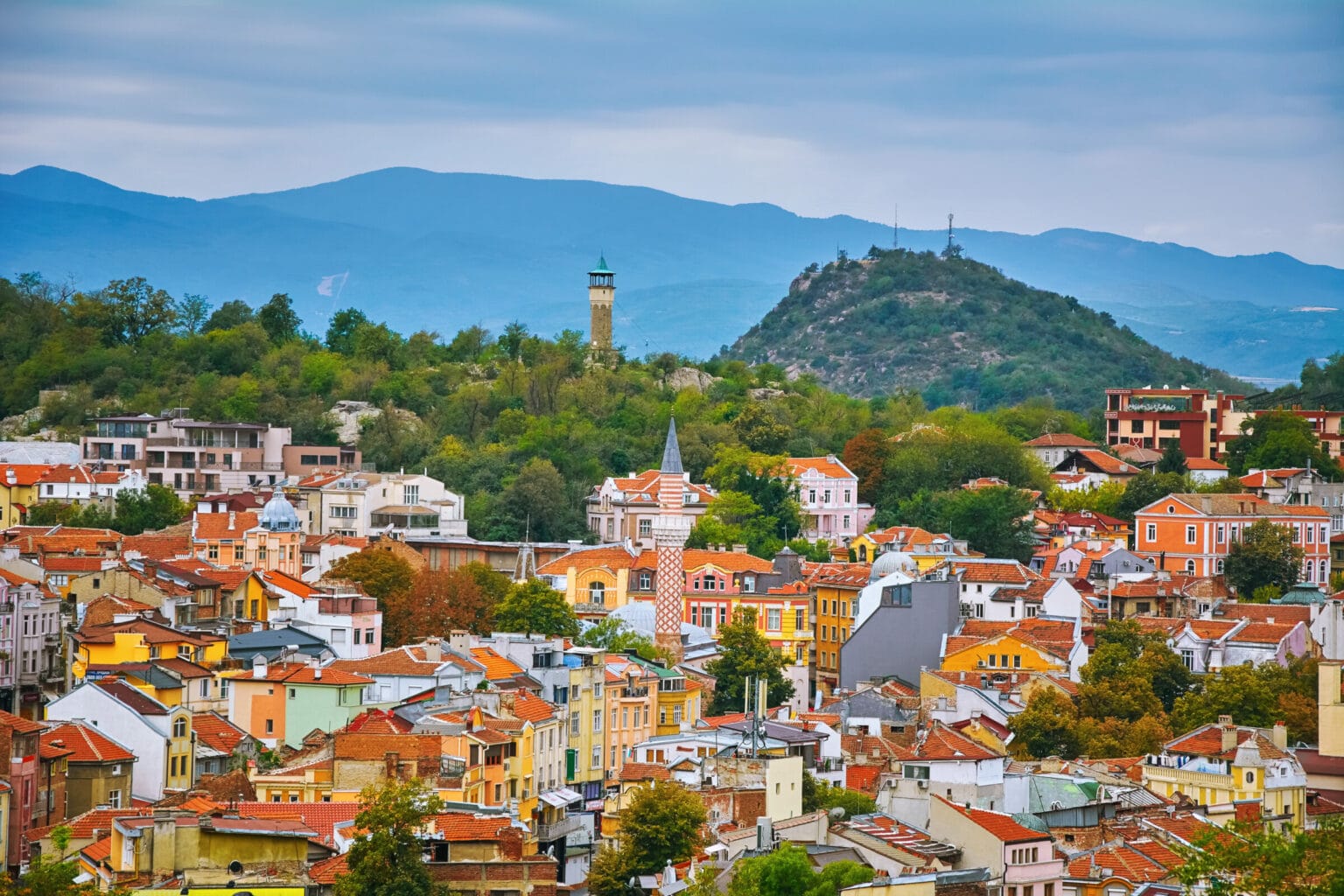 The preparations
Two weeks before departure, we received a comprehensive travel book setting out the complete itinerary by email. It also included many other things, such as travel advice and recommendations of restaurants and Bulgarian cuisine.
Thanks to a specific reference number sent by Velstana, it was also available online via a link and on a handy free app – that can even be used in offline mode – available for iOS and Android devices.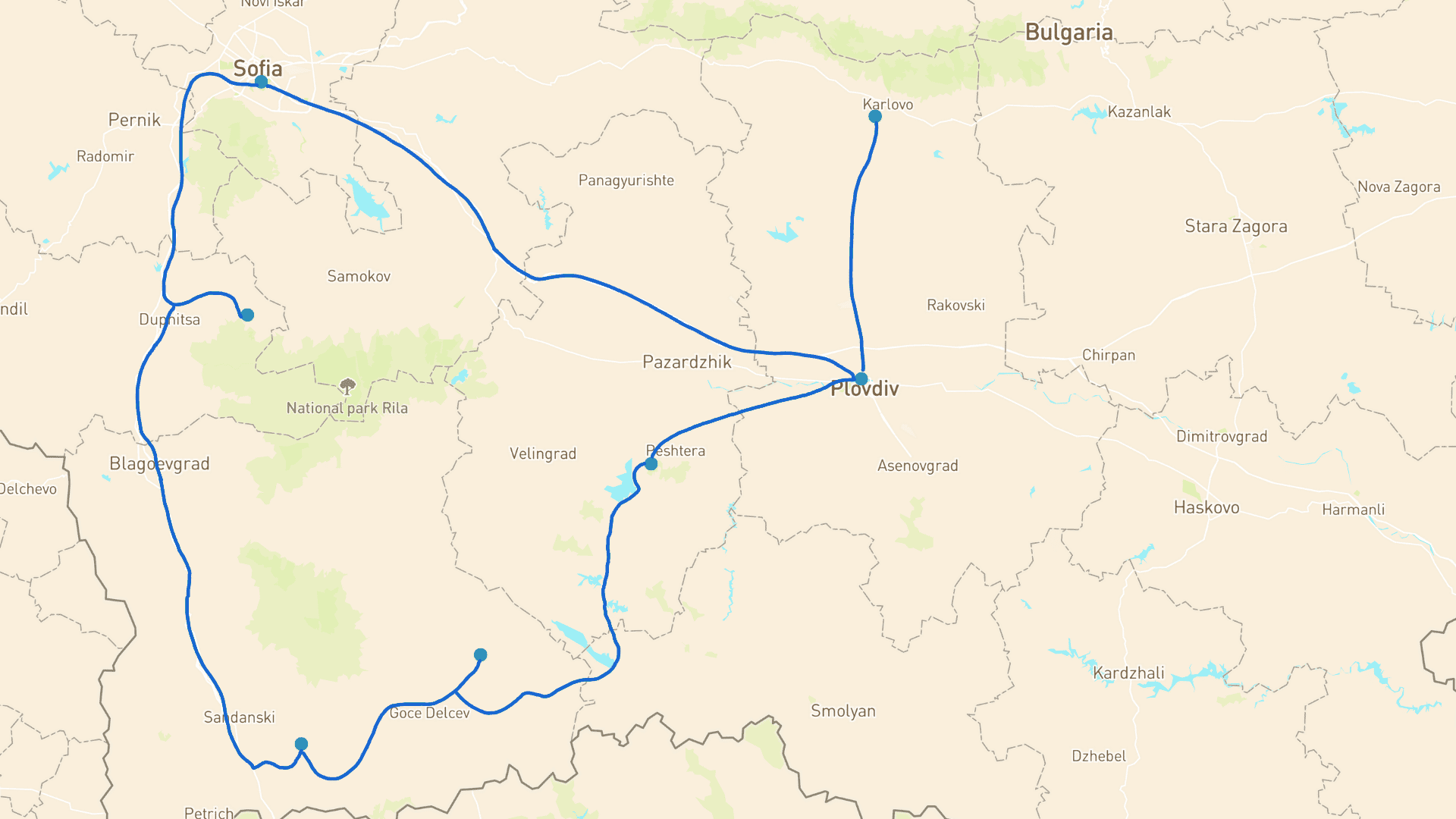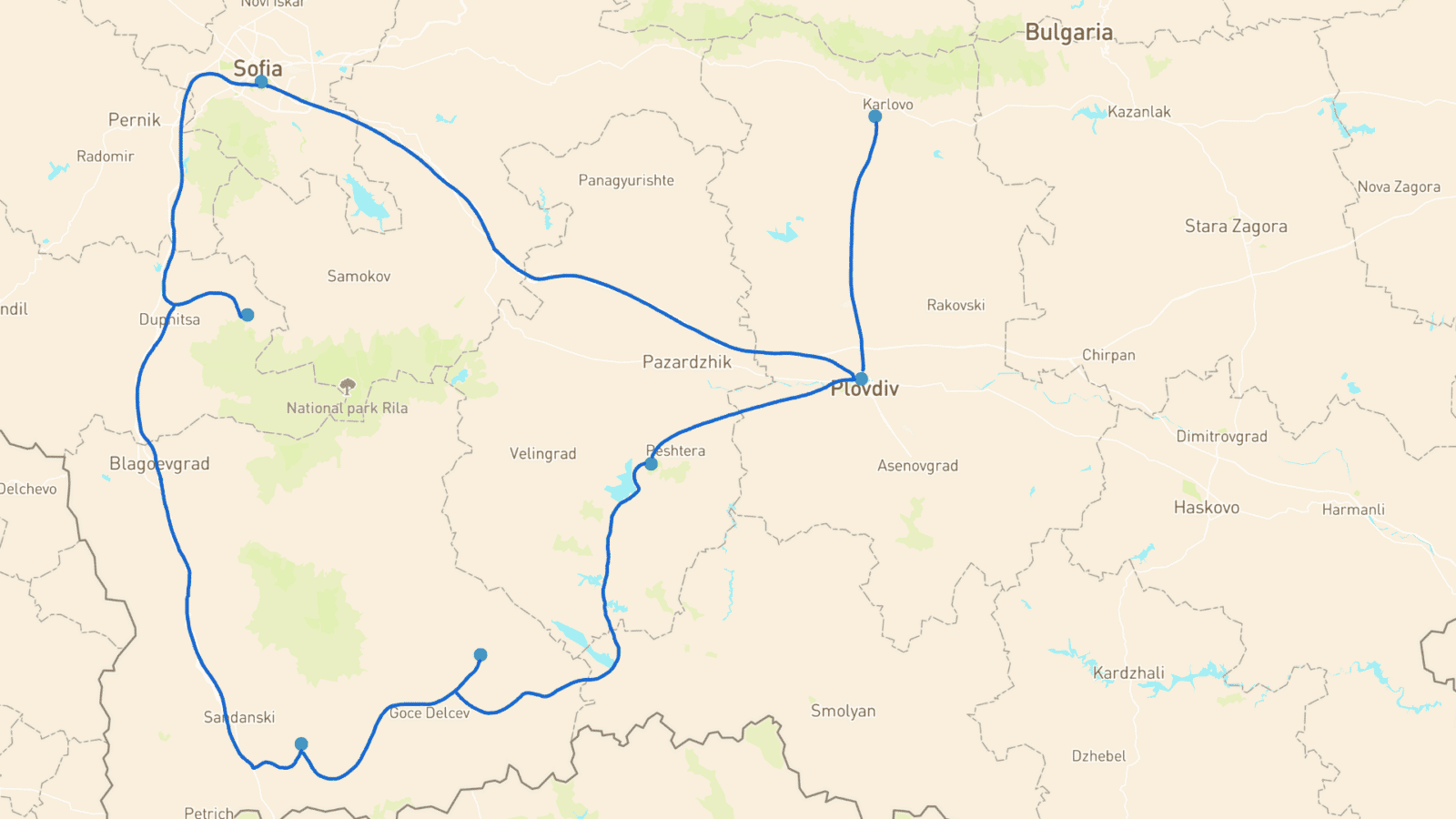 Trip details
First steps in the Bulgarian capital
Upon arrival at Sofia airport, a driver met and greeted us. He drove us to the hotel located in the heart of the city. Afterwards, we strolled in Bulgaria's lively capital city. We discovered recently excavated Roman ruins, the very impressive cathedral, Aleksander Nevski,
and next door Saint Sofia church. We had dinner in a nice restaurant serving delicious local food.
Read more
Hide
Rila mountains
In the morning, we continued our little self-guided cultural tour of Sofia. Then we picked up the rental car – delivered at our hotel address – and drove respectively to Sapareva Banya, a small town known for its hot mineral springs and geyser, and Panichishte, a village at the foot of the Rila mountains.
The 7 Rila Lakes
After breakfast, we went to the starting point of the hiking route leading to the spectacular Seven Rila Lakes. It offered breathtaking scenery of mountains and glacial lakes! The hike proved to be relatively easy and fully aligned with our fitness level.
At the end of the loop trail, we returned to our hotel to rest and enjoyed the evening with a nice Bulgarian dinner.
Read more
Hide
Rafting and wine-tasting
We went by car to the meeting point for a 4-hour rafting tour on the Struma river in the morning. As none of us had ever tried out this sport, we decided to go for a safer but emotional tour through the rapids. Afterwards, we carried on to a charming and authentic village, Melnik, surrounded by steep sandstone pyramids and vineyards.
After a tour of the village, a pleasant wine-tasting session was arranged. We stayed overnight at a comfortable guest house.
Read more
Hide
Exploring authentic Bulgarian villages
After a hearty breakfast at the guest house, we went for a short hike across the Melnik pyramids. Then, we headed towards a series of secret and lovely villages. We stayed at a guest house in one of these villages.
Caving and discovering Plovdiv
After a scenic drive in the Rhodope mountains, we arrived at Snezhanka cave. During the tour, we spotted beautiful cave formations and even bats! Then we reached our final destination: Europe's oldest inhabited city, Plovdiv. We strolled in the old town to soak up its atmosphere. We discovered a gorgeous and lively city,
with Roman ruins and colourful 19th-century houses. Our comfortable guest house was located in the very city centre.
Read more
Hide
A flight above the Rose Valley
After breakfast, we did a self-guided tour of Plovdiv. The old town proved to be fascinating! We headed towards the Rose Valley in the afternoon for our first-time paragliding flight.
We had a thrilling experience during which we could enjoy the view from above. Afterwards, we came back to Plovdiv and had a tasty dinner.
Read more
Hide
An escape game before coming back home
In the morning, an escape game was arranged in the old town. It was a nice finishing touch to our amazing journey! We then drove back to Sofia airport and returned the car ahead of our flight.
Price and services for this adventure trip: €475 per person
Included:
7 nights (breakfast included) in a standard double or twin room in 3* superior hotels or guest houses

Private transfer from Sofia airport to the hotel

Car rental for 7 days, including third-party liability insurance and standard coverage in case of damages and theft (CDW and TP) + car pick-up at the hotel 

4-hour whitewater rafting

Tasting of 5 selected wines 

60-minute paragliding flight

60-minute escape game

Travel Book accessible anywhere, anytime, including a one-of-a-kind itinerary
Excluded:
Flight tickets

Car fuel and security deposit for the car rental

Additional car coverage (on request)

Cave entry tickets

Lunch and dinner

Travel insurance
The abovementioned sample prices are for guidance only and are not binding. The total cost of your holiday will depend on a number of factors, including time of year of travel and choice of accommodation and transport. The actual cost of your holiday is as set out in the Booking Confirmation.