Italy's best-kept secret
If you are looking for a fascinating journey, look no further!
Located at the "arch and instep" of the Italian boot, between Apulia to the East, Calabria to the Southwest and Campania (i.e., Naples's region) to the North, the region of Basilicata is one of the best-kept secrets of Italy.
Although it has two stretches along the Tyrrhenian and Ionian shores, Basilicata remains a hilly region offering an amazing combination of outdoor adventures and natural wonders given its variety of majestic landscapes. It also brims with architectural treasures including, most notably, the outstanding city of Matera renowned for its sassi districts, i.e., rock-cut caves in which inhabitants have traditionally lived for nearly 7000 years.
Explore this off-the-beaten-path destination in South Italy that has remained unspoilt and has so much to offer every traveller, from rich cultural heritage to seaside and the outdoors to culinary delights.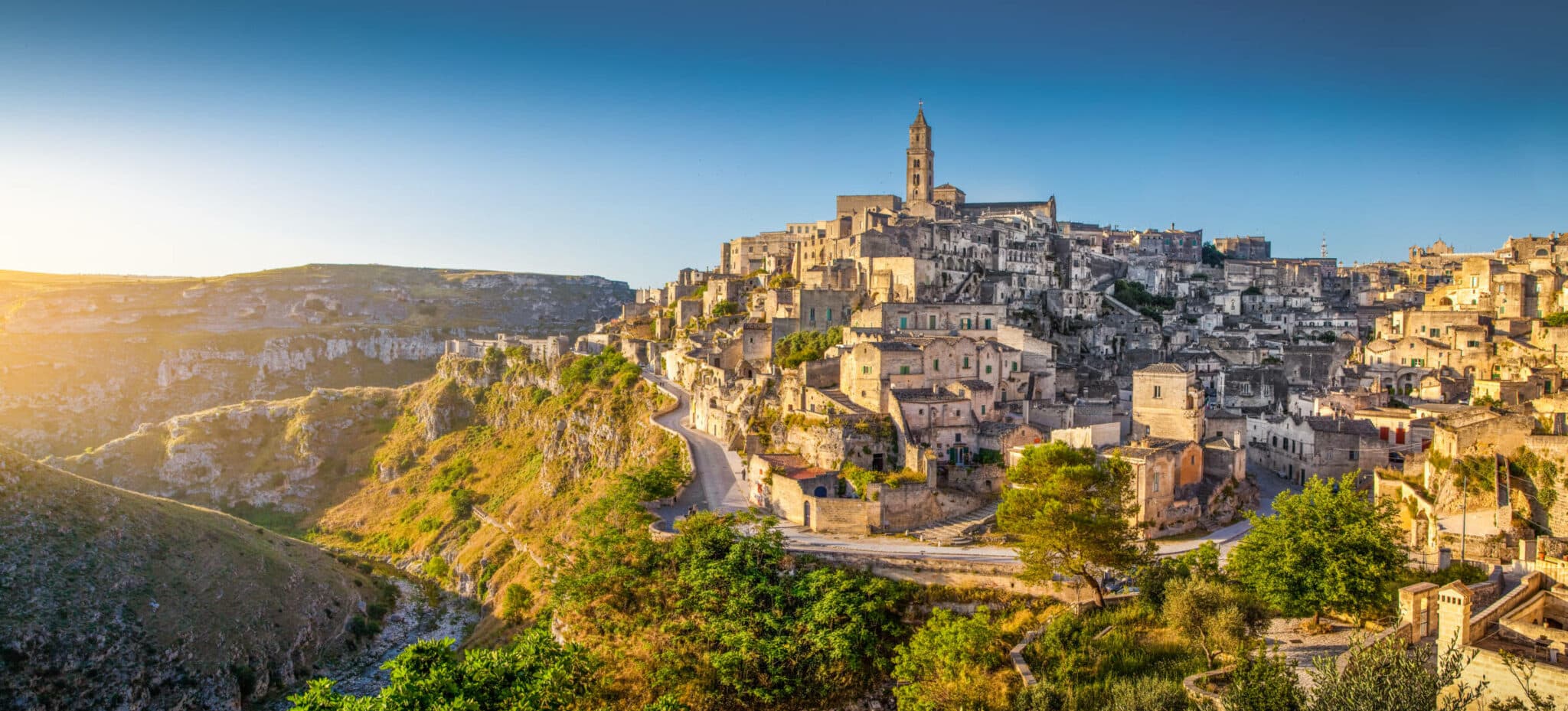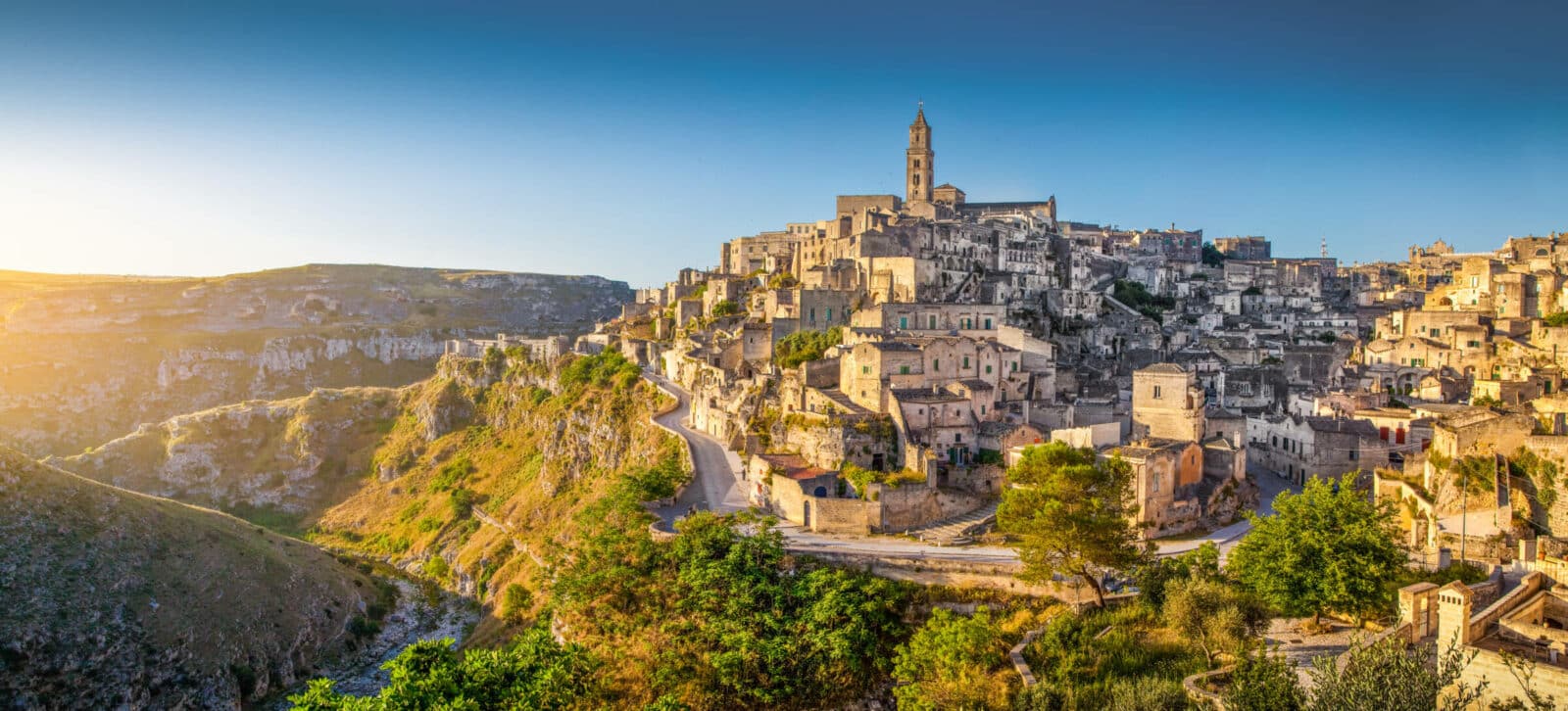 Nobody who comes to Basilicata leaves disappointed
Unforgettable Matera, the stone city
Every traveller has already been in or at least heard of popular Italian destinations such as Venice, Pompei, Rome or Florence. However, one of the oldest inhabited cities in the world, Matera, has remained overlooked by hordes of tourists, for the greater delight of travellers. Yet, it is one of the most beautiful and unique cities in Italy.
Discover a stunning historic city made up of sassi, i.e., unique dwellings, monasteries, and churches built into natural caves. They were home to troglodytes and hermits, monks, peasants, shepherds, artisans, and merchants for centuries.
Today, Matera is a magical place that will enchant you thanks to its architectural curiosities, including rupestrian churches with fine frescoes, a beautiful 13th-century duomo in Apulian style and other gems. You can stay overnight in one of the sassi for an out-of-the-box experience, and do not miss a stroll along the stone alleyways lined with restored grottoes transformed into charming and stylish hotels and restaurants, and comfortable homes.
Sassi have been inscribed on the UNESCO World Heritage List in 1993, while in recent years, Matera has become one of the most beautiful and cinematic cities in Italy. However, this has not always been the case, as sassi used to be filthy and unhealthy homes up until the 1950s. As a result, the Italian authorities forced its inhabitants to evacuate and relocate to healthier accommodations on the outskirts. Only by the end of the 20th century, this tuff maze was gradually rehabilitated.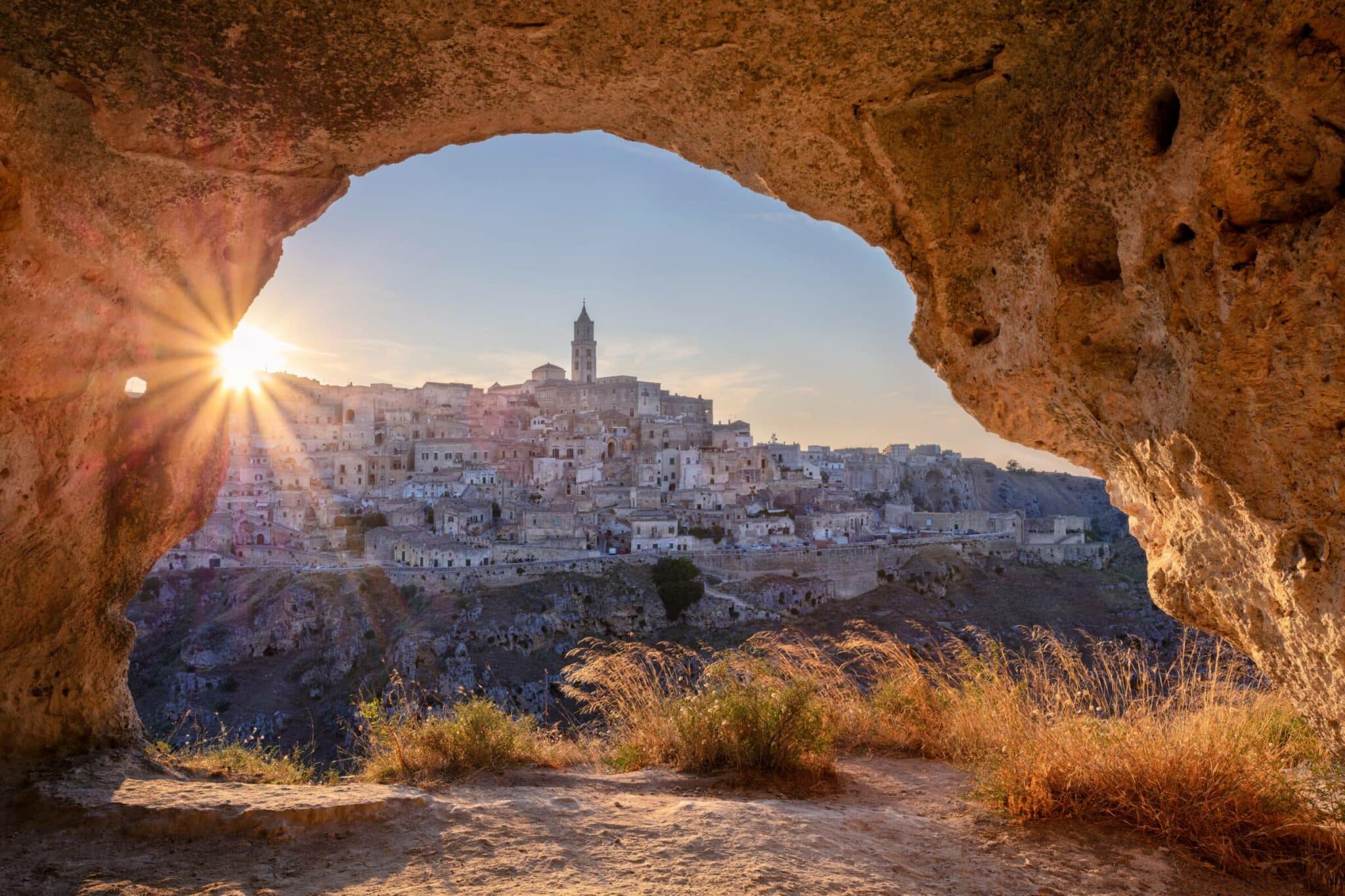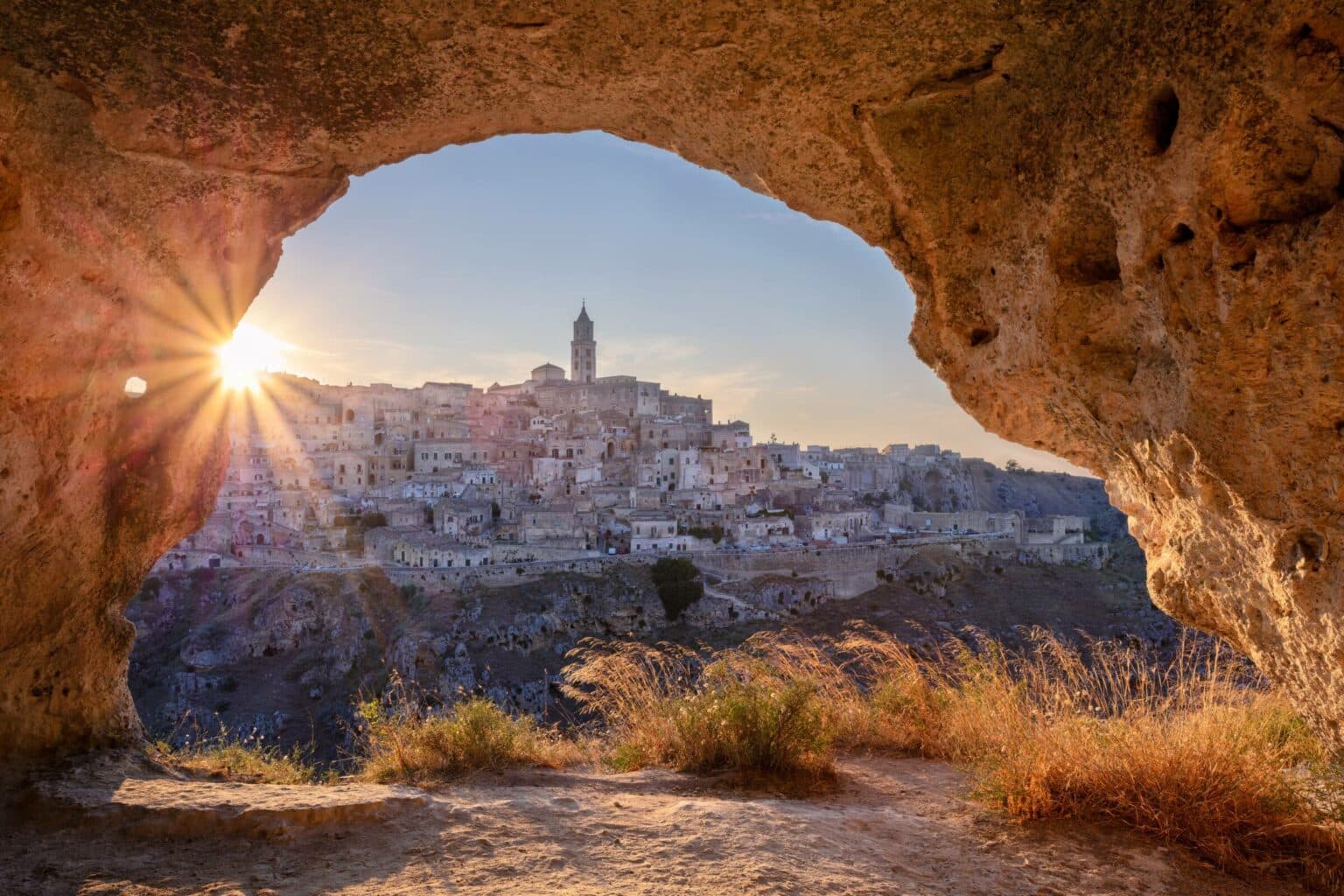 Basilicata Coast to Coast
A gorgeous seaside
Basilicata boasts two gorgeous – albeit relatively short – stretches of coastline along the Tyrrhenian and Ionian Seas offering spectacular sceneries and wild beauty. They will suit all tastes, no matter whether you are seeking relaxation or more active holidays.
On the one hand, the Tyrrhenian coast resembles the well-known Amalfi coast to some extent, but it is far less crowded. It is dotted with several secret creeks and coves and beautiful little sandy beaches with mountains and rocks sweeping down to the sea, while the water stays pleasantly warm until the end of October. In this respect, discover Maratea – a charming medieval seaside town located in the Gulf of Policastro – by strolling along the narrow alleys, stairs, and squares of its picturesque historic centre featuring 44 churches.
Basilicata's Ionian coastline, on the other hand, is akin to what you can find in Puglia. There are large, unspoilt stretches of sand, lapped by a crystal-clear shallow sea, with pine forests and eucalyptus trees in the background.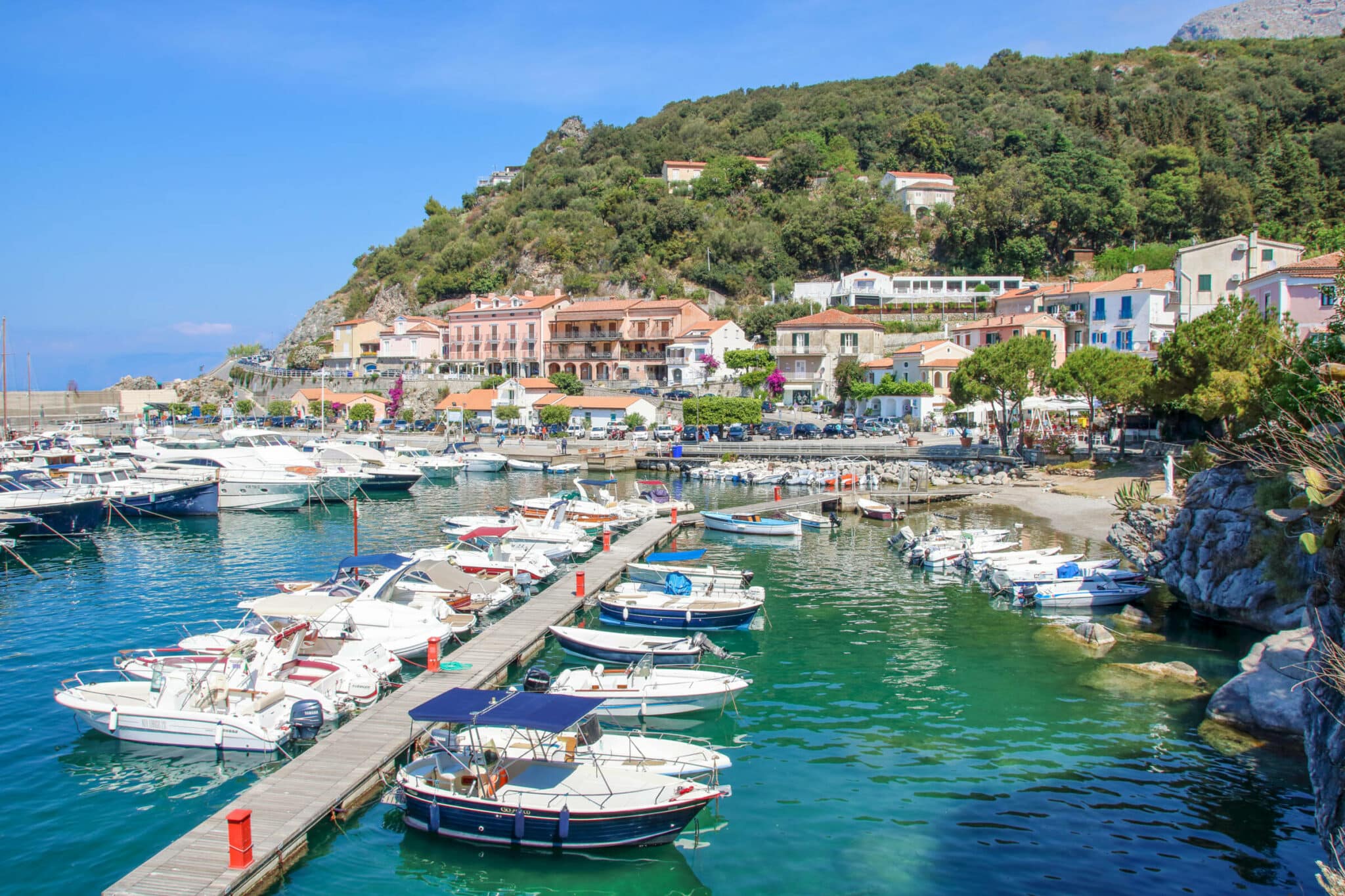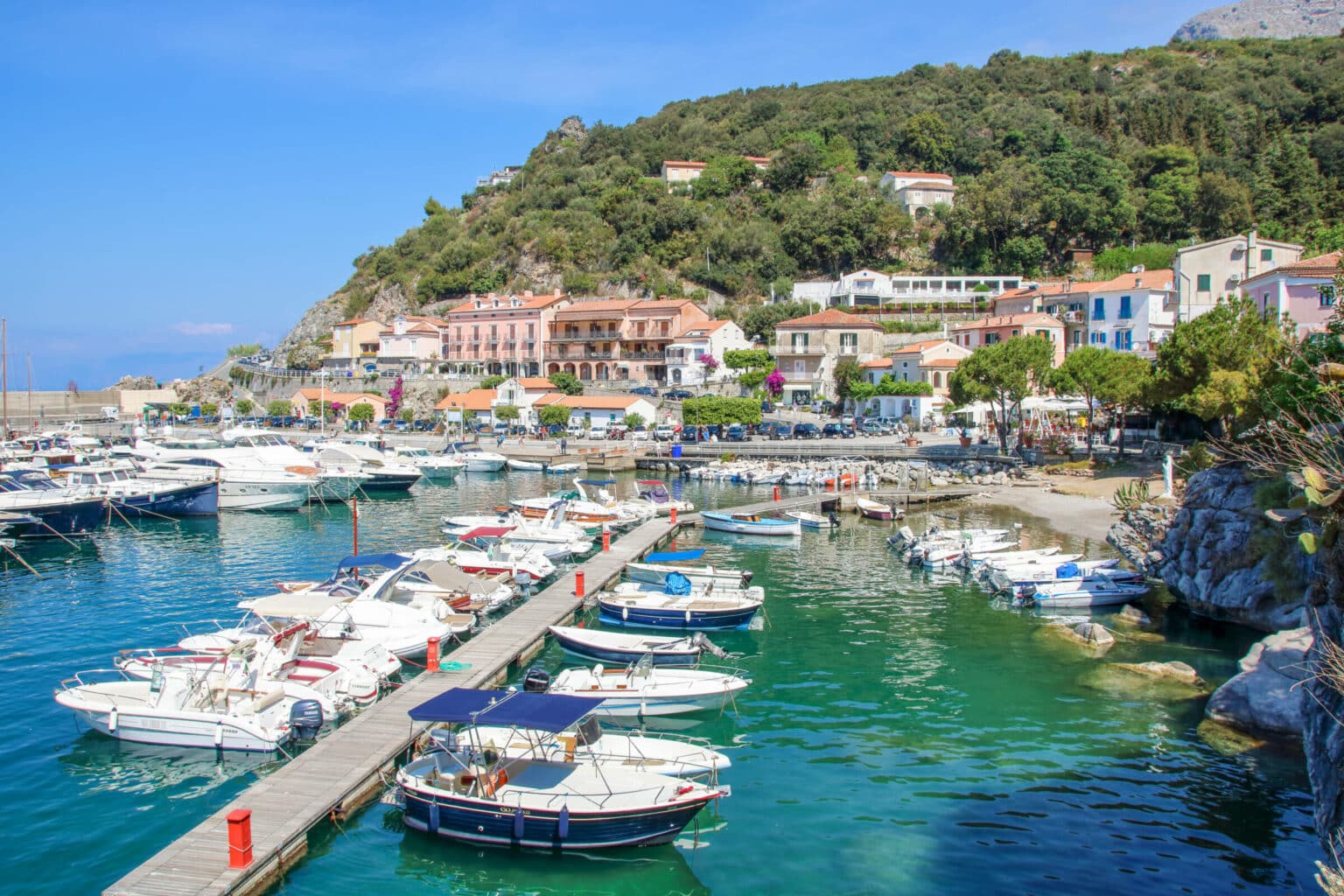 Coastal historical treasures
Additionally, history fans will find several archaeological sites in the area. Most notably, explore Metaponto, one of the most interesting archaeological sites in Italy housing the ruins of an early Greek settlement dating from the 6th century BC.
A stunning hinterland
Basilicata is also home to a beautiful hinterland characterised by wild mountains and national parks, lovely "perched" villages, ravines, and other natural beauties. It offers a diversity of breathtaking landscapes. As a result, nature lovers will find it all there.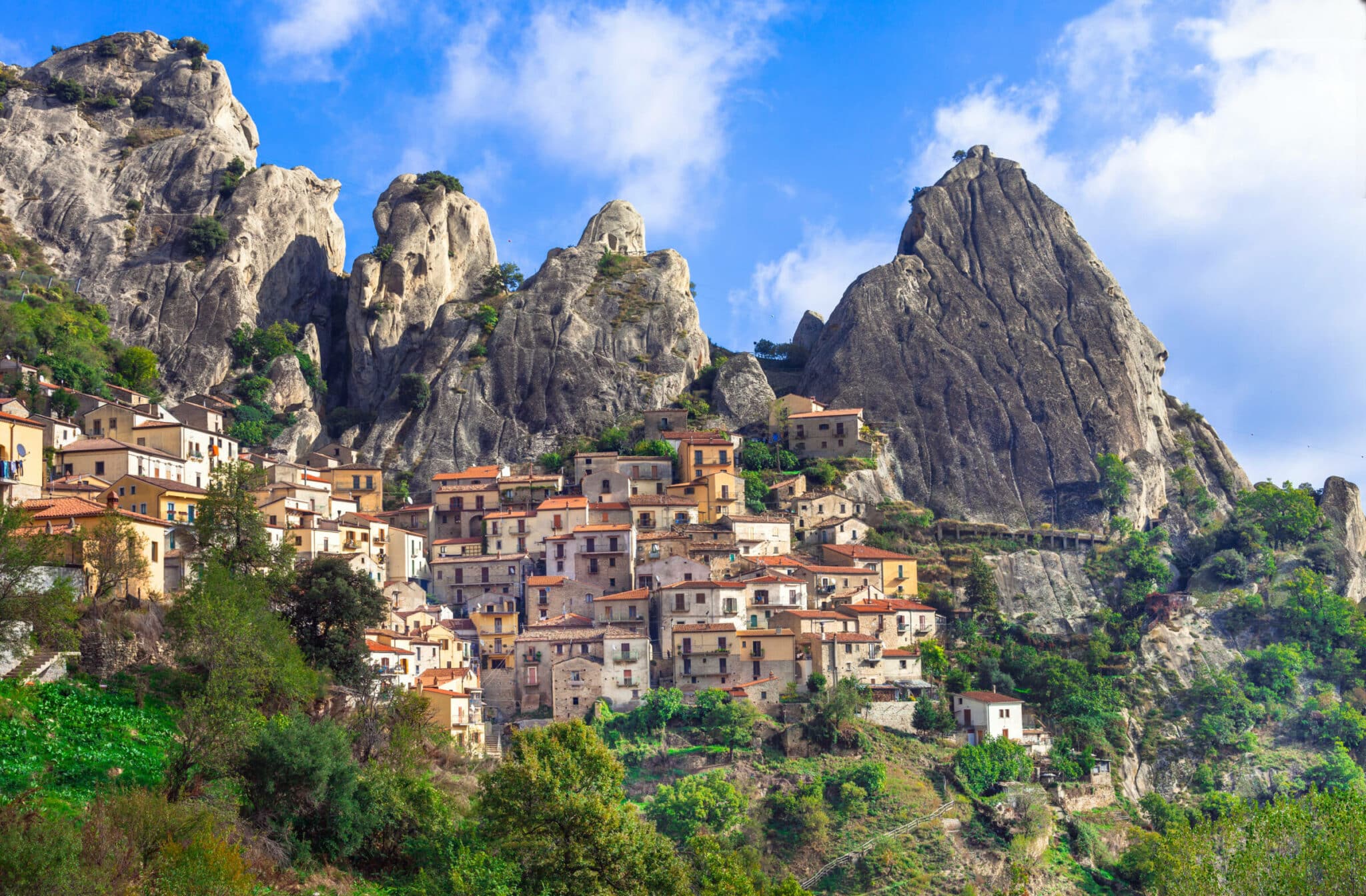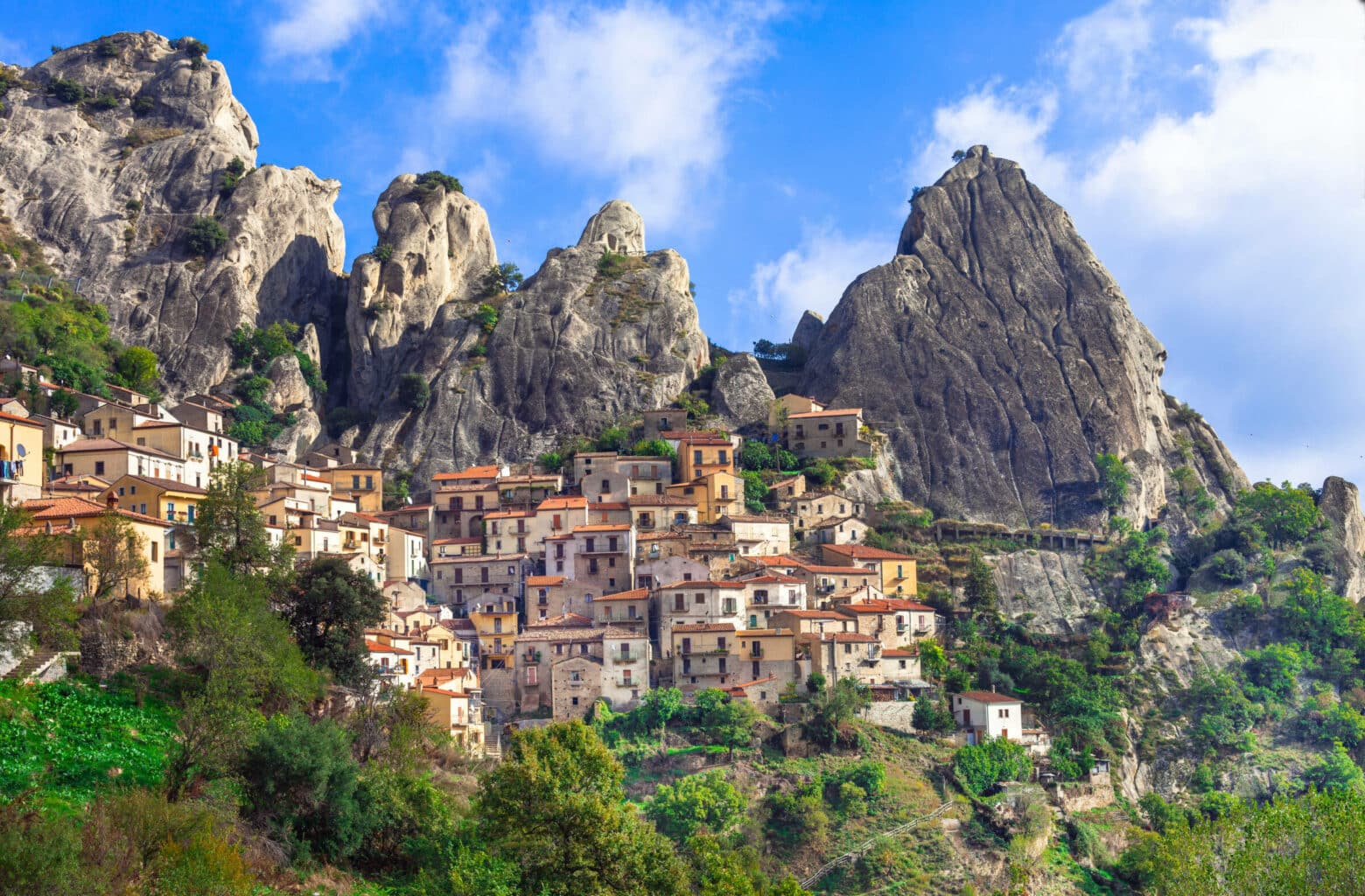 Active holidays in symbiosis with nature
The region is the perfect playground for outdoor activities of all types.
Venture to Italy's largest national park, namely the Parco Nazionale del Pollino. Straddling Basilicata and Calabria, it features picturesque mountains covered by lush forest vegetation. It is ideal not only for hikers and trekkers but also for mountain bikers, horse riders and all thrill-seekers ready to try white-water rafting and kayaking. 
For an extra shot of adrenaline, you can experience unique adventures including crossing the longest Tibetan bridge in the world or the angel's flight, i.e., a steel cable suspended between two beautiful small towns above the Lucanian Dolomites. As for mountaineering, there are amazing via ferrata (i.e., iron routes) that you can do with a guide, no matter your level.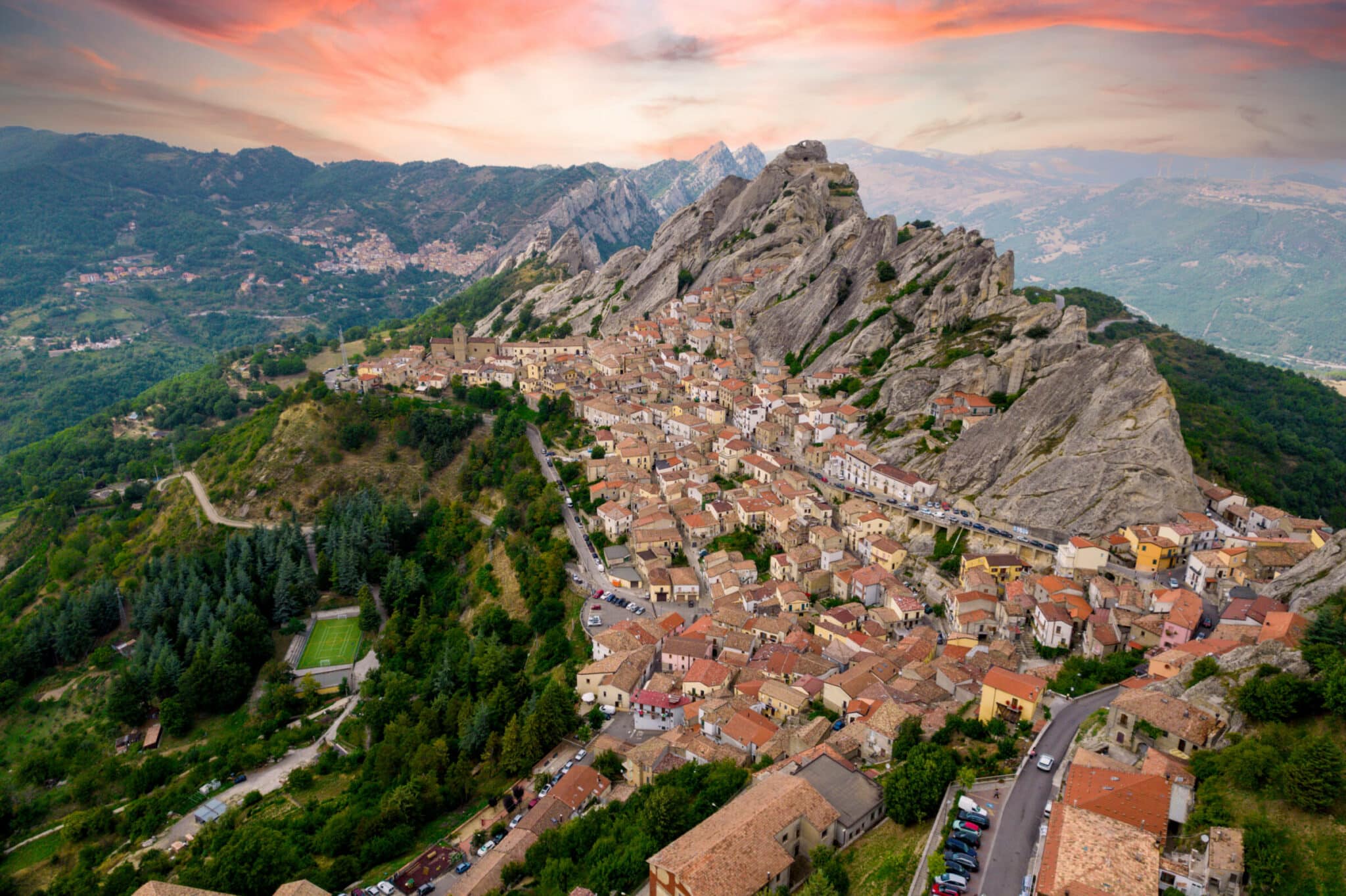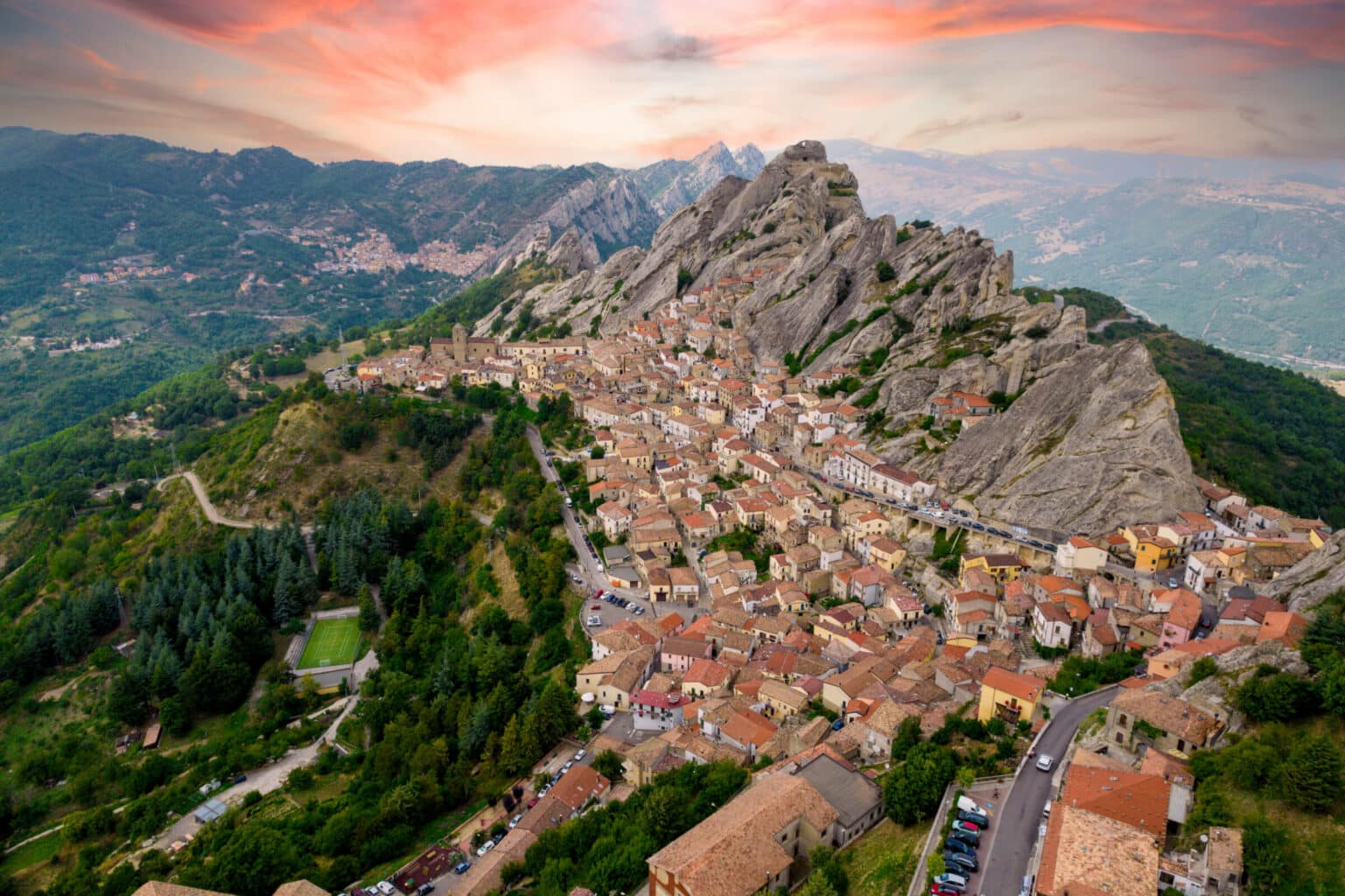 Hidden gems for all tastes
For a cultural touch to your holidays, visit small local towns and lovely villages perched atop the mountain summits. In particular, do not miss Pietrapertosa, the highest village in Basilicata, clinging to the rocky cliff. It is certainly one of the most enchanting. From its top, it offers stunning panoramic views of the valley and of its twin mountain village, namely Castelmezzano, which is equally spellbinding.
For a unique experience, dare to visit ghost towns in Basilicata. They were evacuated nearly fifty years ago due to repeated earthquakes, landslides, and poor agricultural conditions. Among these towns, Craco is iconic and better-known, as it is the most intact. That is why several Hollywood movies such as James Bond Quantum of Solace and The Passion of the Christ have been filmed here.
Basilicata's hinterland holds many other secret treasures. They include, among other things, moonscapes in the ancient village of Aliano or the green and fertile Vulture region in the north.
The true taste of Basilicata
The Lucanian cuisine – as Basilicata's cuisine is also called – is rich, original and varied. Recipes are based on simple and healthy ingredients, herbs and olive oil, with a special flavour that sets them apart.
There are many local specialities and delicacies that you should try during your journey. For example, there is plenty of delicious handmade pasta like cavatelli, manate, tapparelle, lucane chiappute, and lagane.
There is also a wide range of tasty traditional cheeses such as Pecorino di Filiano, Cacioricotta, Canestrato di Moliterno, Caciocavallo Podolico, and Casieddu.
Traditional bread products are also a must-try, especially the local bread baked in Matera, which is crunchy and delicious.
If you are a meat lover, treat yourself to many traditional dishes based on pork, lamb and mutton.
If vegetables are more your thing, try calzone di verdure, an extremely popular pie in Basilicata. Pizza lovers can also order pizza rustica, a delicious pastry pie filled with eggs, cheese and meat.
Basilicata is home to some excellent wines, including Aglianico, one of the best wines in Italy.
Last but not least, Basilicata is a land rich in folklore and traditions. There are many festivals, celebrations and rituals all year long, mainly related to Christianism or agricultural life. If you happen to be in the area, do not miss those incredible celebrations.