Beach Holidays · Culture & Traditions · Myths & Legends · Outdoor Activities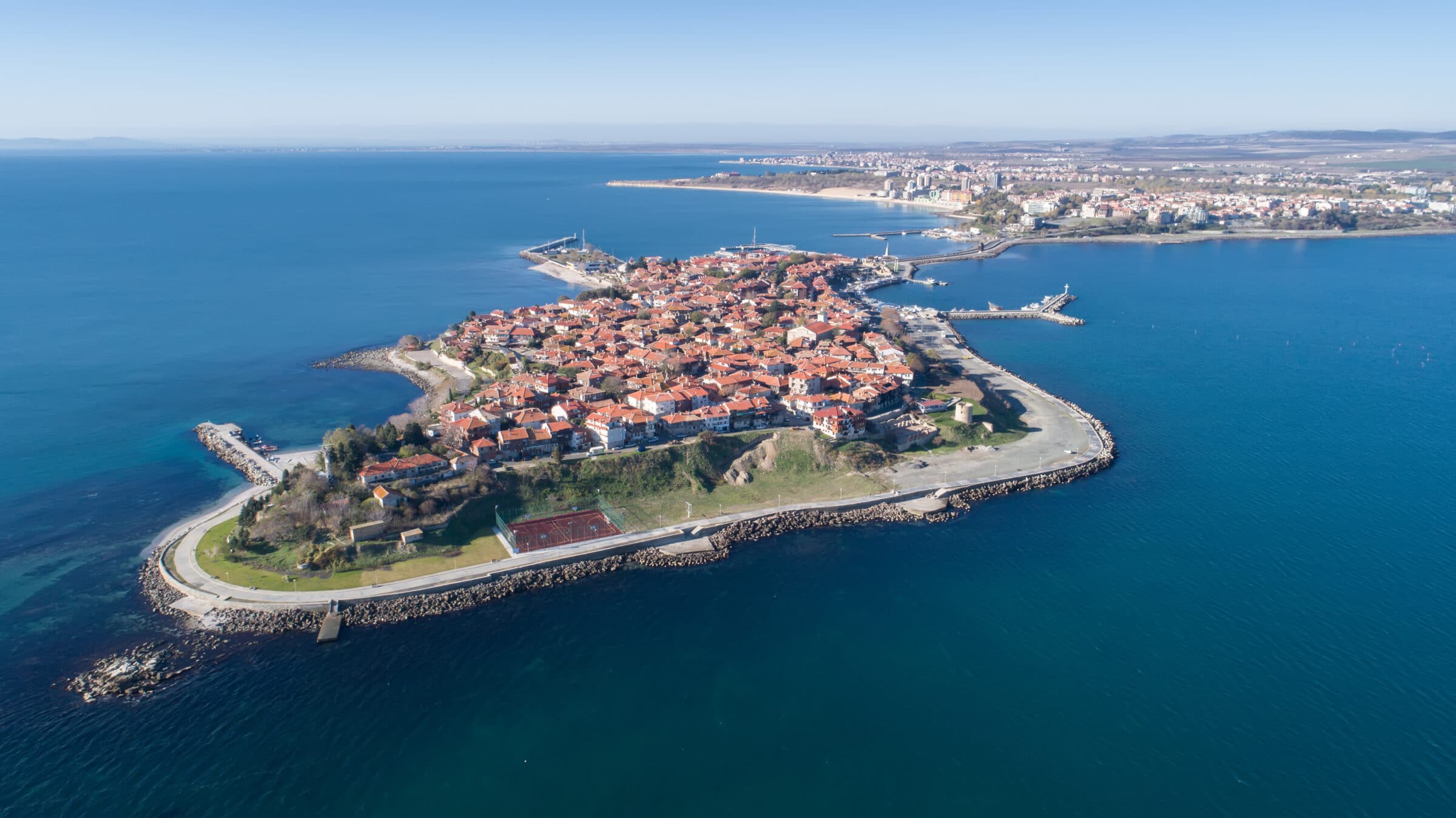 A family of three (two adults and a 15-year-old teenager) planned to take a road trip to Bulgaria during the summer holidays.
The call
We had chosen a convenient time slot on the website, and Anastasia called us on time. The video call lasted approximately half an hour. We did not know much about Bulgaria, but we wanted to explore that country. So we had a lot of questions to ask her!
We explained to Anastasia that it would be our first trip to Bulgaria even though we had already visited a couple of other Balkan countries years ago. We planned to spend two weeks in total. Over the first week, we would travel across the country, while the second week would be dedicated to relaxing beach holidays. We heard a lot about Bulgaria's amazing fine sandy beaches, and our daughter was dreaming about exploring them!
We usually travel by car as we think it is very convenient and enjoy the freedom it gives us. That is why we requested to rent a car for the whole journey.
Concerning accommodation, we asked to stay in 3- to 4-star hotels or in comfortable guest houses.
The reservation
Anastasia emailed us a detailed description of our tailor-made holidays and a quotation the following week. It included all the elements we discussed and agreed upon during our call. She also sent to us useful advice to purchase our flight tickets.
As a result, we approved and signed the quotation electronically and paid a deposit. As soon as we booked our air tickets, we forwarded our flight details to Anastasia so that she could arrange a smooth transfer from the airport. We were looking forward to our summer road trip in Bulgaria!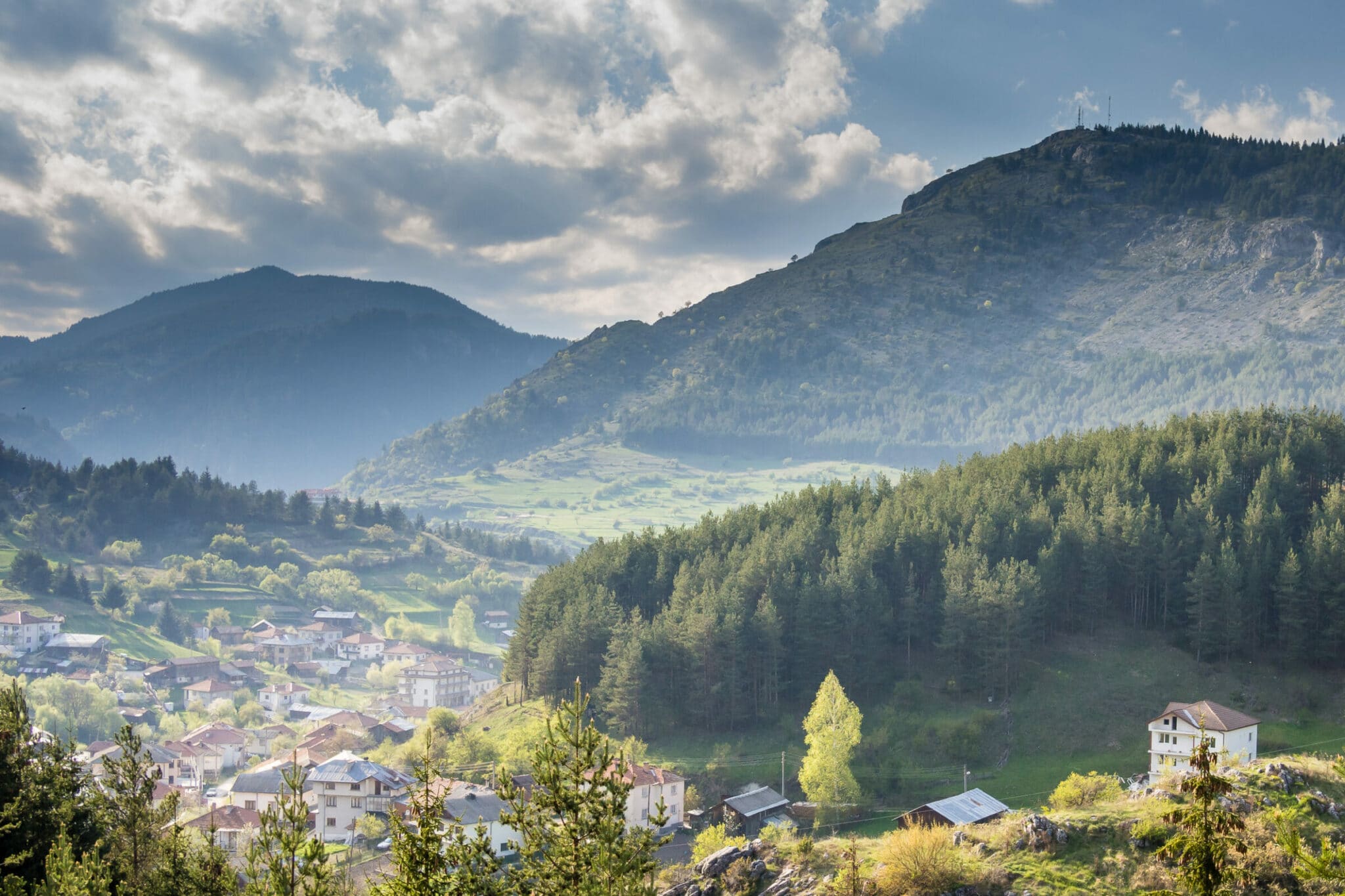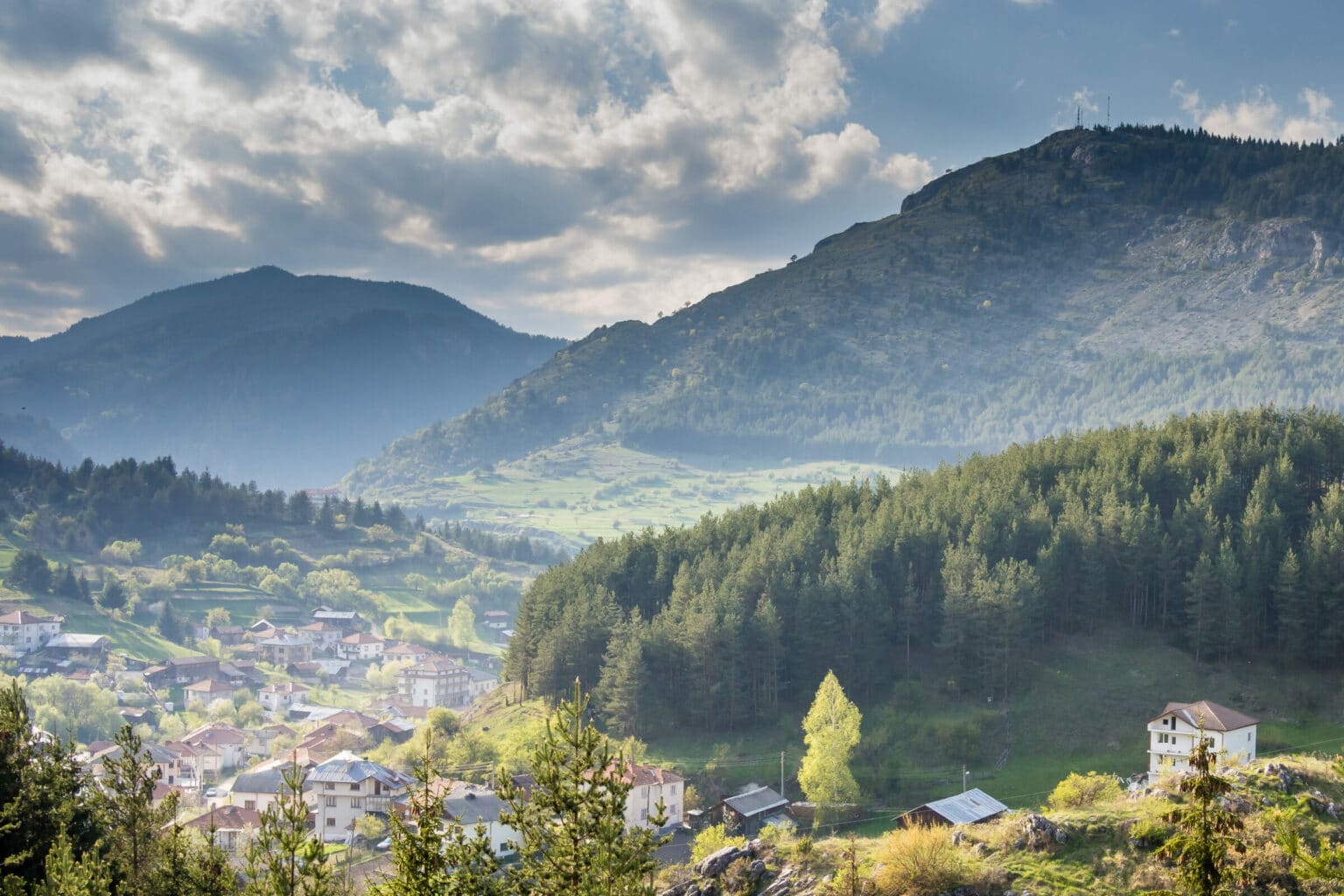 The preparations
Two weeks before departure, we received a comprehensive travel book setting out the complete itinerary by email. It also included many other things, such as travel advice and recommendations of restaurants and Bulgarian cuisine.
Thanks to a specific reference number sent by Velstana, it was also available online via a link and on a handy free app – that can even be used in offline mode – available for iOS and Android devices.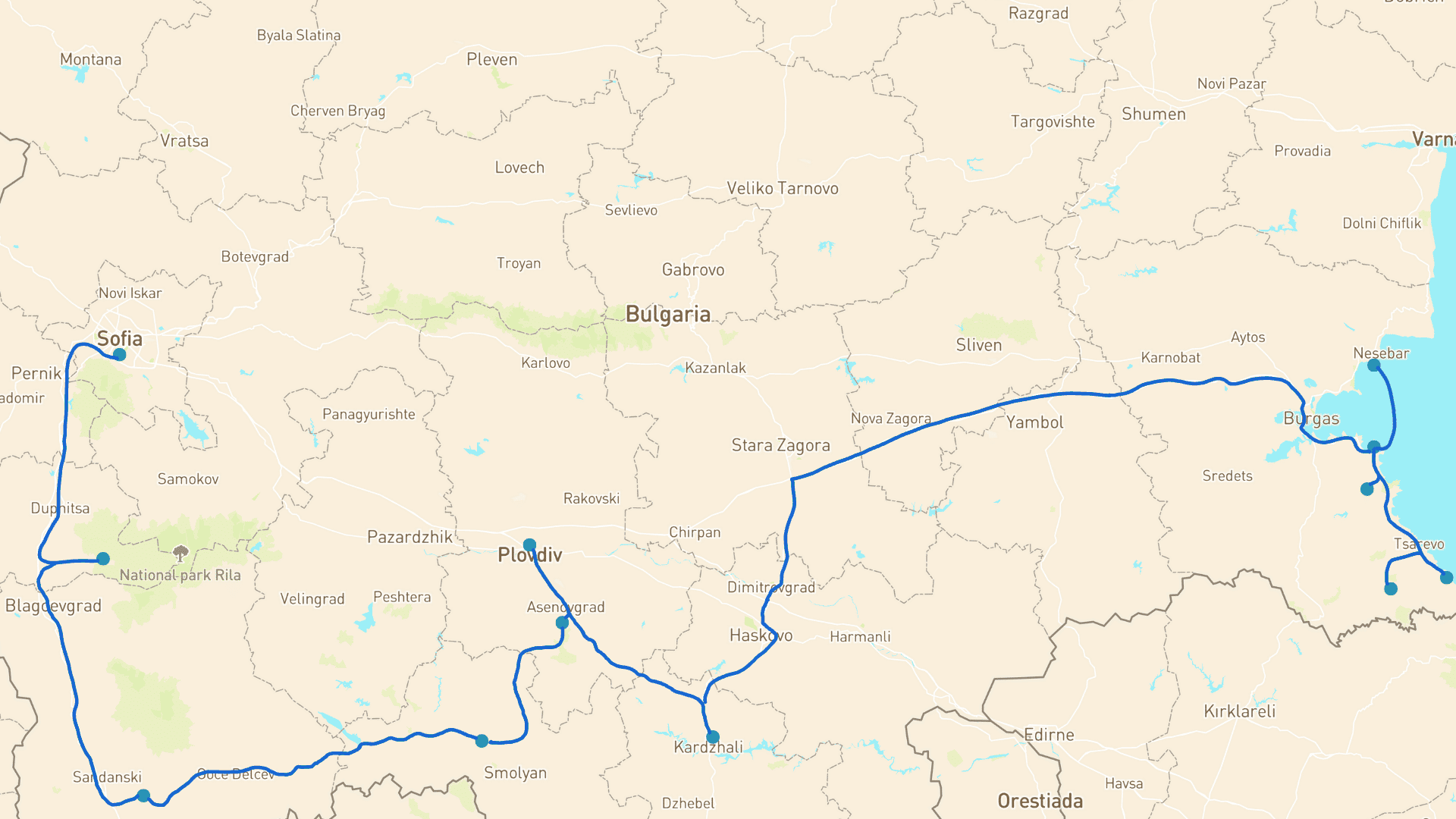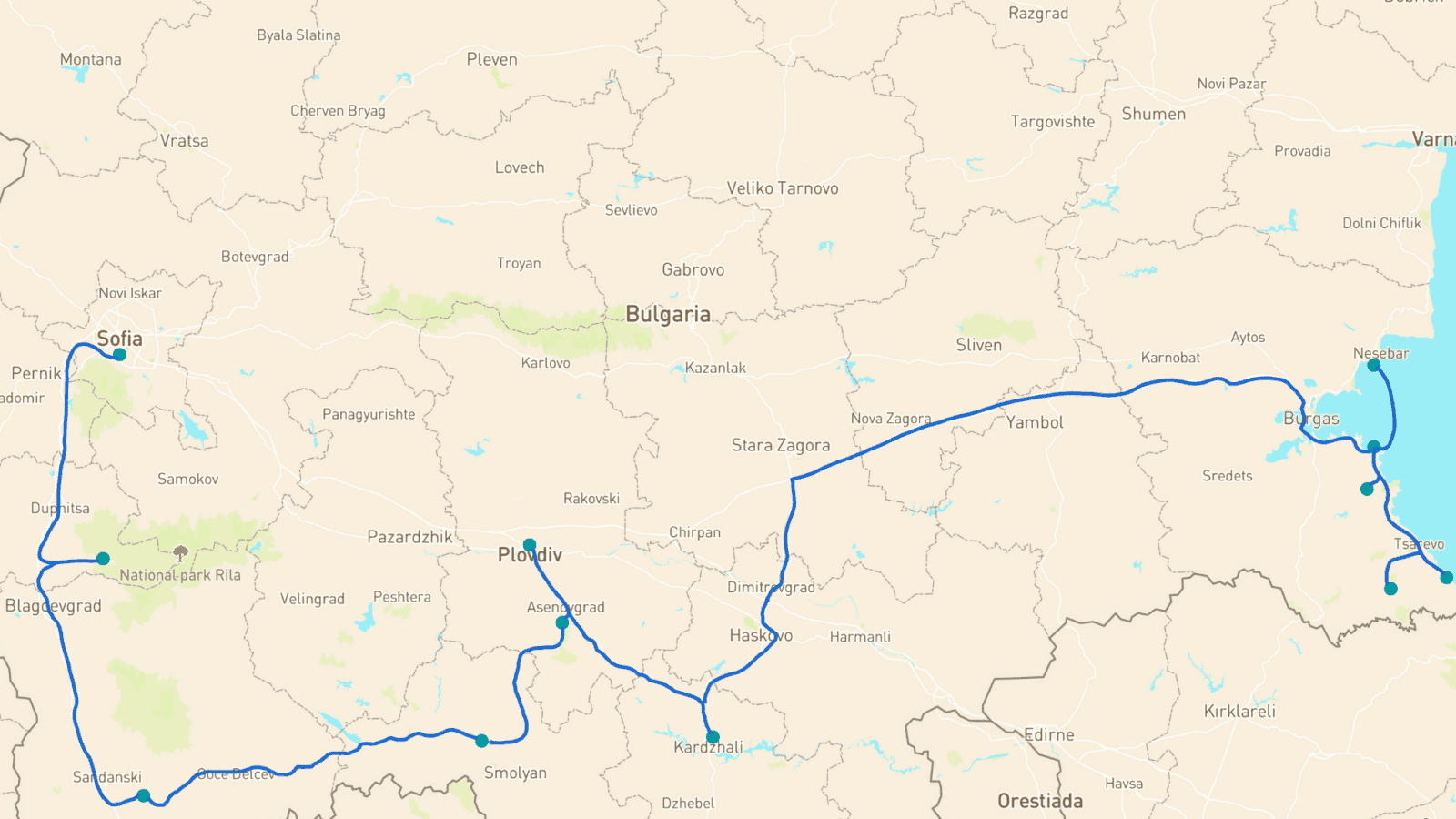 Trip details
Arrival in Sofia
Upon arrival at Sofia airport, a driver met and greeted us. He brought us to a very well-located hotel in the city center of Sofia. We wanted to find out a little more about Bulgaria behind the Iron curtain period, so Velstana arranged an interesting guided Communist tour of Sofia for us.
We had dinner in a nice restaurant serving local food suggested by Velstana. We were pleasantly surprised by how rich and delicious it was!
Read more
Hide
Rila Monastery
After breakfast, our car was already delivered to the hotel address. We headed off to one of the most amazing places in Bulgaria, Rila Monastery. It was a 2-hour drive on a picturesque road, including a stop by Stob's Pyramids, which was definitely worth it! An even more exciting experience was to stay at the monastery overnight! We felt so privileged:
at night when there were no casual tourists, we could see the place from a completely different angle!
Read more
Hide
The village of Melnik and wine tasting
Our next stage was the charming village of Melnik. We went on a nice and easy hike to the spectacular sandstone pyramids and Rozhen monastery. In the evening, we had a private wine-tasting session arranged for us. It took place in a picturesque wine cellar,
just metres away from our guest house. We finished that great day in a tavern with a nice view of the valley.
Read more
Hide
Majestic mountains
We drove to Shiroka Laka, a lovely town located in the Rhodope mountains. The road was scenic. We stopped by a cave situated in a stunning gorge on our way. We all, but especially our daughter, enjoyed this experience! We also went on a short hike up to the mountain,
which offered an unforgettable view of the valley. In Shiroka Laka, we stayed at a nice, authentic guest house that felt like home.
Read more
Hide
Towards the cultural capital of Bulgaria
We headed to the cultural capital of Bulgaria, Plovdiv. We visited a couple of very interesting places on the road to Plovdiv, including Bachkovo Monastery and Assen's fortress. In Plovdiv, we stayed at a nice guest house for two nights. It was within walking distance to all the main attractions of the old town.
Discovering Plovdiv
We spent all day exploring Plovdiv. We had a guided city tour which helped us explore the most interesting spots of the old town.
Exploring Bulgarian mysteries
Our daughter had always been into mysteries and riddles. As a result, Velstana arranged a private guided tour of the ancient, unknown, and highly mysterious city of Perperikon. We were astonished how come we had never heard about that place! It was one of the most impressive things we have ever seen in Europe!
The beginning of beach holidays
We drove to the beautiful seaside resort of Sozopol, located on the Black Sea coast. Here we stayed for 6 nights at a nice hotel in the very heart of the old town. Sozopol charmed us with its narrow cobblestoned streets and wooden houses.
Beach holidays
We took our time and spent several relaxing days on the beach. We sunbathed, swam, and enjoyed local food, wine, and music in the town's best restaurants. Thanks to Velstana, we discovered several amazing secret beaches not far away from Sozopol. We also went on several fascinating excursions. We especially remembered going by speed boat to the pearl of the Black Sea, Nesebar, and an amazing nature Reserve Park.
Last sunbath
We spent our morning on the beach before driving to Burgas airport in the afternoon in order to return the car and take a flight back to France.
Price and services for this family road trip: €820 per person
Included:
13 nights (breakfast included) in 3* to 4* hotels and guest houses

Car rental (economy class) for 13 days, including third-party liability insurance and standard coverage in case of damages and theft (CDW and TP) + delivery at the hotel in Sofia and return in Burgas airport

Private transfer from Sofia airport to the hotel

Guided tour in Sofia

Guided tour in Plovdiv

Wine tasting for 2 adults in Melnik

Guided tour of Perperikon

Travel Book accessible anywhere, anytime, including a one-of-a-kind itinerary
Excluded:
Flight tickets 

Car fuel and security deposit for the car rental

Additional car coverage (on request)

Lunch and dinner

Travel insurance
The abovementioned sample prices are for guidance only and are not binding. The total cost of your holiday will depend on a number of factors, including time of year of travel and choice of accommodation and transport. The actual cost of your holiday is as set out in the Booking Confirmation.