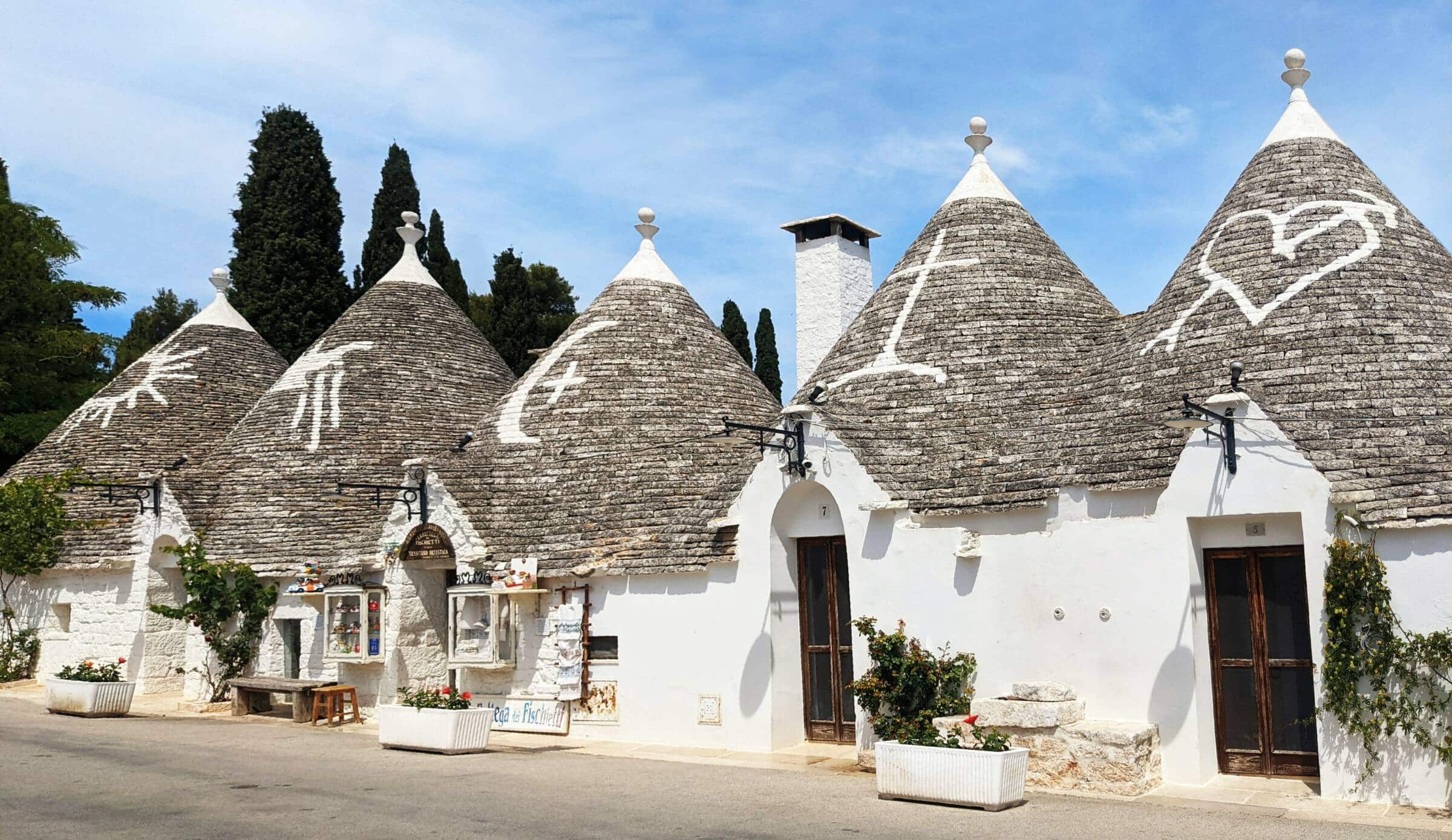 Apulia and Basilicata are full of cultural, architectural and archaeological treasures. Anything that came into Europe – art, goods, ideas – would pass through this region since Antiquity. It is a captivating cultural blend that will amaze even an experienced traveller. 
This region is a time machine, and only you can decide how deep into the history you choose to dive. Shall you start from ancient times and dare to explore the vestiges of past civilisations? Or maybe you are more excited about the baroque and want to spend your holidays in the "Florence of the South" ? Looking for a unique-in-the-world experience ? Head straight to Itria Valley to admire white-washed trulli cones that dot the landscape or to Matera to stay overnight in its remarkable troglodyte dwellings called sassi. 
Many handcrafts and artisan traditions are still practised there, using traditional centuries-old techniques. Visit local ceramic artists, leather or glass workers or sculptors and bring home unique objects that all your friends will envy.
Archaeological wonders
Given its frontier position, Apulia, or Puglia, has always been a fault line departure point for those heading to the eastern Mediterranean, as millions of Roman legionnaires, crusaders, traders, travellers and pilgrims embarked in the numerous ports of the region. 
If you are keen on exploring the fascinating centuries-old history of these comings and goings, do not miss the following archaeological sites, namely Egnazia, Canosa, Metaponto, and Canne della Battaglia. You will discover millennia-old traces of the presence of ancient Greeks, Romans, Byzantines, Normans and even prehistoric inhabitants.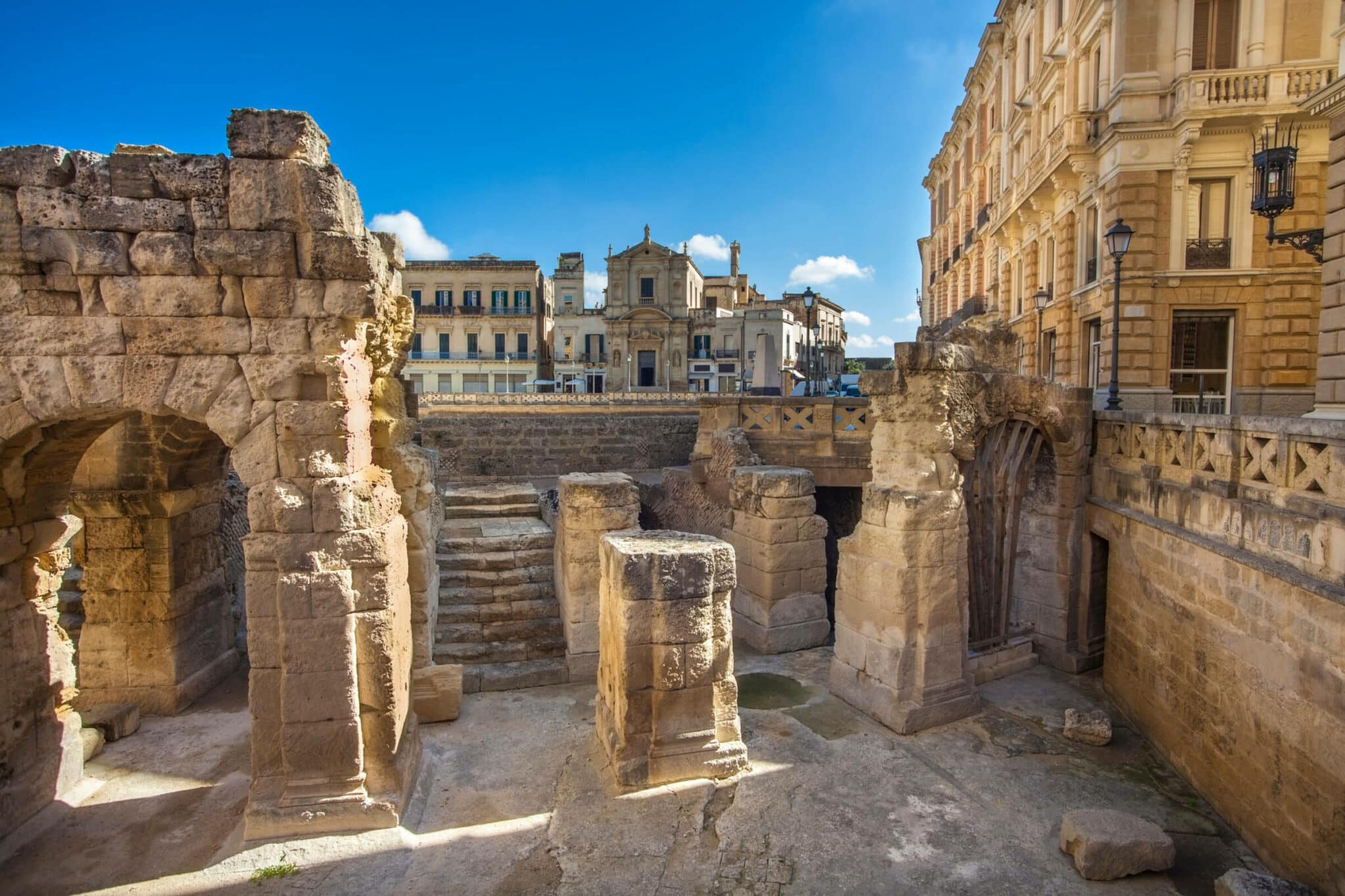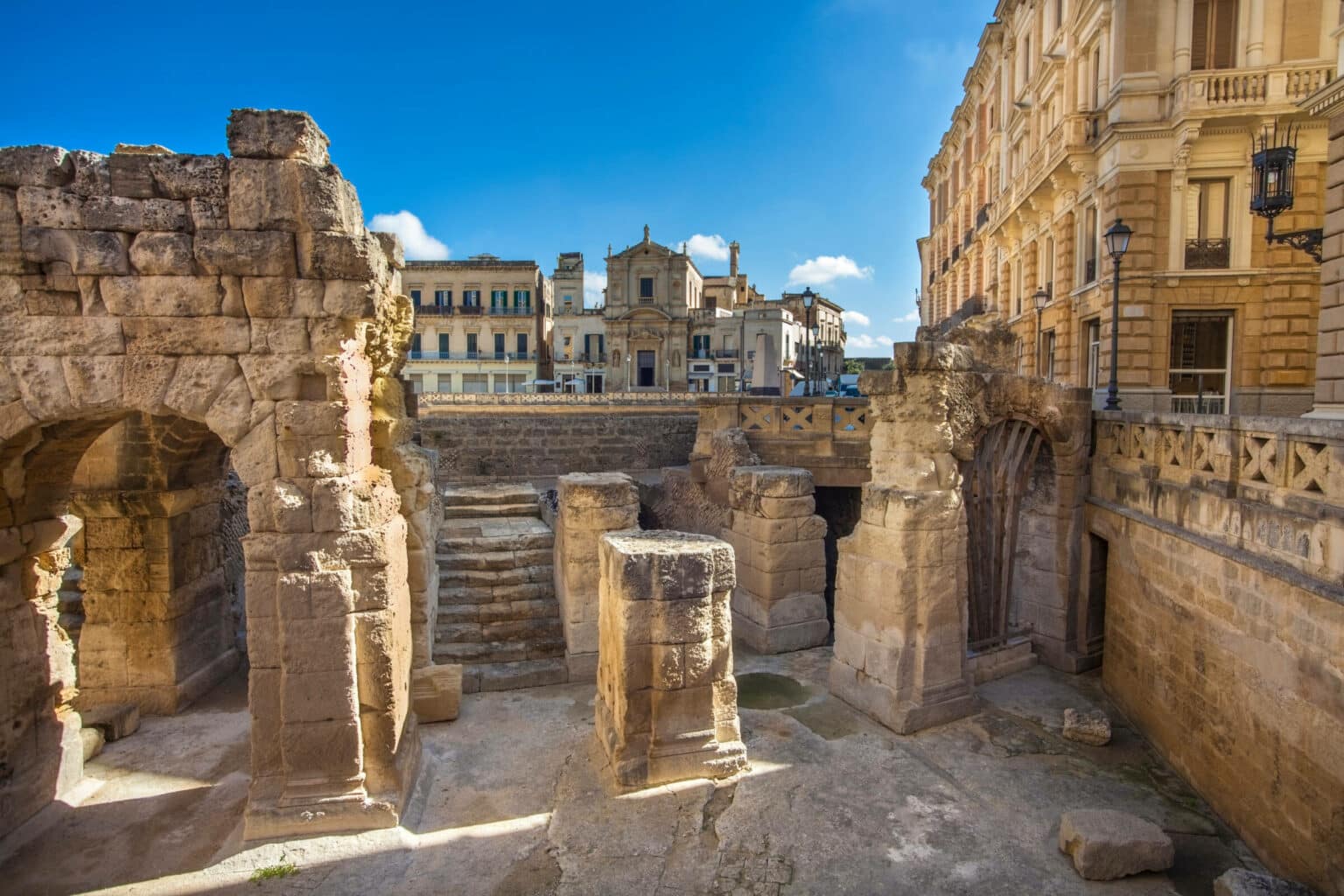 Spend a night in a one-of-a-kind trullo
Trulli may be the reason why you have Puglia on your bucket list. These limestone dwellings are outstanding and unique examples of mortarless construction, a prehistoric building technique still in use in the region. The legend says that an old king of Naples used to govern the region a long time ago and imposed a high tax on any permanent construction. To avoid that tax, the locals had an ingenious idea: building houses that are easy to dismantle whenever the control comes. 
Today you can admire these peculiar constructions scattered across the Itria Valley in or around towns such as UNESCO-listed Alberobello, Martina Franca, Locorotondo and Cisternino.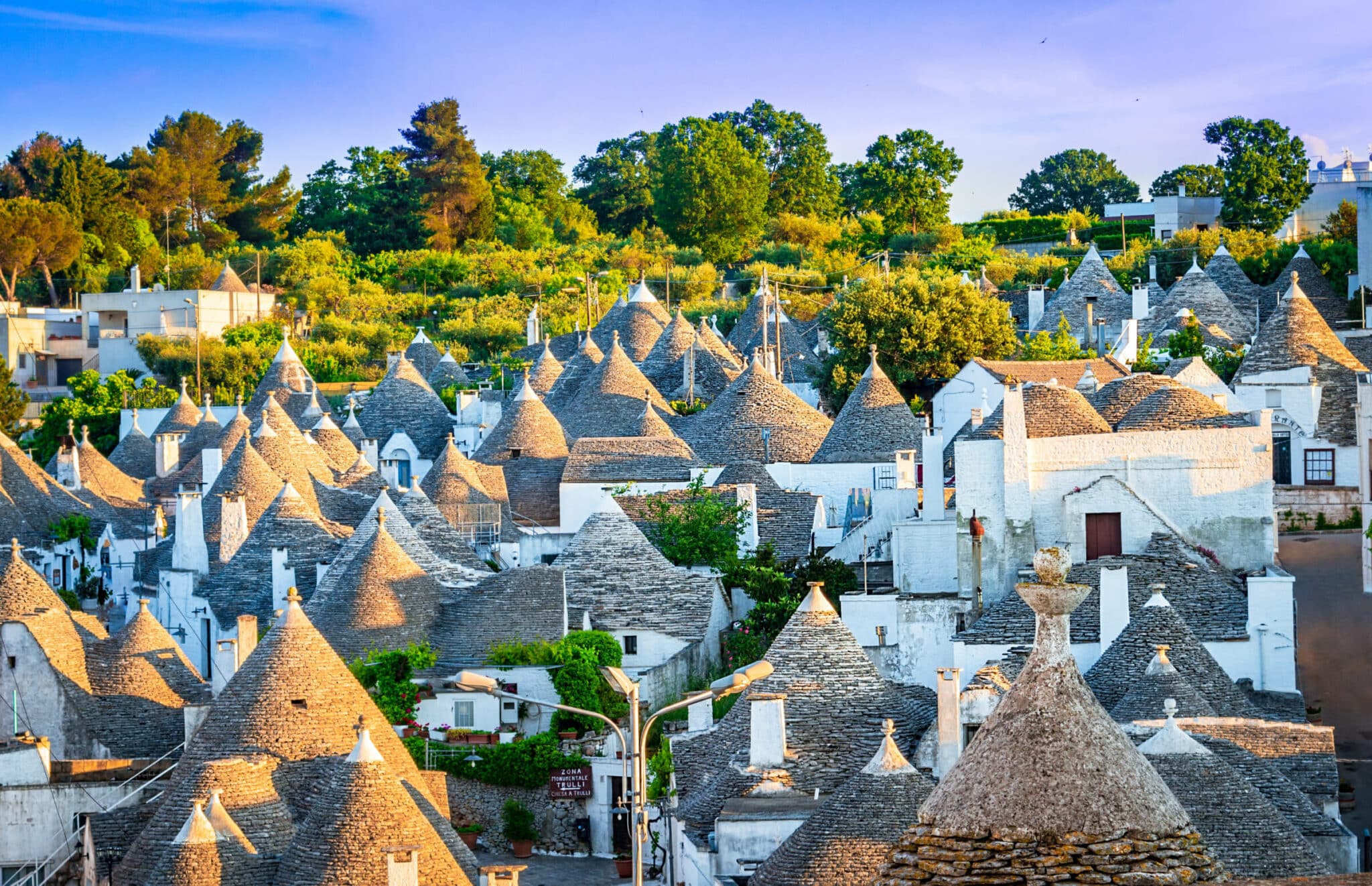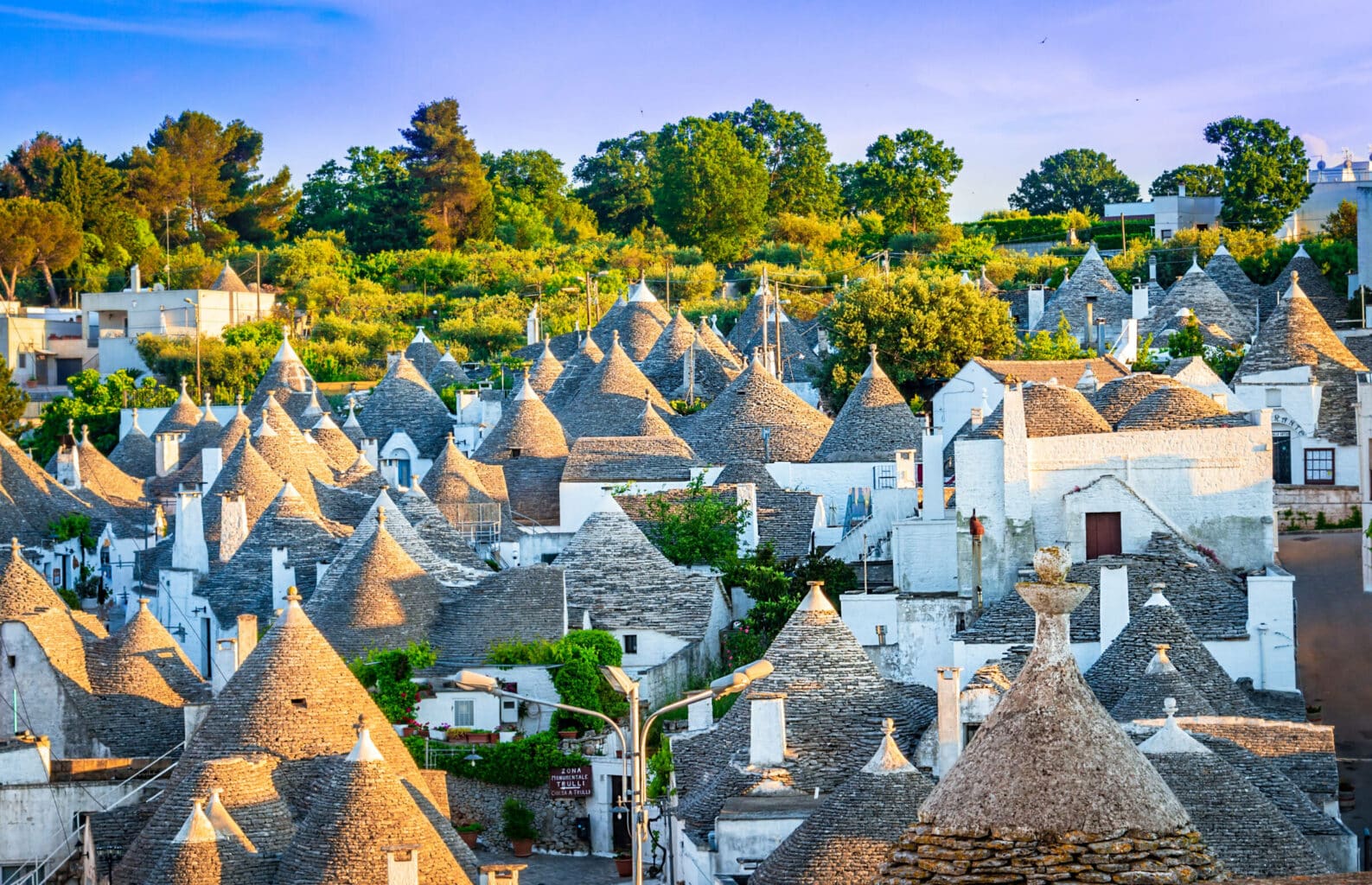 From shame to fame
Located in the city of Matera, sassi and cave churches are outstanding, intact examples of a troglodyte settlement. The area is home to unique dwellings, monasteries and churches built into natural caves.
Matera is a magical place that will enchant you thanks to its architectural curiosities. You can stay overnight in one of the sassi for an out-of-the-box experience. No worries, they have been turned into comfortable and stylish hotels while keeping all their authentic charm!
Sassi were included in the list of UNESCO World Heritage in 1993, while in recent years, Matera has become one of the most beautiful and cinematic cities in Italy. However, this has not always been the case, as sassi used to be a filthy and unhealthy place in the past. Unsanitary conditions were a norm and viruses and epidemics spread frequently. As a result, the Italian government forced its inhabitants to leave for healthier accommodations. Only by the end of the 20th century, this tuff maze was rehabilitated.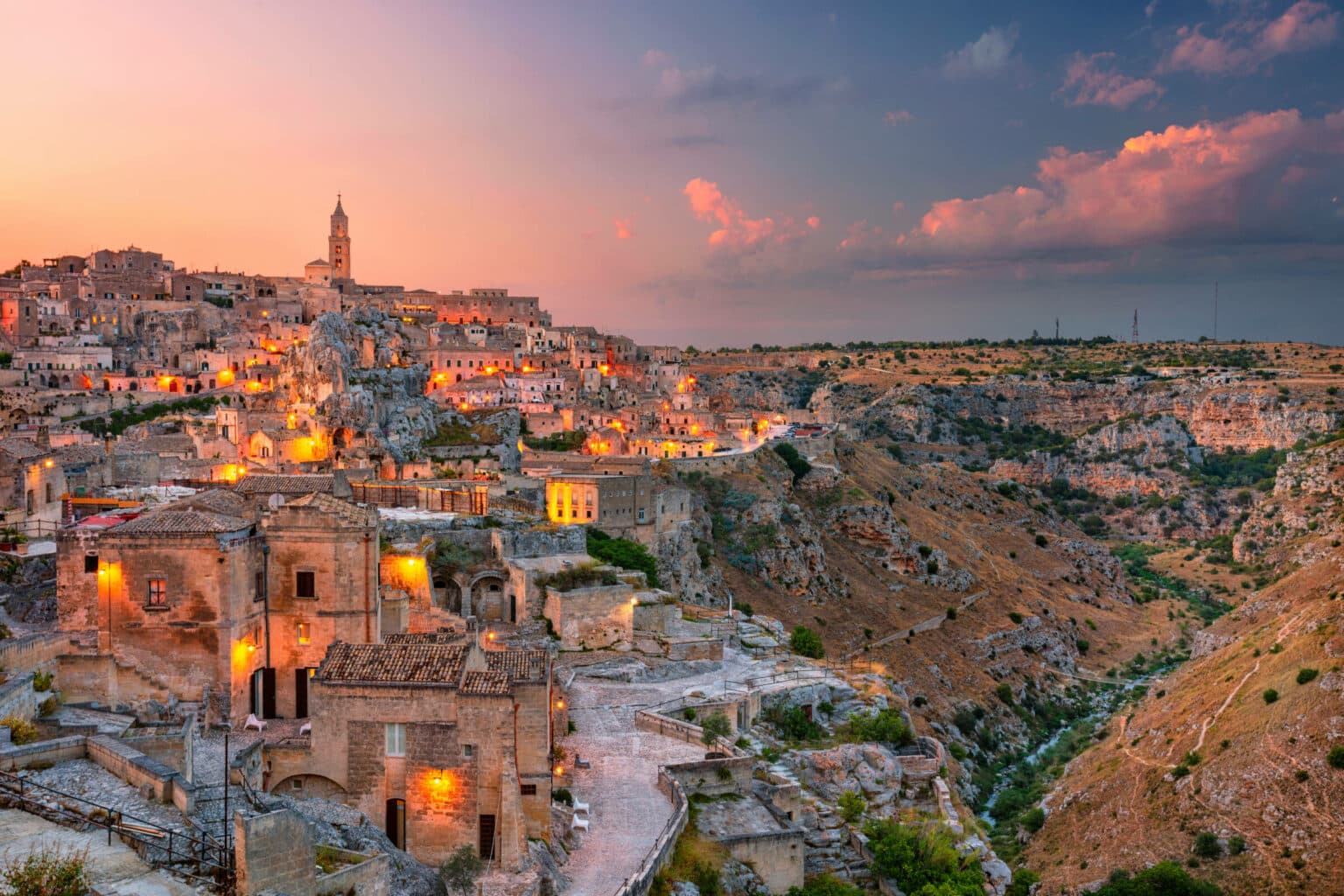 The most beautiful villages in Italy
History has left indelible marks in the numerous villages throughout Puglia and Basilicata. People from all corners of the world came here for centuries bringing their own cultures and leaving their traces. As a result, many of the most beautiful villages in Italy are situated in Apulia and Basilicata, and there is something to suit all tastes !
If you come to enjoy the warm, gorgeous sea, you will have many charming seaside towns to discover. Do not miss the pearl of Apulia, namely Polignano al Mare, or try something a bit less crowded, such as Monopoli or Vieste.
South Italy is also renowned for città bianche, i.e., towns where the prevailing colour of the buildings is white. The most famous is Ostuni – a marvellously romantic city attracting thousands of visitors every year. The main reason for this astonishing colour in the Middle Ages was to stop the plague from spreading. Limestone indeed has antibacterial properties, and there were fewer ill people in those white houses.
If you are into slow tourism and prefer to stay away from tourist crowds, Apulia and Basilicata will pleasantly surprise you. There are a lot of picturesque villages where time seems to have stopped. Spend a couple of hours, days or simply all your holidays there! To name but a few in Matera's region, visit the ghost town of Craco, the land of lovers of Pisticci, the olive oil town of Calciano or Pietrapertosa, known as the heart of Lucanian Dolomites. In Puglia, explore charming Cisternino, Galatina, Otranto, Monte Sant'Angelo, and Locorotondo.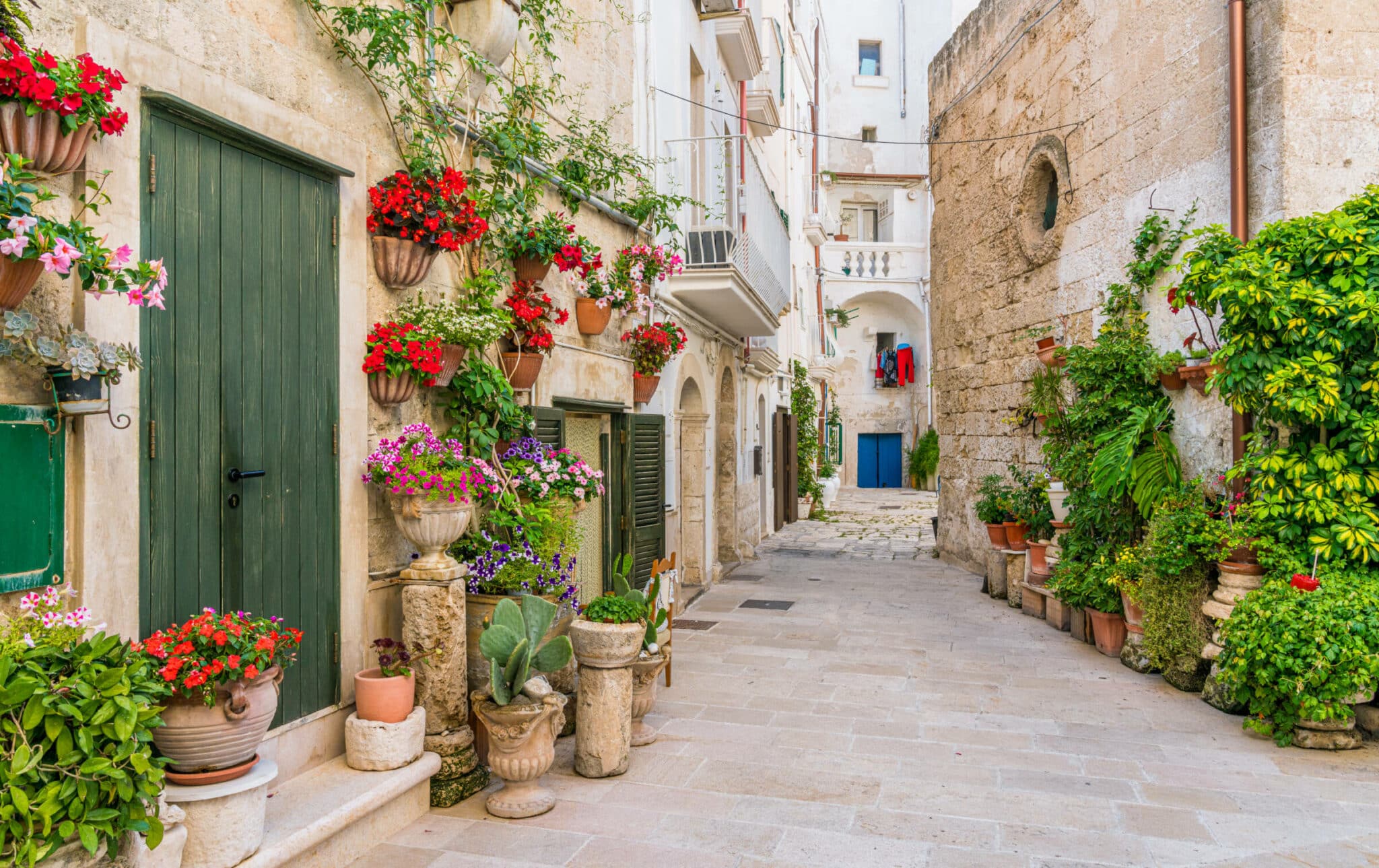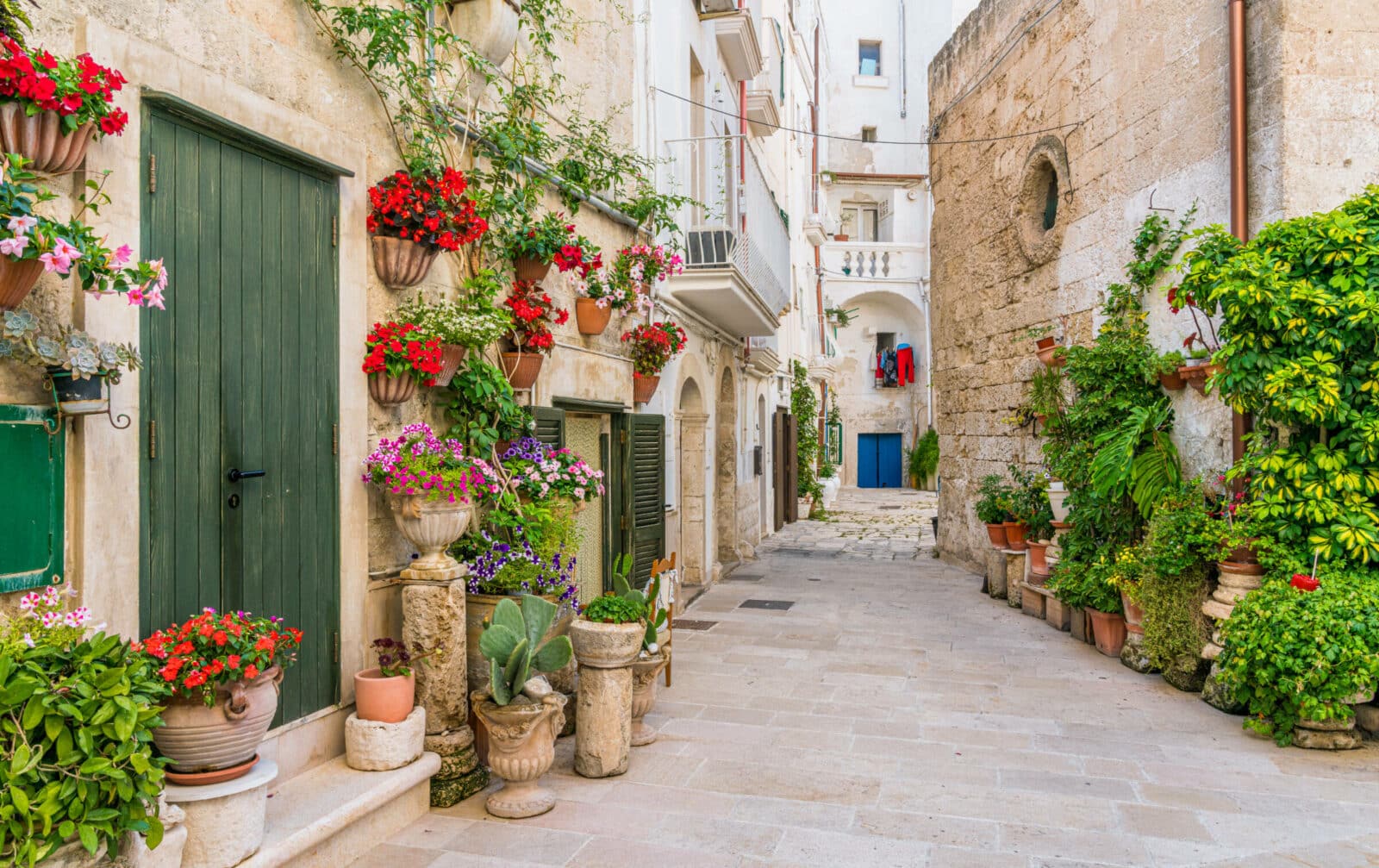 Spellbinding religious wonders
Incomparable religious sites are another reason to visit Puglia. Some of them are masterpieces that will make you speechless.
Do not miss Otranto's cathedral. It is like no other in Italy or anywhere else in the world. Its entire floor is covered with a 12-century mosaic of an incredible tree of life balanced on the back of two elephants.
Maybe the most famous and incredible cathedral for its unique baroque style – the Basilica of Santa Croce – awaits you in Lecce, known as the Florence of the South.
In addition, stop over the beautiful Romanesque-gothic style Basilica di Santa Caterina in Galatina to admire its facade and precious frescoes.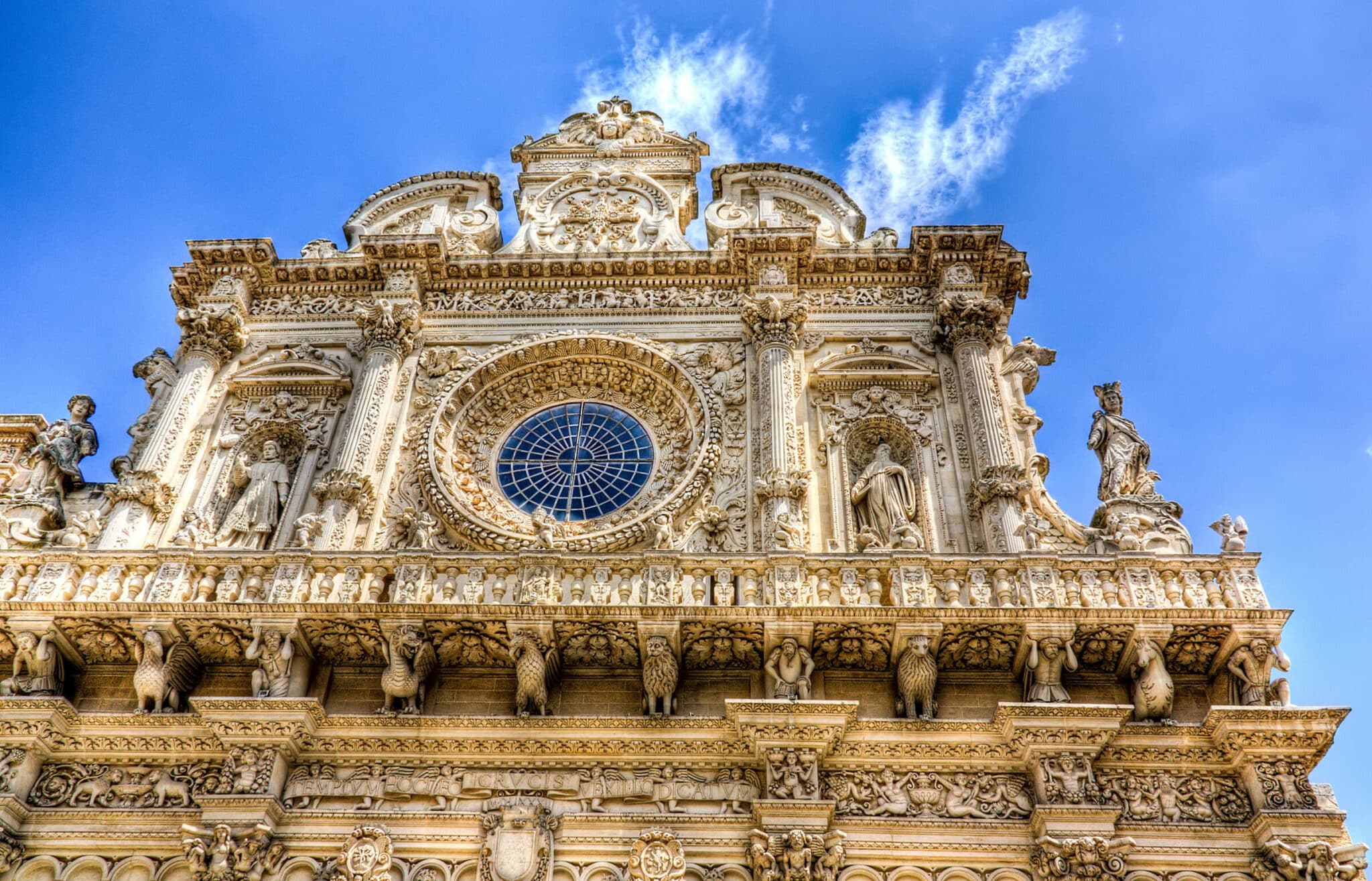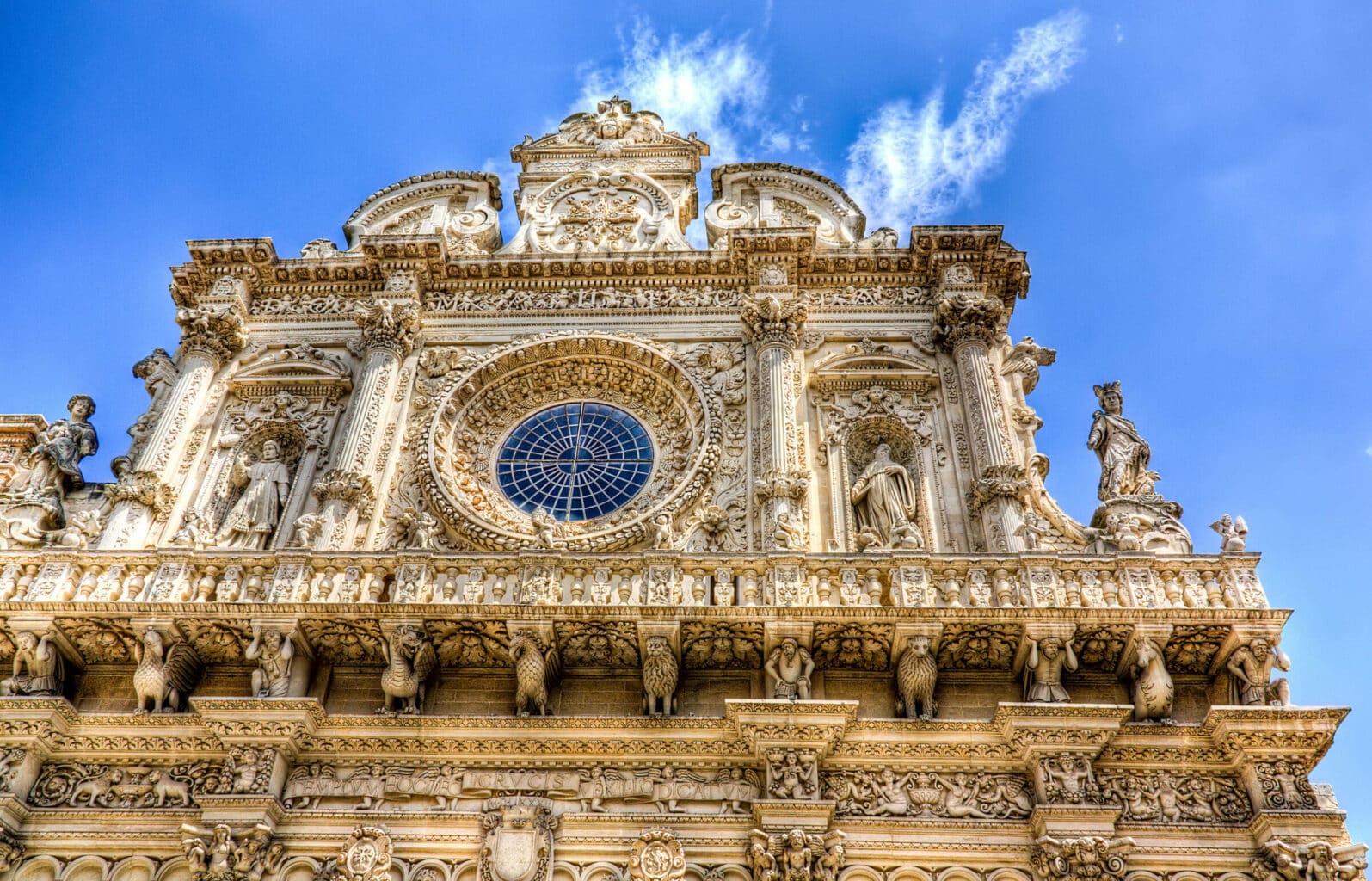 Impenetrable castles
Because of its strategic location, Apulia was often attacked from the sea and the mainland. That is why the rulers had to fortify the region with countless fortresses, towers and castles. 
One of the most beautiful and popular is Castel del Monte. It is strategically perched on a rocky hill and is meant to dominate the Kingdom of Sicily.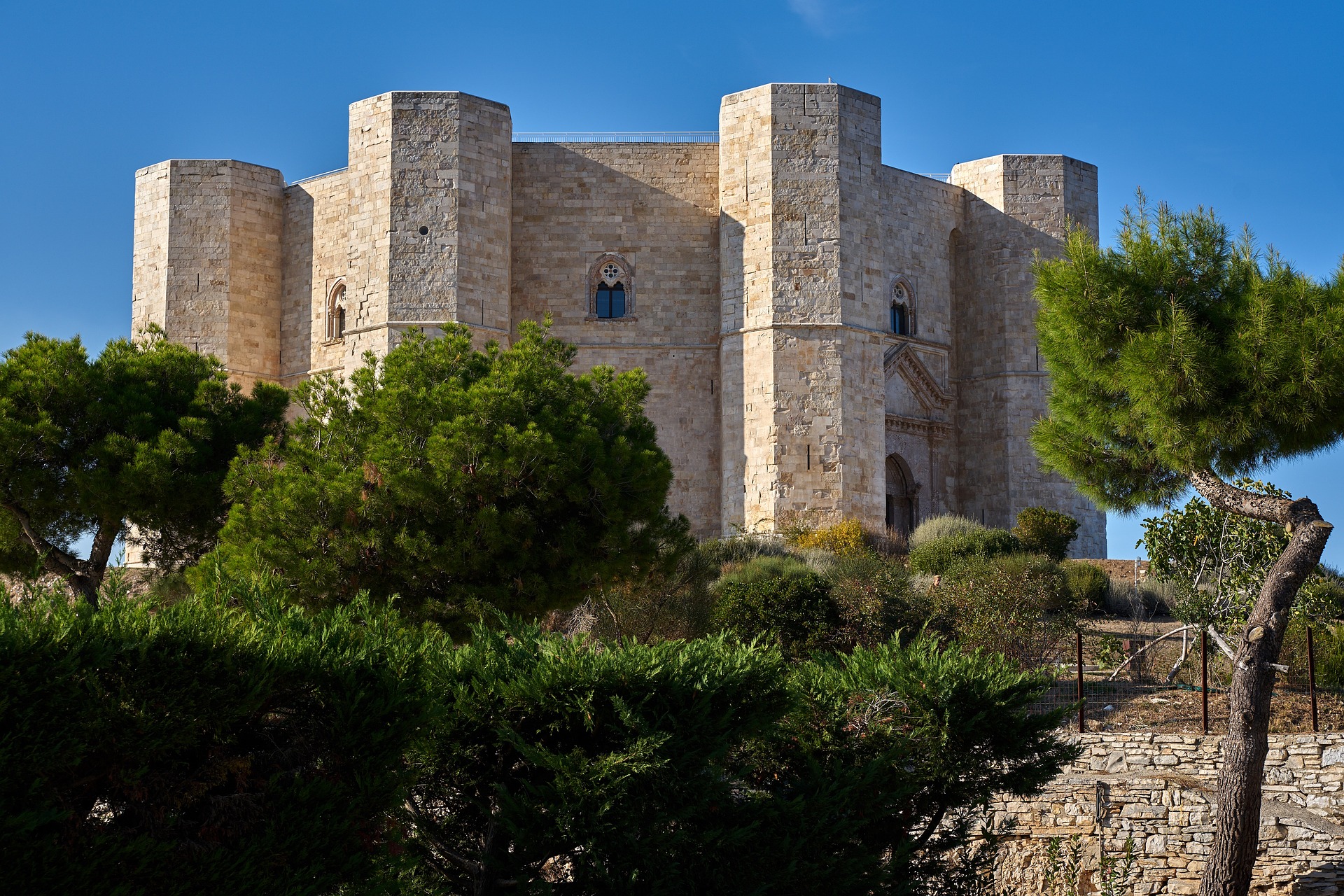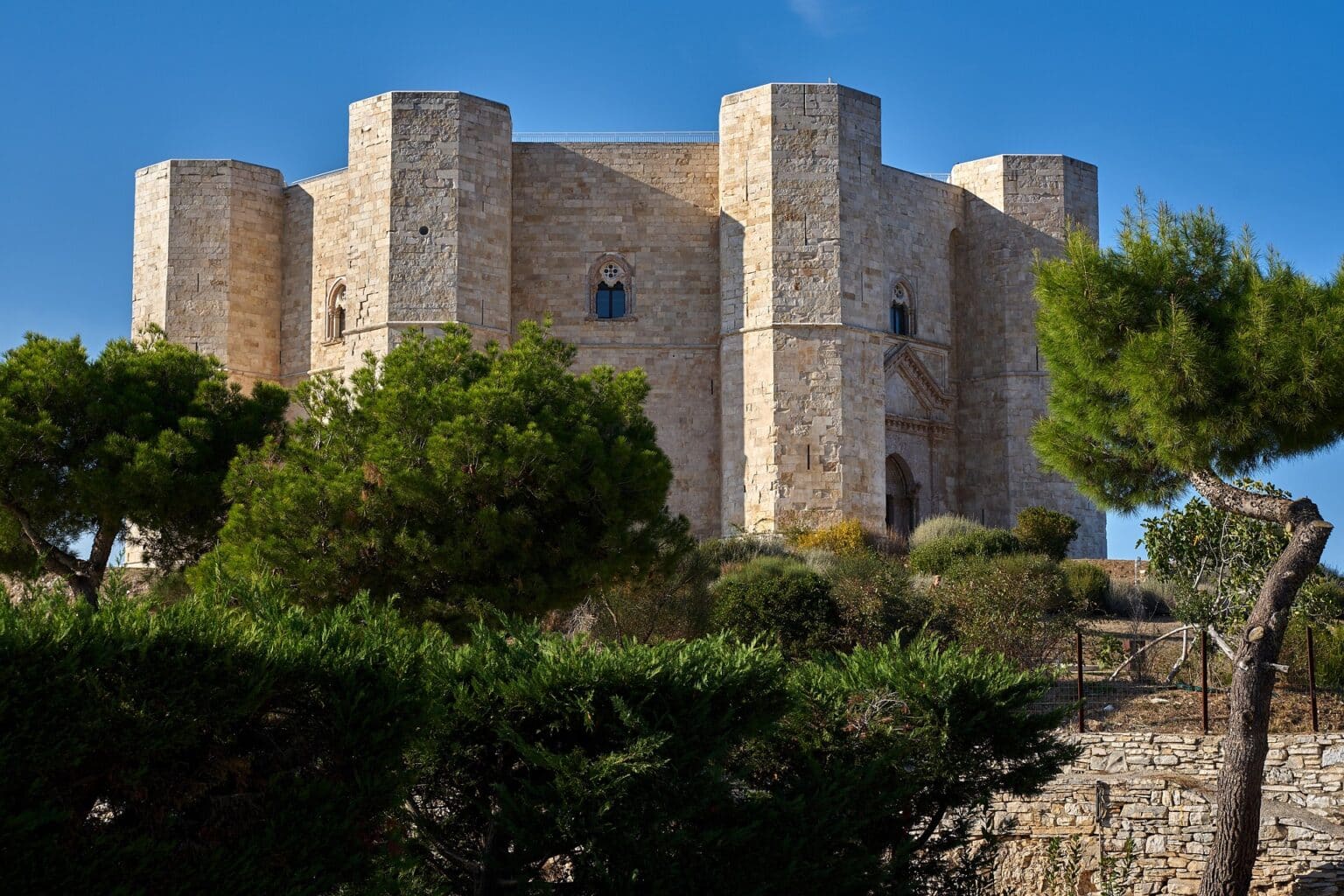 Feasts, rites and traditions
Last but not least, South Italy is famous for its festivals and celebrations. If you prefer a more original journey, choose among the many unique and fabulous feasts and visit the region during that time. 
One of the most popular is "La Notte della Taranta", which takes place the last weekend of August in the province of Lecce. It attracts almost 200,000 people from all over the globe, coming to dance in the streets all night long.
Since Puglia is a mecca for foodies, many festivals are dedicated to local specialities, such as the Octopus festival or the festival of Primitivo wine.
As far as Basilicata is concerned, celebrations are no less exciting! Even though it is not Venice, Carnaval is a very important event there, especially the remarkable "The Walking forest " in the province of Potenza and the Carnival of Aliano.