Culture & Heritage & Traditions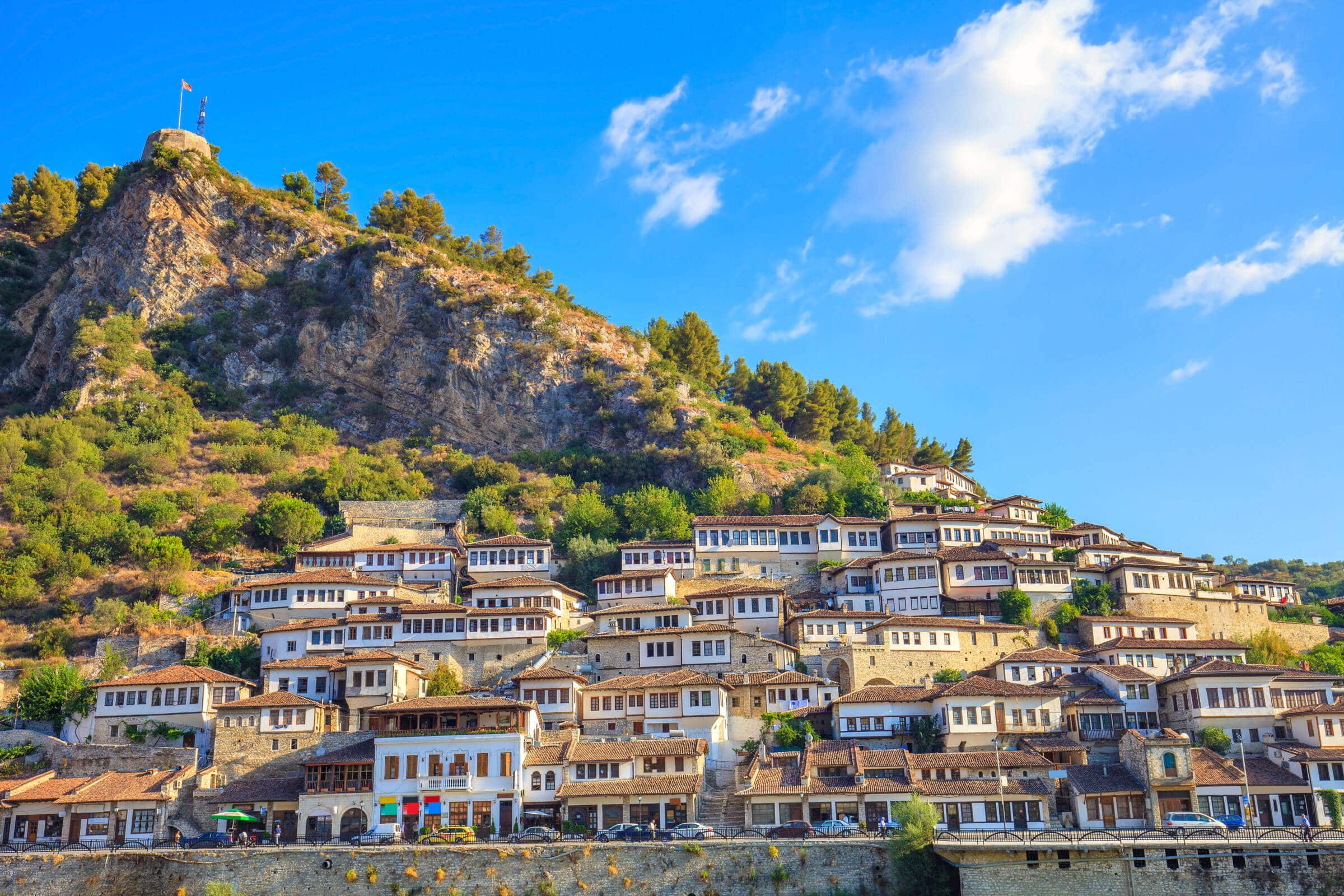 A group of 4 pensioners planned a 10-day holiday in Albania after the summer to discover its cultural heritage. 
The call
Anastasia called us on time after we had reserved a time slot on the Velstana website. She asked us a series of relevant questions about our needs, tastes and interests for our upcoming holidays. Within 30 minutes, we managed to create together our exclusive tailor-made journey.
We explained to Anastasia that we wanted to discover Albania's culture and heritage in depth, preferably after the summer to avoid the high-season crowds and when the air temperatures would go down a little. We would hire a car directly at the airport to retain maximum flexibility throughout our tour. Concerning accommodation, we requested comfortable guest houses or small family-run hotels to meet with the locals and get the real flavour of Albania. 
With all these details in mind, Anastasia suggested discovering a few cities and sites considered real Albanian treasures – some of them inscribed on the UNESCO World Heritage List. She also recommended that we spend a few days relaxing on the Riviera while exploring some natural wonders in the region. 
The reservation
Anastasia emailed us a detailed description of our tailor-made holidays and a quotation the following week. It included all the elements we discussed and agreed upon during our call. She also sent us helpful advice for purchasing our flight tickets. 
As a result, we approved and signed the quotation electronically and paid a deposit. As soon as we bought our flights, we forwarded the details to Anastasia for a smooth car pick-up. We were looking forward to our cultural holidays in Albania !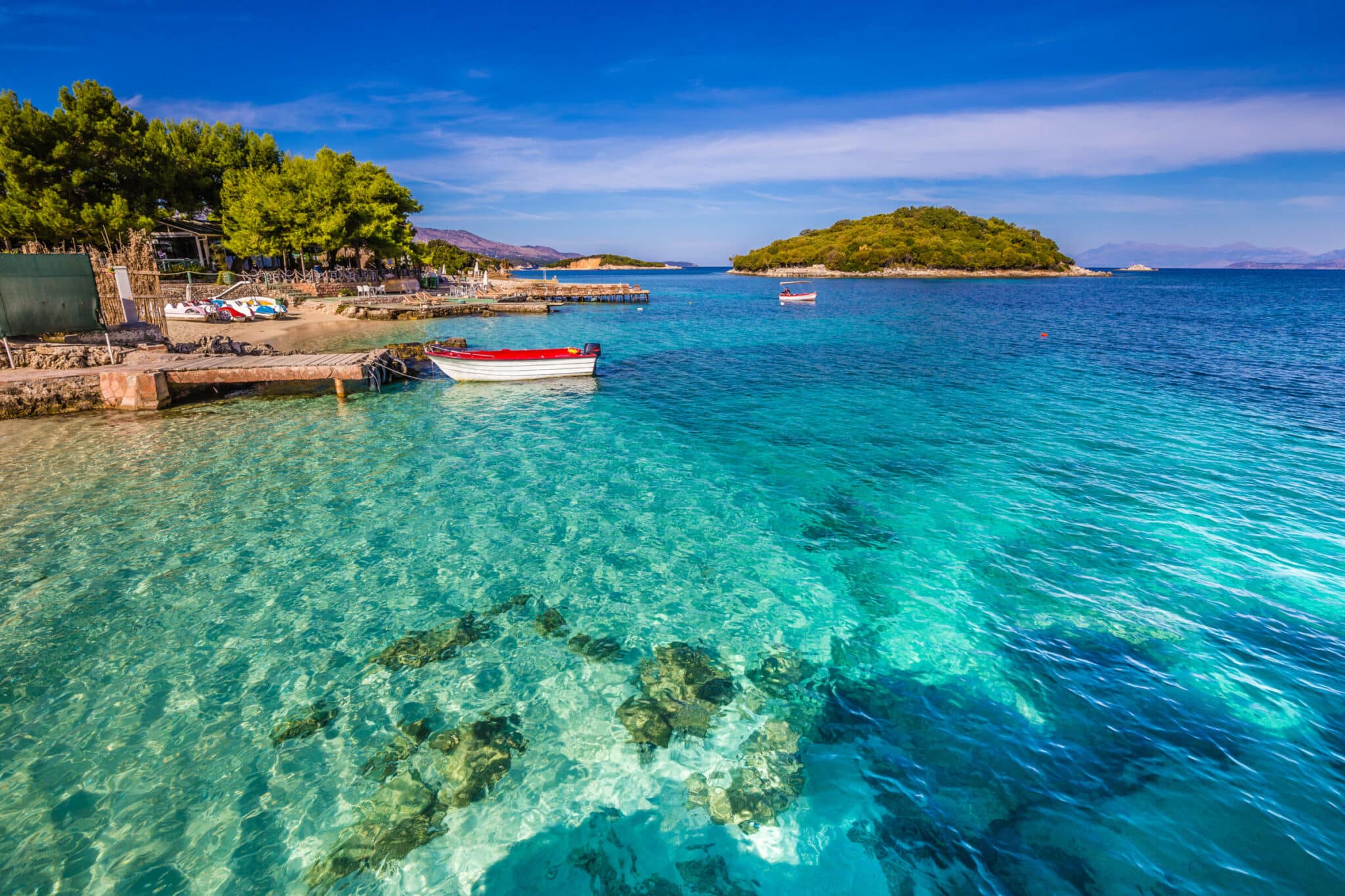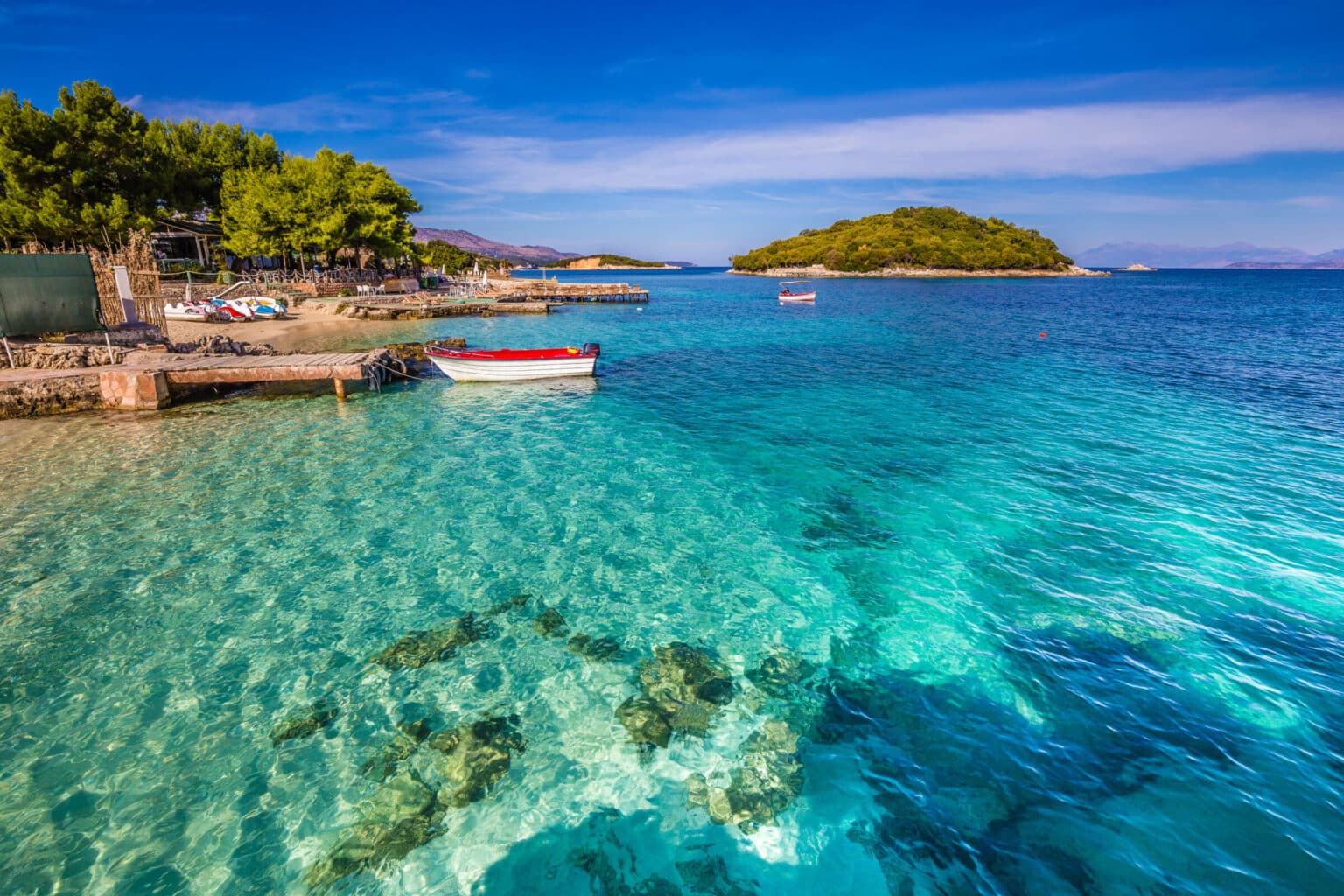 The preparations
Two weeks before departure, we received a comprehensive travel book setting out the complete itinerary by email. It also included many other things, such as trail information, travel advice and recommendations for restaurants and Albanian cuisine.
Thanks to a specific reference number sent by Velstana, it was also available online via a link and on a handy free app – that can even be used in offline mode – available for iOS and Android devices.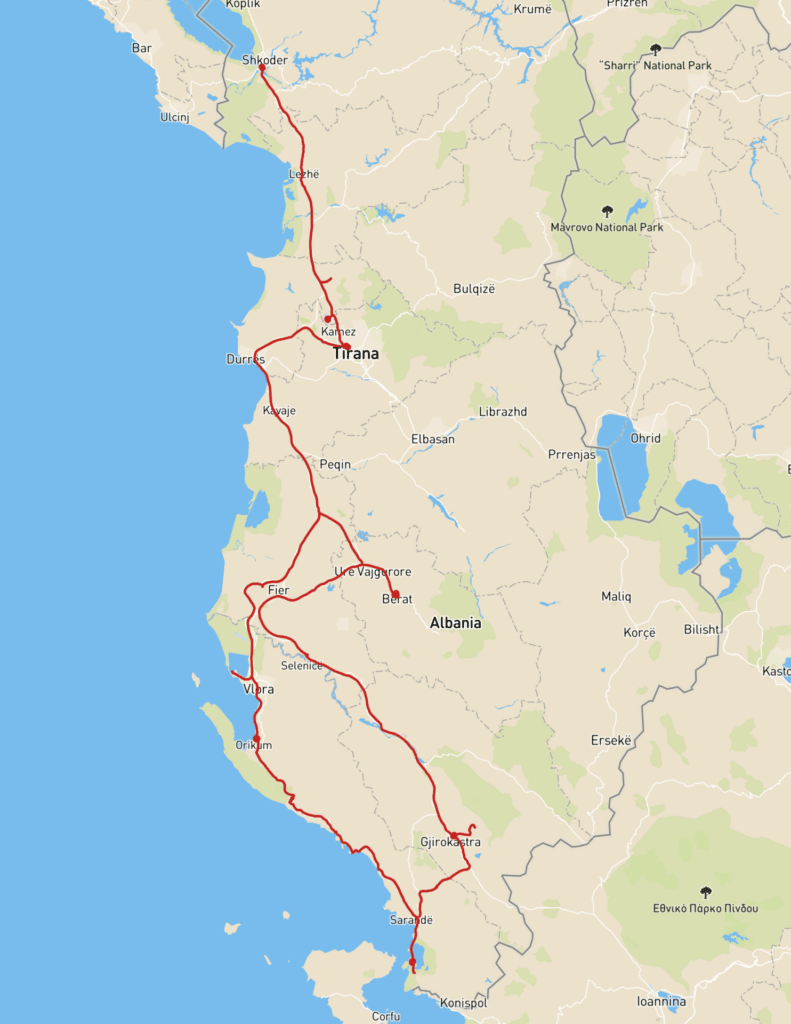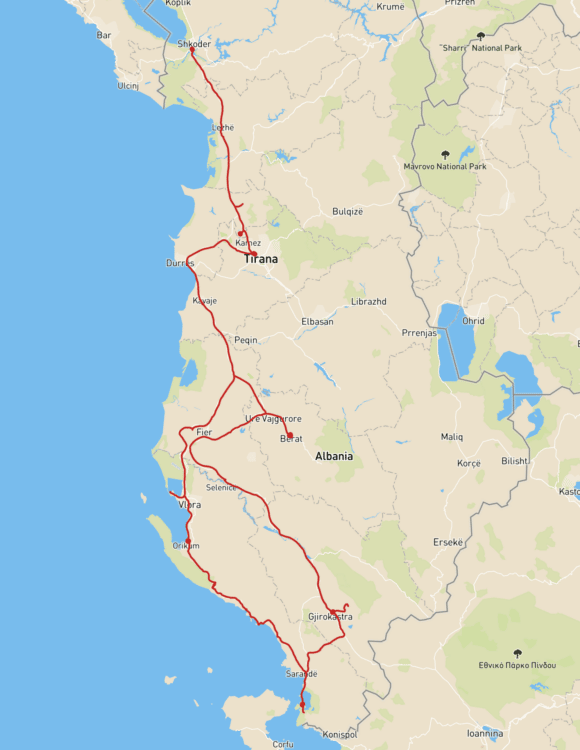 Trip details
First steps in the artistic capital of Albania
Upon arrival at the airport, we picked up the hired car and drove north for 90 minutes to Shkodra, known as Albania's cultural capital. We explored its fascinating cultural heritage, including the amazing Marubi photography gallery and the hilltop Rozafa castle, from where the view was spectacular! We also enjoyed strolling in the town's cobblestoned streets and Italian-style boulevard
with pastel-coloured buildings. We stayed in a comfortable family-run hotel. 
Read more
Hide
Exploring the Shkodra Lake and the historic Albanian capital
In the morning, we decided to discover a couple of villages located on the shores of Lake Shkodra. We had lunch in a nice restaurant serving delicious local food, including fresh fish from the lake. Then we departed to Kruja, Albania's mediaeval capital. The town was home to an interesting ethnographic museum and a spellbinding fortress.
From its hilltop, the view of the surroundings was majestic. We also strolled in Kruja's traditional bazaar, which proved to be delightful. After an extra 45-minute drive, we arrived in Tirana in the evening, Albania's official capital. We stayed at a small boutique hotel in the city centre. 
Read more
Hide
Tirana, the multifaceted capital 
After a tasty breakfast, we did a fascinating guided tour of Tirana, making us understand Albania's communist past. We visited some interesting museums, including the Bunk'Art and the House of Leaves, i.e., the museum of Secret Surveillance. 
Beautiful monasteries and archaeological site
We explored a fascinating archaeological site, namely the ancient architecture and ruins of Apollonia – a city founded by Greek colonists in the 6th century B.C. On our way, we also stopped by a gorgeous orthodox monastery of historical importance for the Albanians. We also went to the picturesque tiny island of Zvernec,
situated in the Narta lagoon. The island was home to another lovely monastery we reached by stepping over a wooden bridge. We stayed overnight in a nice family-run hotel in Orikum. 
Read more
Hide
The Albanian Riviera
We departed in the morning after a delicious homemade breakfast. We drove to the Llogara pass, which offered a breathtaking coastline panorama. The road along the coast was very scenic. We decided to stop at the beach for a few hours to enjoy a swim in the warm Ionian Sea. Afterwards, we explored the charming half-abandoned village of Old Qeparo perched on a hilltop.
We arrived at our guest house in Ksamil – a charming seaside resort located near the border with Greece – and enjoyed a nice home-cooked dinner. 
Read more
Hide
Butrint and the lagoon
We explored the archeological park of Butrint – inscribed on the Unesco World Heritage List – home to interesting history with ancient ruins dating back to the Greeks, Romans and Byzantines. It was fascinating! We also did a little boat ride in the salt lagoon of Lake Butrint,
featuring large biodiversity and Ali Pasha's crumbling castle. In the afternoon, we decided to rest and sunbathe on a gorgeous beach near Ksamil. 
Read more
Hide
The Blue Eye and beautiful Gjirokastra
On the road to Gjirokastra, we stopped at the Blue Eye, a mesmerising natural phenomenon. It was actually a large water spring akin to a big eye due to its deep, sapphire-blue water in the centre and shimmering water surrounding it.  We then arrived in Gjirokastra, a lovely town listed on the Unesco World Heritage.
We went to its fortress and bazaar market while strolling in its cobblestoned streets. We also visited a couple of stunning traditional house museums of Ottoman style. We stayed overnight at a nice guest house. From its terrasse, the view of the castle at night was unforgettable. 
Read more
Hide
Arrival in the city of a thousand windows
We went for a short one-hour hike to reach Antigonea, another archeological park in Albania. From there, we had an amazing panoramic view of the Gjirokastra valley. We then drove north to Berat, the city of a thousand windows inscribed on the UNESCO World Heritage List. After the first stroll in Berat's cobbled streets, we immediately fell in love with the town.
We stayed at a fantastic guest house with a stunning view of the river and the traditional houses. 
Read more
Hide
Exploring further Berat
We did an enjoyable private guided tour of Berat to discover its castle and other historical monuments. It was a lovely experience to walk in the old town streets of the city's historical neighbourhoods, namely Mangalem, Gorica and Kala, thus soaking up its unique atmosphere.
Last stop of our holidays
On our way to Tirana airport, we made the last stop in Preza, a small picturesque village situated on a hilltop and featuring a castle. The view of the Tirana valley, Kruja and the Adriatic Sea from the castle's tower was amazing. Lastly, we returned the car and caught our return flight. 
Pricing and services for this cultural tour: 485 € per person
Included:
9 nights (breakfast included) in a standard double or twin room in 3* superior, family-run hotels or guest houses 

 

Car rental for 10 days

,

including third-party liability insurance and standard coverage in case of damages and theft (CDW and TP)

2 private guided city tours in Tirana and Berat, respectively 

 

Travel Book accessible anywhere, anytime, including a one-of-a-kind itinerary

 
Excluded:
Flight tickets

Car fuel and security deposit for the car rental

Additional car coverage (on request)

 

Museum, castle, and

archeological

park entry tickets

 

Lunch and dinner

Travel insurance
The abovementioned sample prices are for guidance only and are not binding. The total cost of your holiday will depend on a number of factors, including time of year of travel and choice of accommodation and transport. The actual cost of your holiday is as set out in the Booking Confirmation.