Culture & Heritage · Nature & Adventure · Food & Wine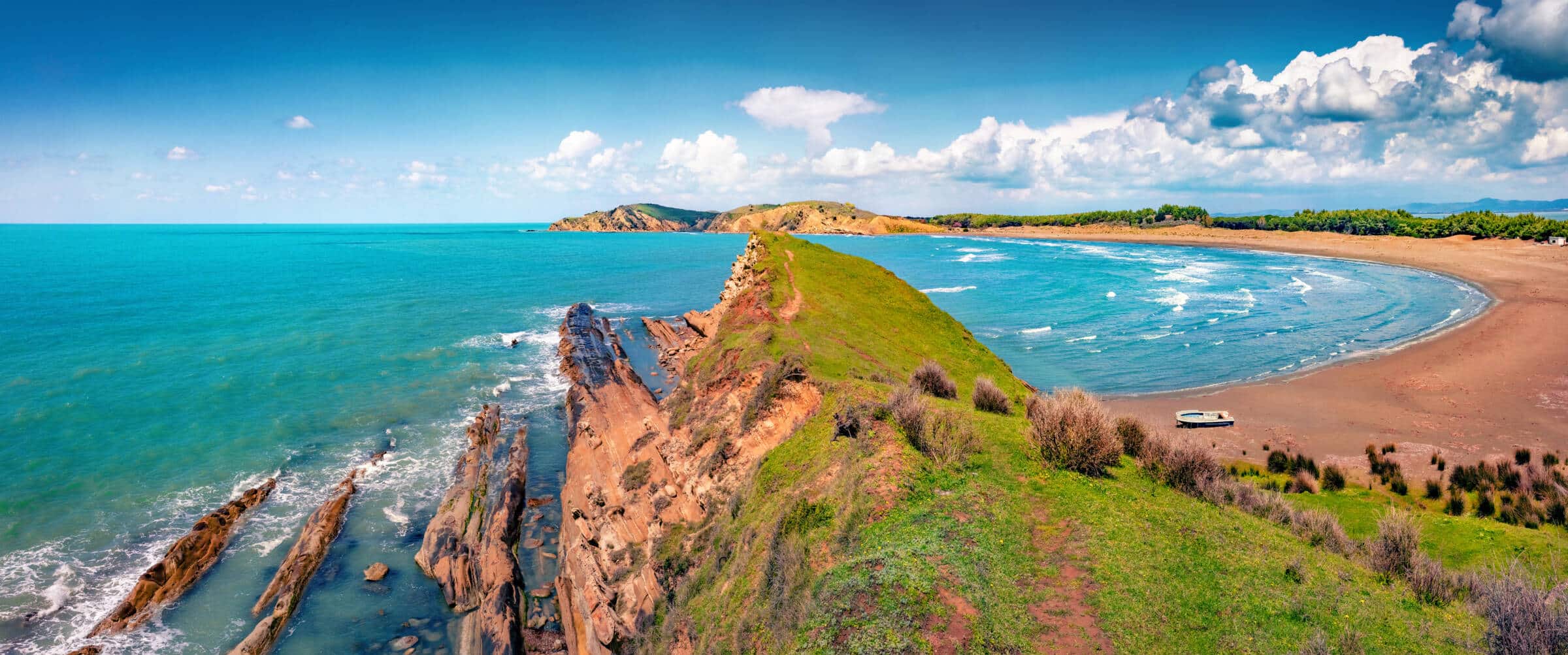 A family of four – including two teenagers – planned to spend an active holiday in Albania during summer. 
The call
We booked a time slot on Velstana's website, and Stanislas called us on time. The video call lasted less than 30 minutes, which proved to be sufficient to create together our own trip tailored to our preferences. 
We explained to Stanislas that we loved the outdoors. As a result, we were looking for a one-week active holiday in Albania, including thrilling outdoor adventures. 
He tabled a few ideas of possible activities in line with our tastes, including white-water rafting in a wild canyon, diving and exploring a shipwreck in the Ionian Sea, hiking in the mountains, and relaxing and sunbathing on gorgeous secret beaches. He also suggested us doing an entertaining cooking class to discover Albania's unique gastronomy. Everything seemed exciting and entirely in line with our expectations. 
We also intended to rent a car upon arrival at Tirana airport. That would be more convenient for us, all the more so, as Stanislas confirmed that public transportation was minimal across the country. 
Concerning accommodation, we told him that we would like to stay in comfortable guest houses or hotels of good quality. We requested two rooms – one double and one twin – for our family. 
The reservation
Stanislas emailed us a detailed description of our tailor-made holidays and a quotation the following week. It included all the elements we discussed and agreed upon during our call. He also sent us helpful advice for purchasing our flight tickets. 
As a result, we approved and signed the quotation electronically and paid a deposit. As soon as we bought our flights, we forwarded the details to Stanislas for a smooth car pick-up. We were looking forward to our adventure holidays in Albania !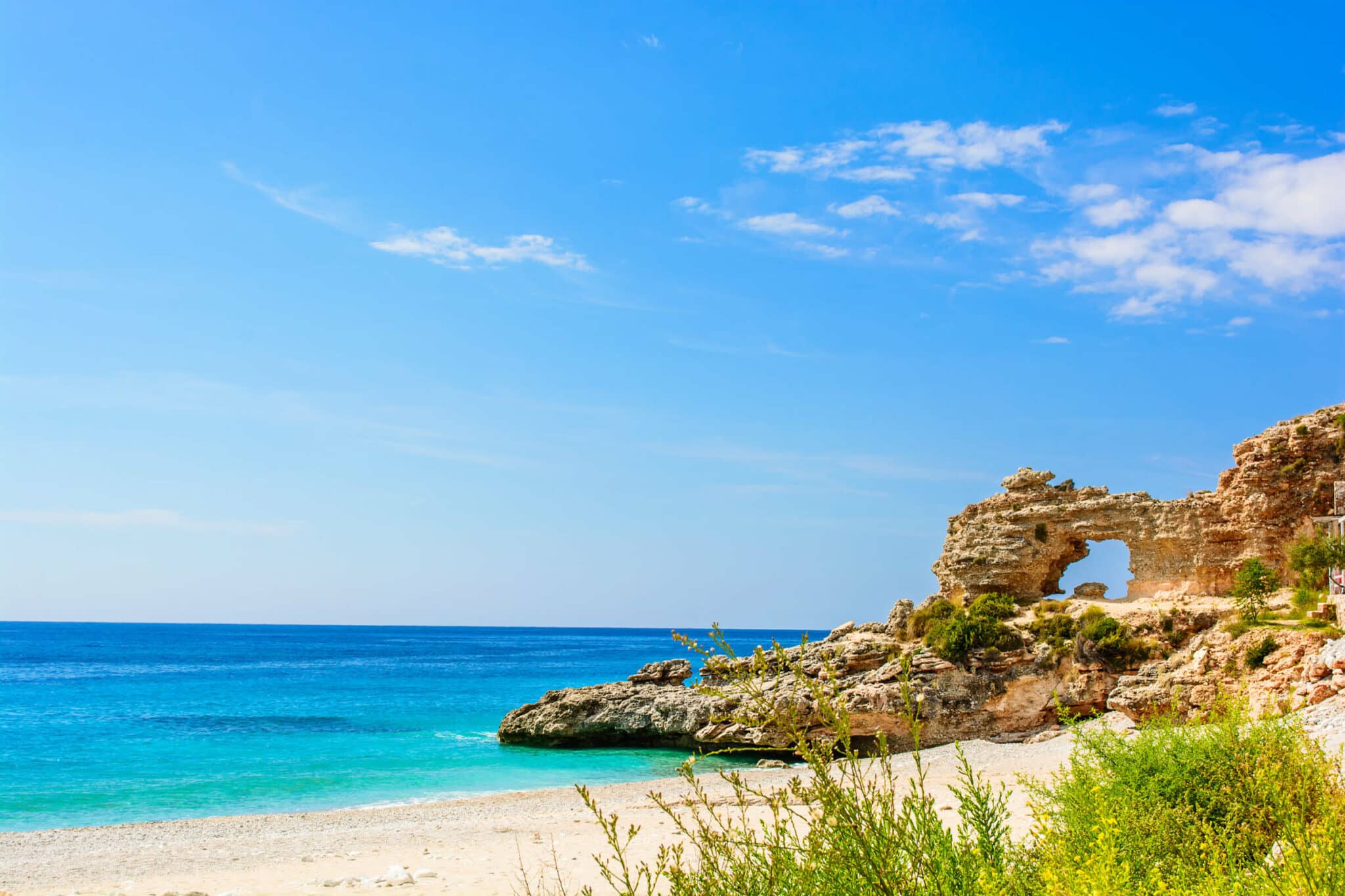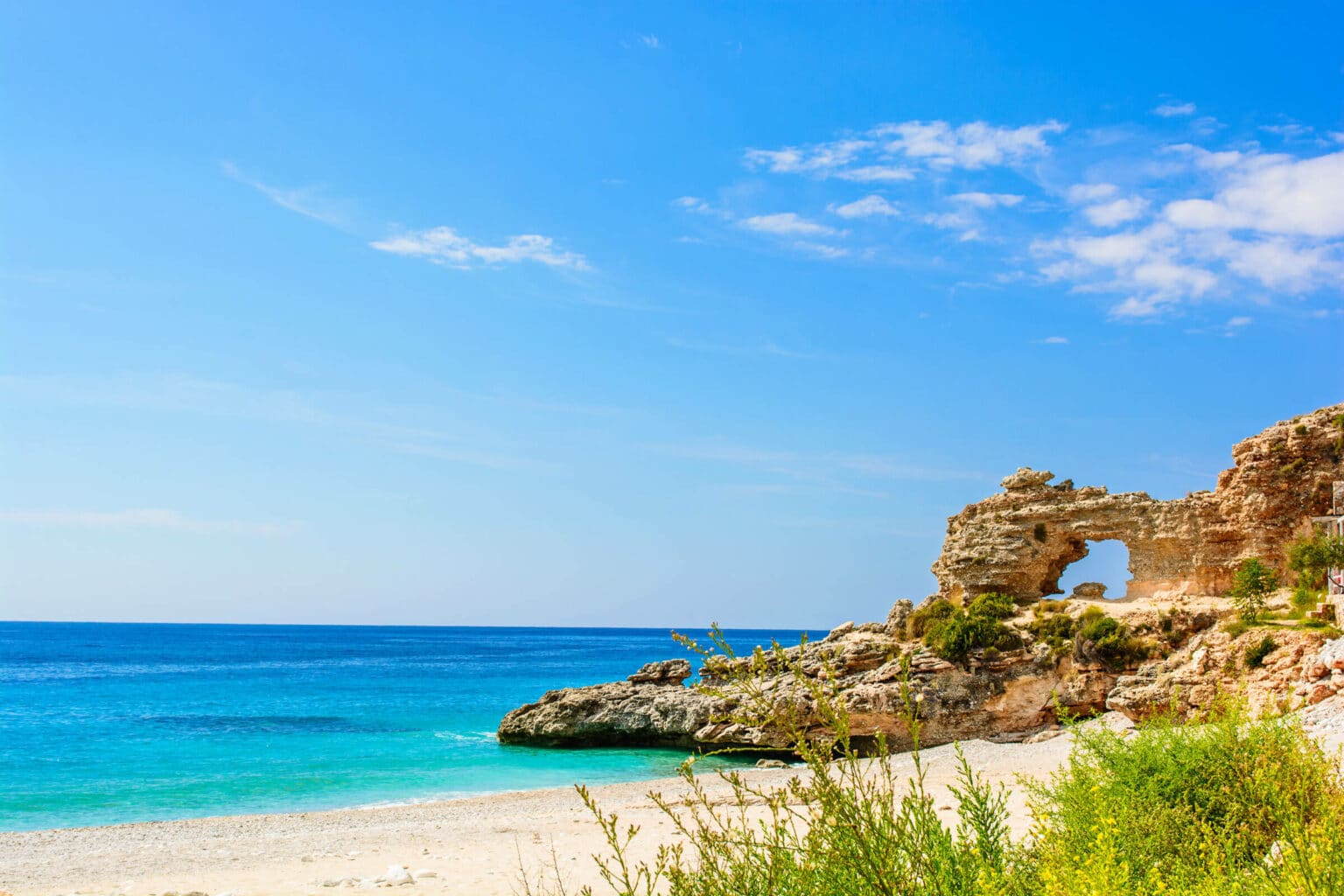 The preparations
Two weeks before departure, we received a comprehensive travel book setting out the complete itinerary by email. It also included many other things, such as trail information, travel advice and recommendations for restaurants and Albanian cuisine.
Thanks to a specific reference number sent by Velstana, it was also available online via a link and on a handy free app – that can even be used in offline mode – available for iOS and Android devices.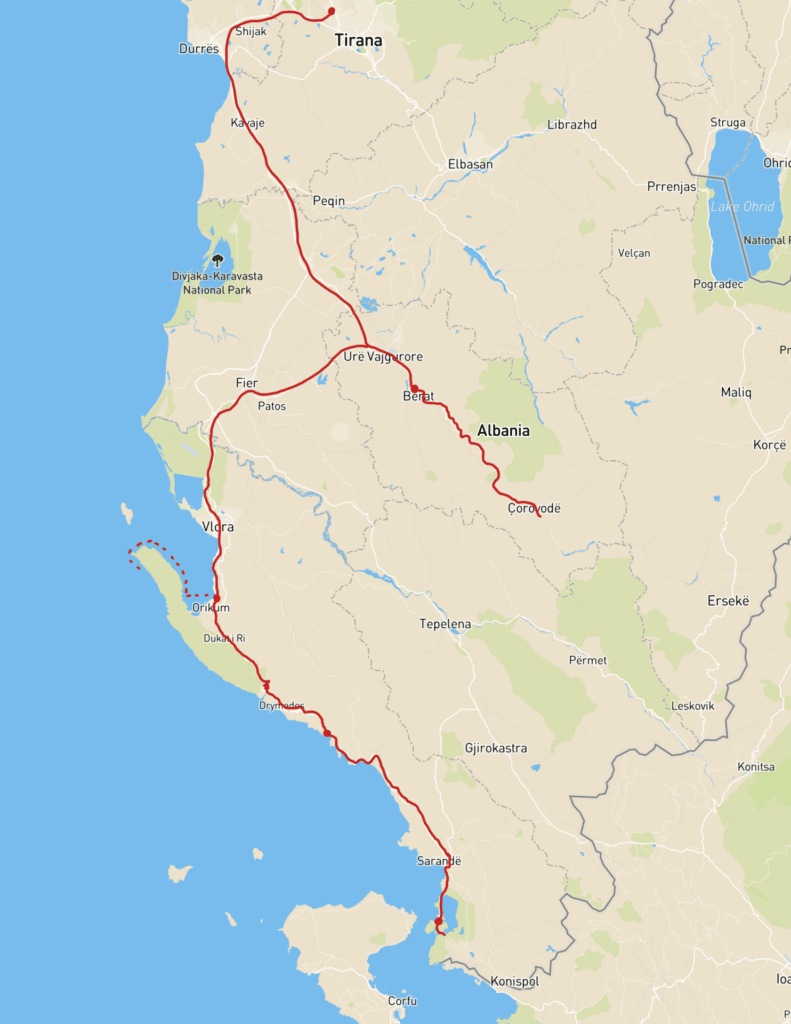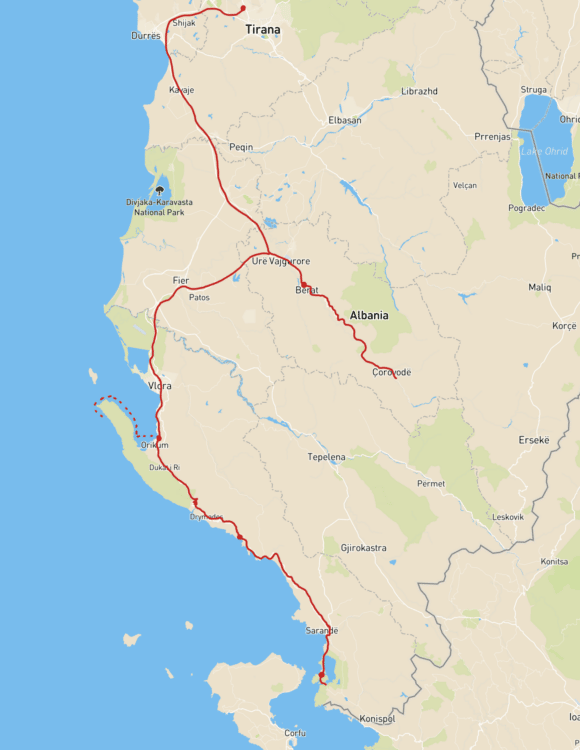 Trip details
First steps in the city of a thousand windows
Upon arrival at Tirana airport, we picked up the hired car and drove south towards Berat, also known as the city of a thousand windows. We visited this beautiful town inscribed on the UNESCO World Heritage List. Strolling its cobblestoned streets was an absolute delight! We also went to Berat's hilltop castle,
where we enjoyed a spectacular panorama of the surrounding areas. We stayed in a nice guest house with a stunning view of the river and the traditional houses.
Read more
Hide
Adrenaline Day
In the morning, we went for white-water rafting in the Osum canyon with a professional guide. It was a first for each of us and an amazing experience full of emotions. A cooking class was scheduled in the afternoon, and we learnt to cook tasty traditional dishes. On top of that, we liked the fact that all ingredients we used were bought from local farmers, thus contributing to the community's sustainable development.  
A memorable excursion
After an exquisite breakfast at the guest house, we drove towards the Adriatic coast for a 6-hour excursion to explore the beautiful Karaburun national marine park by speedboat. We swam in a mysterious cave before snorkeling in remote bays to explore underwater life. We also relaxed and sunbathed on a gorgeous sandy beach.
After returning to land, we headed to our nice family-run hotel in Orikum. 
Read more
Hide
Towards the Albanian Riviera
We drove up to Llogara Pass on a very scenic route. We stopped at the pass and went for an easy hike, which delivered some truly breathtaking views of the Albanian coastline. In the afternoon, we went to a nice beach with turquoise water
and sunbathed for a few hours. Subsequently, we arrived in Himara – a lovely seaside town with a significant Greek ethnic community – where we stayed in an amazing guest house with an on-site swimming pool and a secret beach located 15 minutes away on foot. 
Read more
Hide
A well-deserved resting day
After visiting the charming half-abandoned village of Old Qeparo perched on a hilltop, we spent the rest of the day relaxing and sunbathing on two hidden beaches, only accessible after a short hike. Both beaches were literally stunning – without any crowds – while the water was warm and crystal clear.
Afterwards, we went further south to Ksamil, the pearl of the Albanian Riviera. We stayed there in a nice guest house with a big garden, situated in a quiet neighbourhood.
Read more
Hide
Diving and sunbathing
We all did a discovery dive with a scuba diving school. It was an amazing experience to explore a shipwreck sunk during World War II and located only a few metres deep from the surface. We sunbathed for a few hours in the afternoon on a nice beach nearby. We also went to Butrint archaeological park
– situated in the South near the border with Greece – which was very interesting, as it was home to ancient ruins dating back to the Greeks, Romans and Byzantines.
Read more
Hide
Last swim in Albania
After a last swim in the Ionian Sea in the morning, we went to Tirana airport to return the hired car and be in time for our return flight. 
Pricing and services for this adventure trip: 690 € per person
Included:
6 nights in comfortable guest houses

or family-run hotels

(breakfast included) 

Car rental for 7 days, including third-party liability insurance and standard coverage in case of damages and theft (CDW and TP)

White-water rafting with a professional guide

Excursion by speedboat to the

Karaburun

peninsula

1 discovery dive

per person

 

Cooking class in Berat

 

 

Travel Book accessible anywhere, anytime, including a one-of-a-kind itinerary

 
Excluded:
Flight tickets

Car fuel and security deposit for the car rental

Additional car coverage (on request)

 

Museum/

castle

entry tickets

Lunch and dinner

Travel insurance
The abovementioned sample prices are for guidance only and are not binding. The total cost of your holiday will depend on a number of factors, including time of year of travel and choice of accommodation and transport. The actual cost of your holiday is as set out in the Booking Confirmation.