Beach Holidays · Culture & Heritage · Nature & Adventure · Food & Wine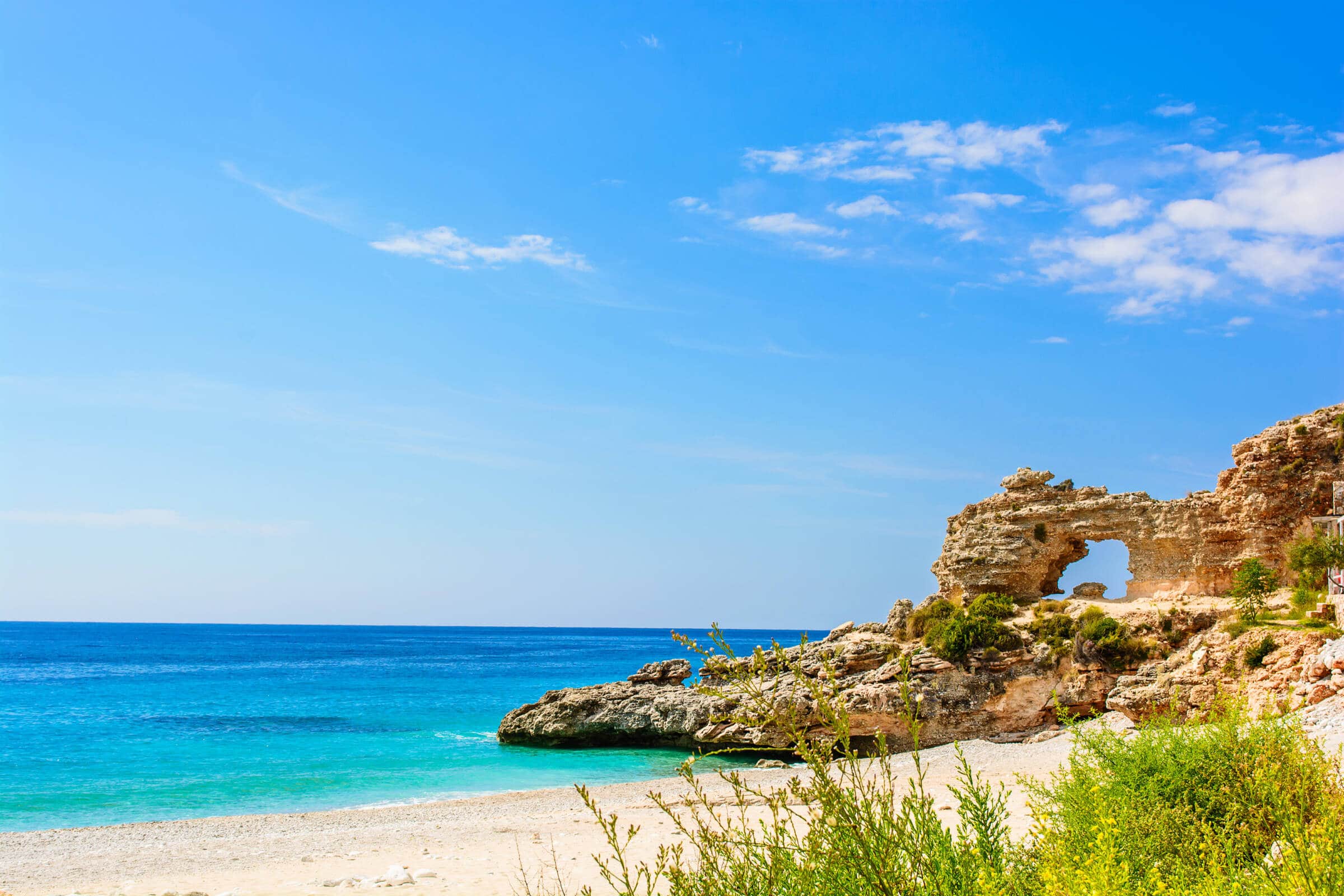 An Italian couple planned to take a romantic road trip in Albania during the summer holidays.
The call
We had chosen a convenient time slot on the website, and Anastasia called us on time. The video call lasted approximately half an hour. We knew almost nothing about Albania, but we really wanted to explore that country!
We explained to Anastasia that it would be our first trip to Albania even though we had already visited some other Balkan countries in the past. We planned to spend 14 days in total, mixing culture, outdoor and beach activities.
We wanted to rent a car for the whole journey.
Concerning accommodation, we asked to stay in 3- to 4-star hotels or in comfortable guest houses. 
The reservation
Anastasia emailed us a detailed description of our tailor-made holidays and a quotation the following week. It included all the elements we discussed and agreed upon during our call. She also sent us helpful advice for purchasing our flight tickets. 
As a result, we approved and signed the quotation electronically and paid a deposit. As soon as we bought our flights, we forwarded the details to Anastasia for a smooth car pick-up. We were looking forward to our romantic road trip in Albania !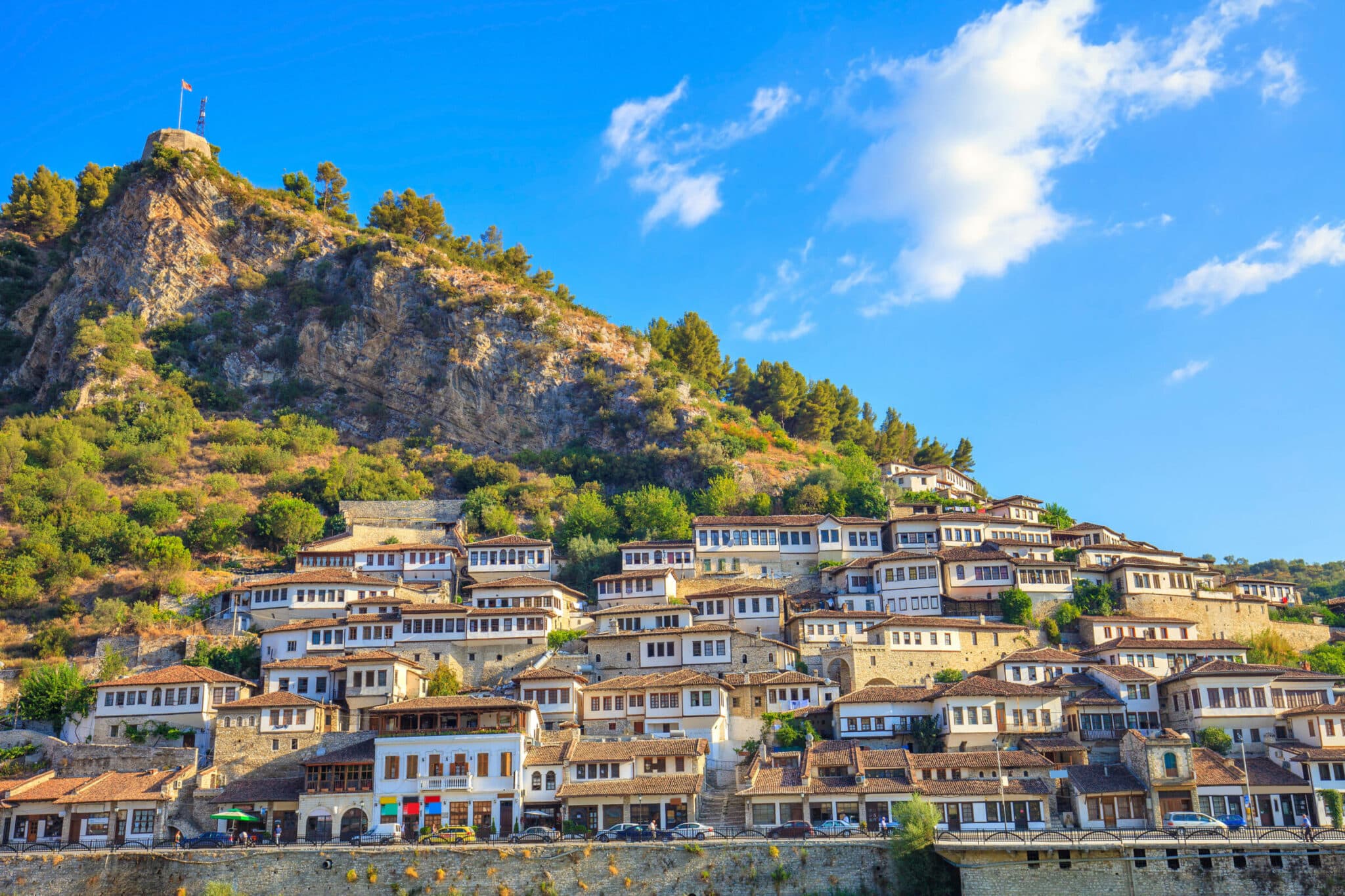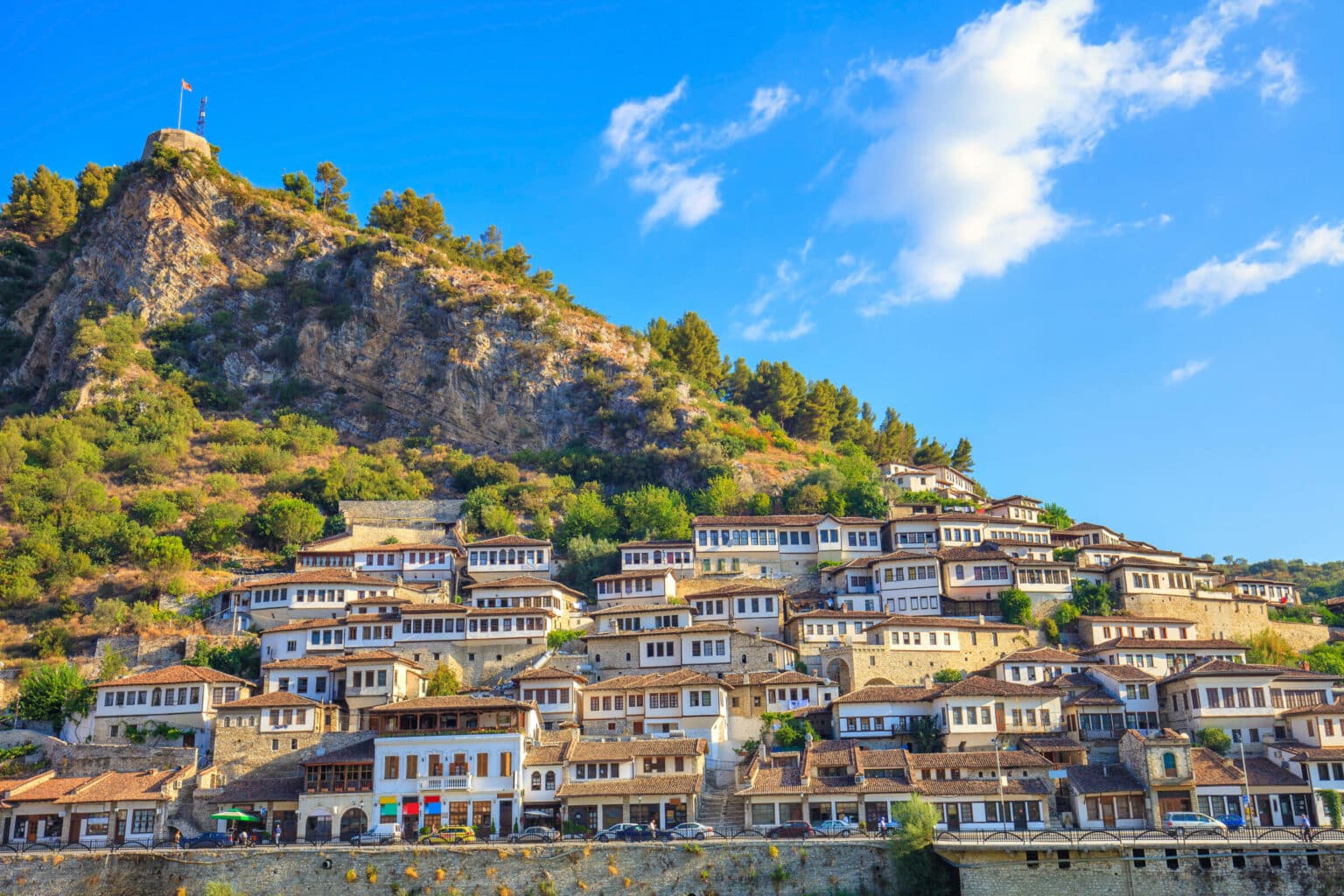 The preparations
Two weeks before departure, we received a comprehensive travel book setting out the complete itinerary by email. It also included many other things, such as trail information, travel advice and recommendations for restaurants and Albanian cuisine.
Thanks to a specific reference number sent by Velstana, it was also available online via a link and on a handy free app – that can even be used in offline mode – available for iOS and Android devices.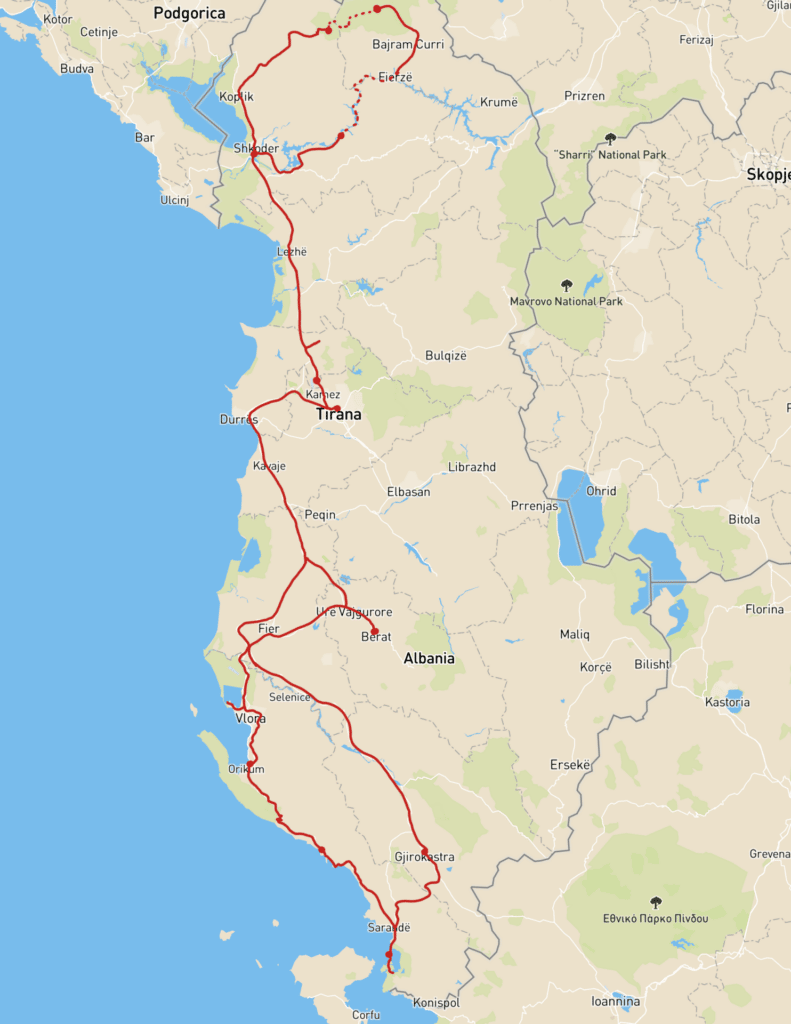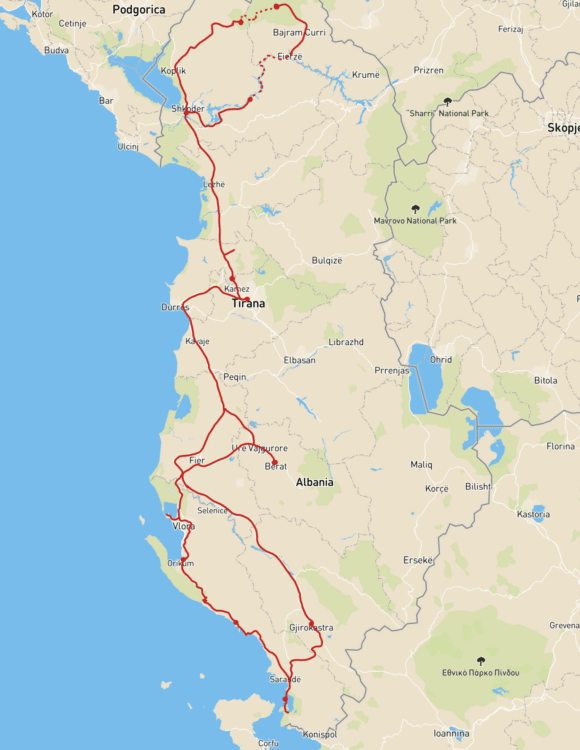 Trip details
Arrival in Albania and first steps into the capital
Upon arrival at Tirana airport, we went straight to the car rental desk to pick up the car that was reserved for us. We had a very short drive towards the city centre, where we checked in at our lovely and well-located family-run boutique hotel. In the afternoon, an Italian-speaking guide came to the hotel to pick us up for a 2½-hour tour. We learned so much about Albania and Tirana,
especially its communist past. We had dinner in a traditional restaurant pre-booked for us by Velstana.
Read more
Hide
The medieval and cultural capitals of Albania
We had a delicious breakfast at the panoramic terrace of our hotel. Afterwards, we headed to Kruja, a beautiful town just an hour away from the capital. We especially enjoyed the craftsmanship, souvenir market, and magnificent fortress that used to be the centre of the legendary Skanderbeg's rebellion. We continued on the road towards Shkodra, Albania's cultural capital.
We spent the afternoon strolling along the town's beautiful streets, eating ice cream and local delicacies. The town absolutely enchanted us!
Read more
Hide
Shkodra lake
We rented bikes and went to the eponymous lake located nearby. We spent a wonderful day there kayaking, swimming, sunbathing and eating delicious fresh fish in a restaurant with a stunning view. In the evening, we returned to Skodra and enjoyed the evening and dinner in this spellbinding town.
Magic village of Theth
In the morning, we hopped on a minibus towards a small remote village, Theth. It seemed that time had stopped there! We spent the afternoon hiking towards the mystical Blue Eye and the impressive Grunas waterfalls. We also explored the Kulla,
located not far away from the village. We had a hearty and delicious dinner at our guest house in the evening. All products came directly from the village!
Read more
Hide
The big day of hiking
After a good breakfast, we took a spectacular hike from Theth to Valbona. The hike was not easy, but it was definitely worth it! We will never forget those breath-taking views!
It took us about 7 hours overall, including all stops to take pictures, eat snacks and drink water. In the evening, we were treated to a fresh homemade dinner in the remote village of Valbona.
Read more
Hide
Fjord-like Lake and return to Shkodra
A taxi arrived in the morning to bring us to Koman Lake. The lake was artificial, but this fact did not make it less beautiful! It reminded us of the scenic Norwegian fjords! Every view was genuinely breathtaking. After the boat ride, we went back to Shkodra by minibus to pick up the car and drove towards an agritourism farm where we would spend the night. It was a little gem booked for us by Velstana!
Such a relaxing vibe! And I must say that it was where we had our best dinner in Albania (if not ever!).
Read more
Hide
Arrival at the Adriatic sea
That was the first day of our beach holidays. The first stop was at Orikum at the Adriatic Sea. After we checked in at a very cosy family-run hotel with a gorgeous sea view from our room, we went for a little excursion to the Zvernec island, which can be reached only by a narrow pedestrian wooden bridge. The island is home to a small and beautiful monastery. 
Llogara pass and secret beaches
The next day we left the Adriatic Sea for the Ionian Sea. The road ran through Llogara pass. There we both did tandem paragliding. The view above the sea, the mountains and the cliffs was spectacular! We sunbathed on a secret pristine beach in the afternoon before checking in at our amazing hotel in Himara. What a life!
Sunbathing day and ghost village
We decided to spend a chill day enjoying several beaches that we found in our customised travel book. We sunbathed, swam and snorkeled for several hours. In the late afternoon, we went to a gorgeous ghost village nestled in the mountains. The sunset was memorable!
Ksamil and amazing archaeological park
That day we explored Butrint, a very interesting archeological site. It was akin to being in Italy or Greece, yet it was still Albania! The site is inscribed on the Unesco World Heritage List, and it is home to interesting history with ancient ruins dating back to the Greeks, Romans and Byzantines. We also did a little boat ride in the salt lagoon of Lake Butrint,
featuring large biodiversity and Ali Pasha's crumbling castle. We spent the night in a seaside resort, Ksamil, at a small, cosy hotel in the centre.
Read more
Hide
Mesmerising blue eye and Gjirokastra
On our way to Gjirokastra, we stopped at the Blue Eye, a mesmerising natural phenomenon. It was actually a large water spring akin to a big eye due to its deep, sapphire-blue water in the centre and shimmering water surrounding it.  We arrived in Gjirokastra, a lovely town listed on the Unesco World Heritage List.
We visited its fortress and bazaar market and walked around its narrow cobblestoned streets. We stayed overnight at a nice guest house. From its terrasse, we had an incredible view over the town and the castle, especially at night. 
Read more
Hide
Visit of Gjirokastra and horse-riding in the mountains
In the morning, we visited several stunning traditional house museums of Ottoman style. Then, we went to the meeting point for a horse-riding adventure. We had never really practised it before, but we both enjoyed this experience a lot! Everything looked slightly different from the horseback.
We enjoyed stunning views of the city and mountains. In the afternoon, we drove to another UNESCO-listed treasure, the city of Berat.
Read more
Hide
City of a thousand windows
Berat is called the city of a thousand windows; once you get there, you immediately understand why! Veltana arranged a private guided tour to better understand the town and its history. In the afternoon, we took a scenic road to visit a beautiful waterfall
situated not far away from Berat. In the evening, after a delicious dinner, we sipped some wine on the terrace of our guest house and enjoyed the marvellous view of the city. 
Read more
Hide
Last day in Albania
On our way to Tirana airport, we made the last stop in Preza, a small picturesque village situated on a hilltop and featuring a castle. The view of the Tirana valley, Kruja and the Adriatic Sea from the castle's tower was amazing. Lastly, we returned the car and got in time for our flight home.
Pricing and services for this romantic road trip trip: 1,300 € per person
Included:
13 nights (breakfast included) in a standard double or twin room in 3* superior, family-run hotels or guest houses

Car rental for 14 days

,

including third-party liability insurance and standard coverage in case of damages and theft (CDW and TP) 

 

2 private guided city tours in Tirana and Berat, respectively

 

Horseback riding

 

Tandem paragliding

 

Travel Book accessible anywhere, anytime, including a one-of-a-kind itinerary

 
Excluded:
Flight tickets

Car fuel and security deposit for the car rental

Additional car coverage (on request)

 

Minibus transfers from Shkodra to

Theth

and from Valbona to Shkodra

 

Bike rentals

 

Personal expenses

 

Museum, castle, and archaeological park entry tickets

 

Lunch and dinner

Travel insurance
The abovementioned sample prices are for guidance only and are not binding. The total cost of your holiday will depend on a number of factors, including time of year of travel and choice of accommodation and transport. The actual cost of your holiday is as set out in the Booking Confirmation.