Wellness, Food & Wine · Culture · Outdoor Activities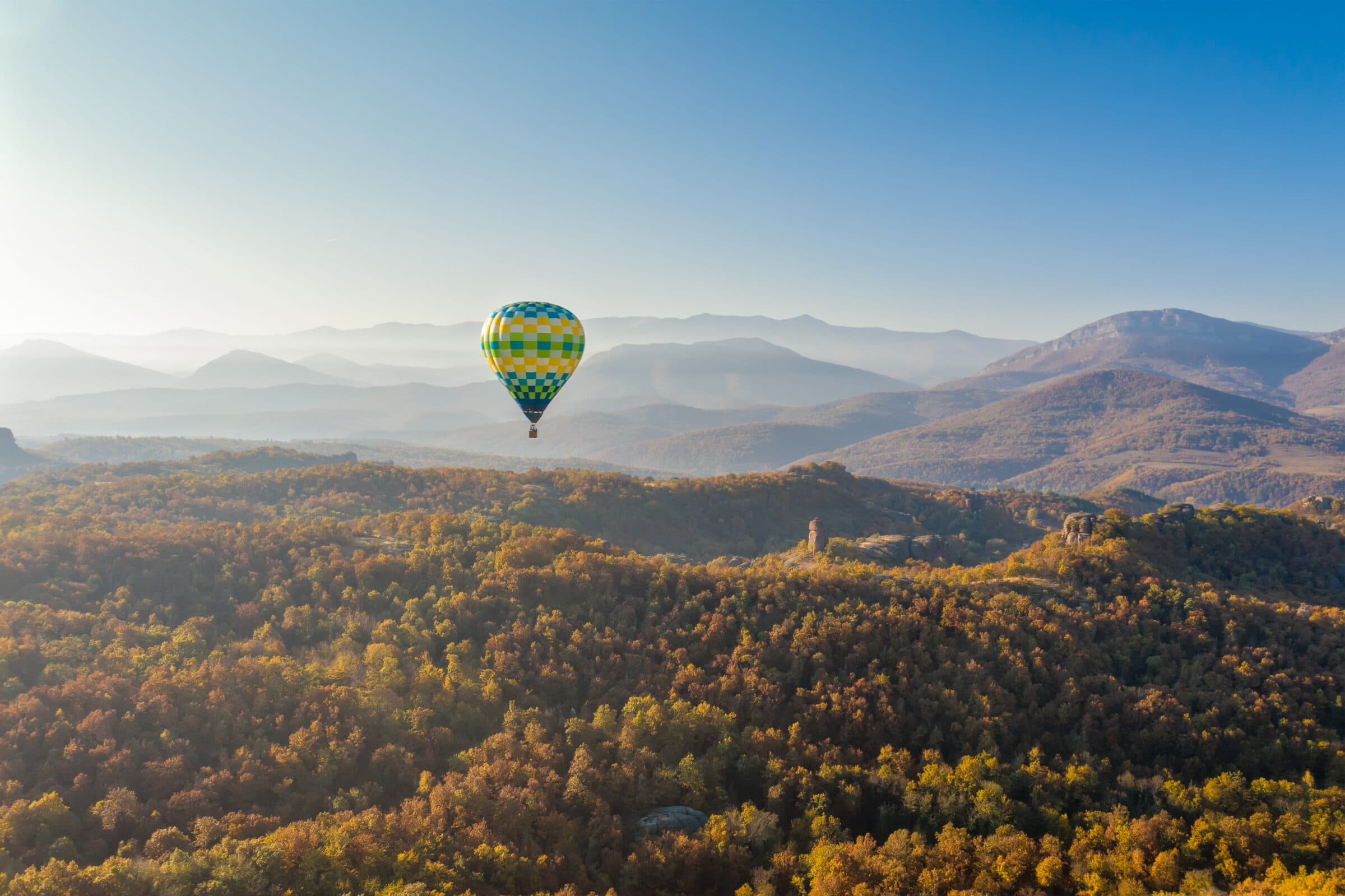 A Belgian couple decided to treat themselves to an outstanding tailor-made journey to Bulgaria.
The call
Anastasia called us on time – we had booked a time slot on the website – and asked us a series of relevant questions about our specific needs and interests. Within half an hour, we built together an exclusive trip customised to our preferences.
We explained that we had in mind a short 5-day trip during the summer, including outstanding services that would not cost us a fortune. We wanted our journey to be relaxing and cultural at the same time.
Anastasia recommended that we spend some time in the Bulgarian capital, Sofia, as well as in the 2019 European capital of culture, Plovdiv. Private city tours with a guide speaking our mother tongue would be arranged to explore each city. We would also stay and relax on the road between the two capitals in an amazing spa complex surrounded by vineyards. We would rent a car throughout our journey, but the daily drive would be relatively short, not exceeding two hours a day.
In addition, she suggested us having two memorable experiences: an open-air opera taking place in an ancient Roman theatre and a hot-air balloon private flight above the Rose Valley.
Concerning accommodation, we stressed that we wanted to stay in high-end hotels if possible.
The reservation
Anatasia emailed us a detailed description of our tailor-made holidays and a quotation the following week. It included all the elements we discussed and agreed upon during our call. She also provided us with useful advice to purchase our flight tickets.
As a result, we approved and signed the quotation electronically and paid a deposit. As soon as we booked our air tickets, we forwarded our flight details to Anastasia so that she could arrange a smooth transfer from the airport. We were looking forward to our romantic holidays!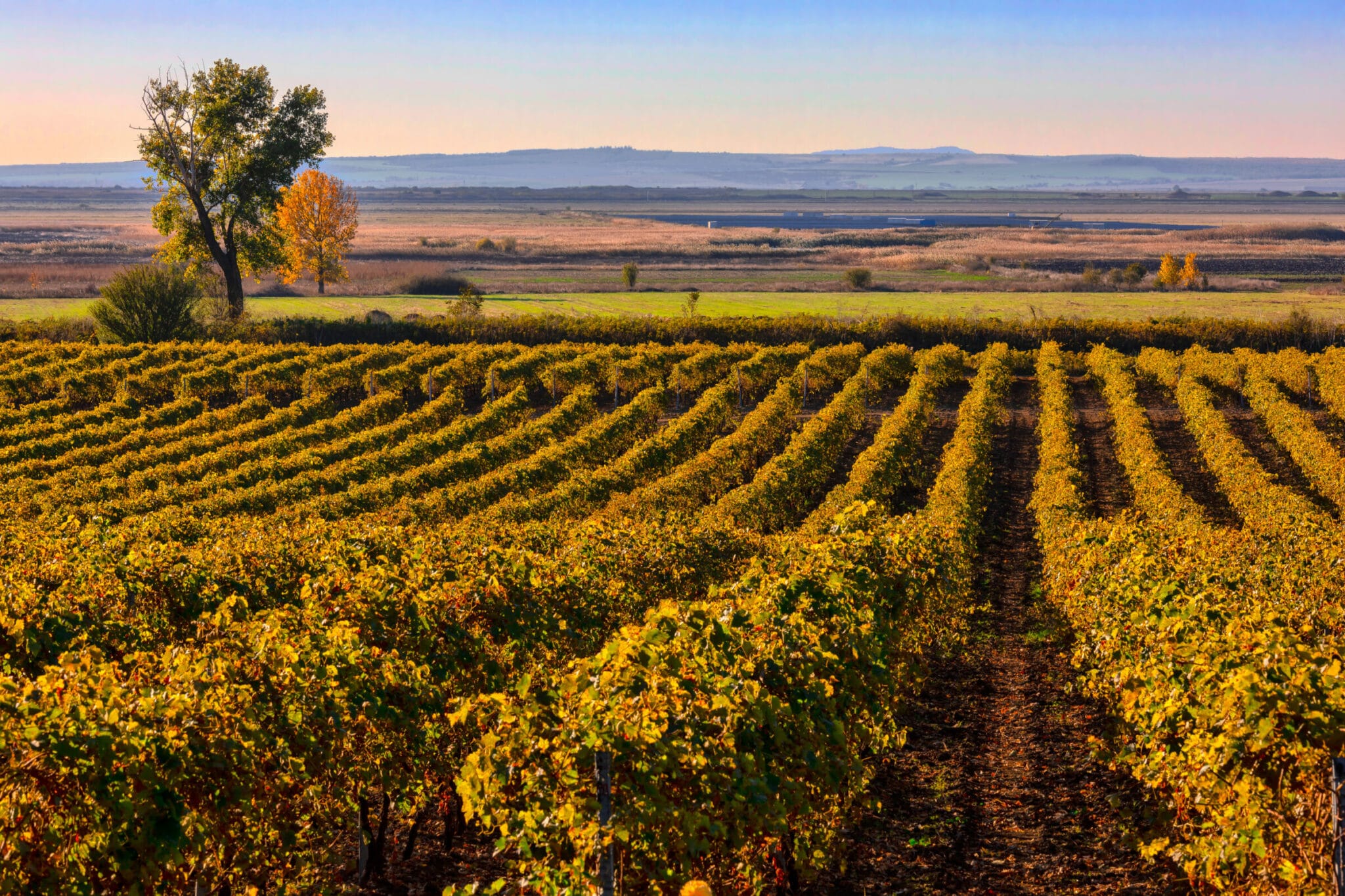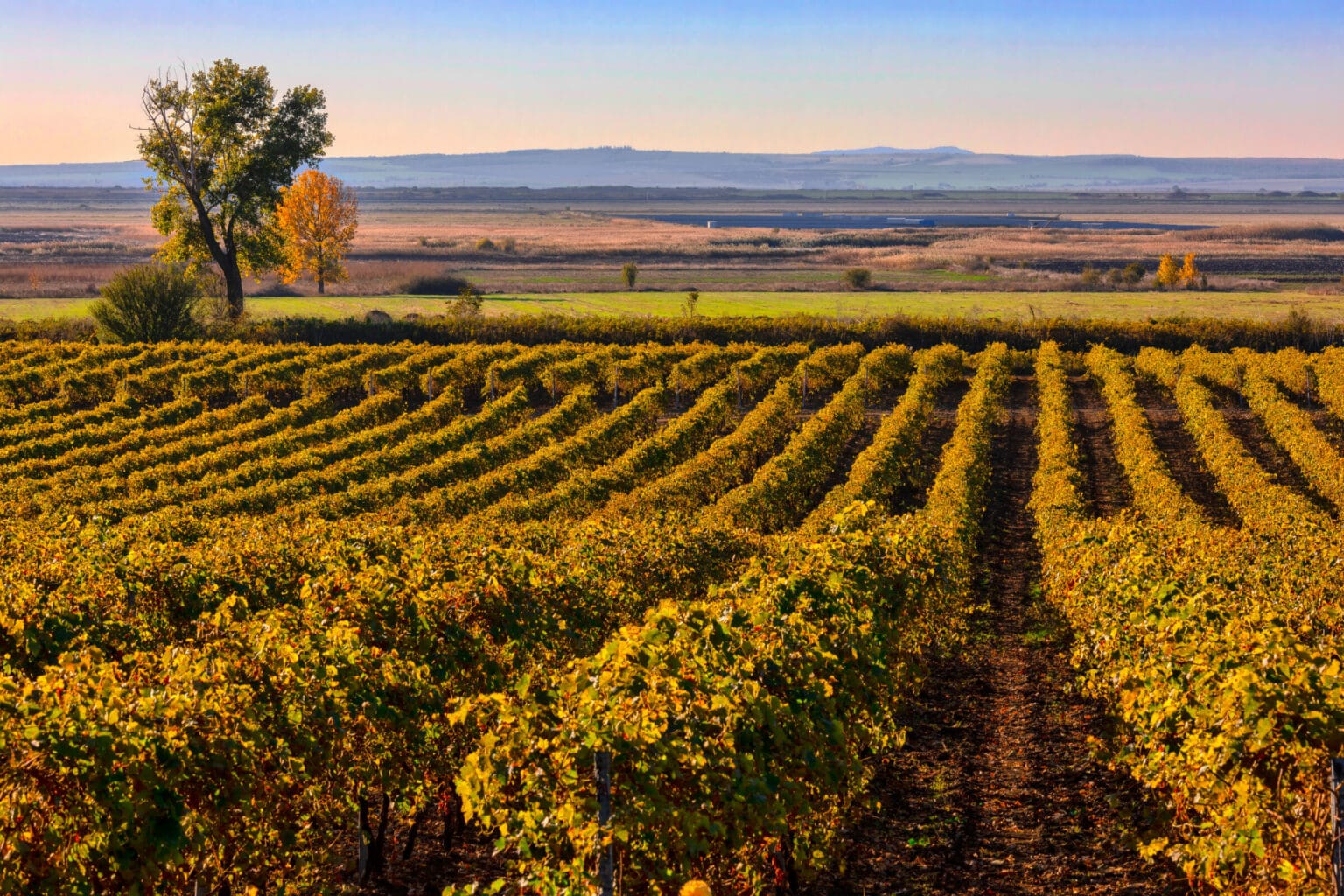 The preparations
Two weeks before departure, we received a comprehensive travel book setting out the complete itinerary by email. It also included many other things, such as travel advice and recommendations of restaurants and Bulgarian cuisine.
Thanks to a specific reference number sent by Velstana, it was also available online via a link and on a handy free app – that can even be used in offline mode – available for iOS and Android devices.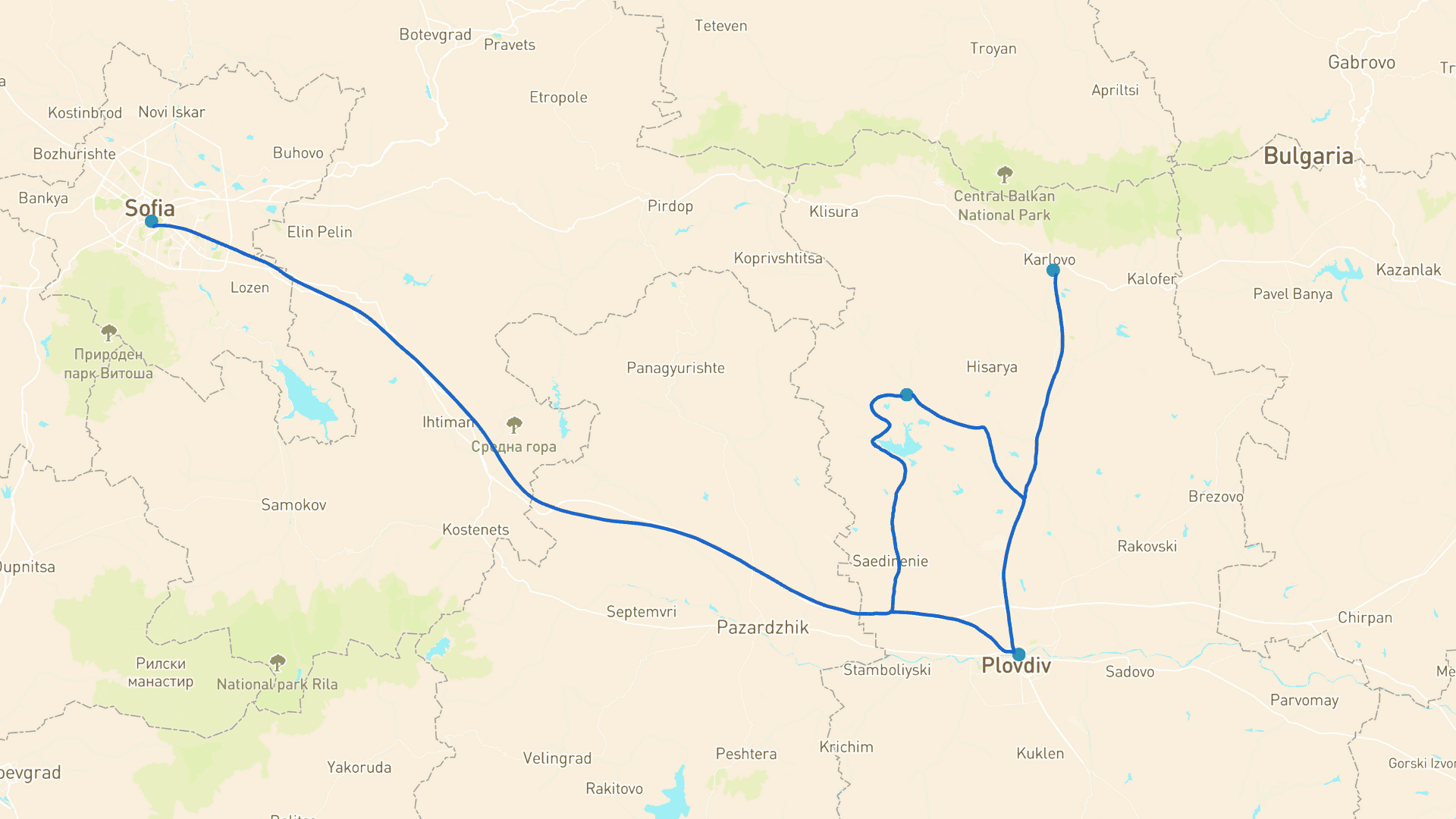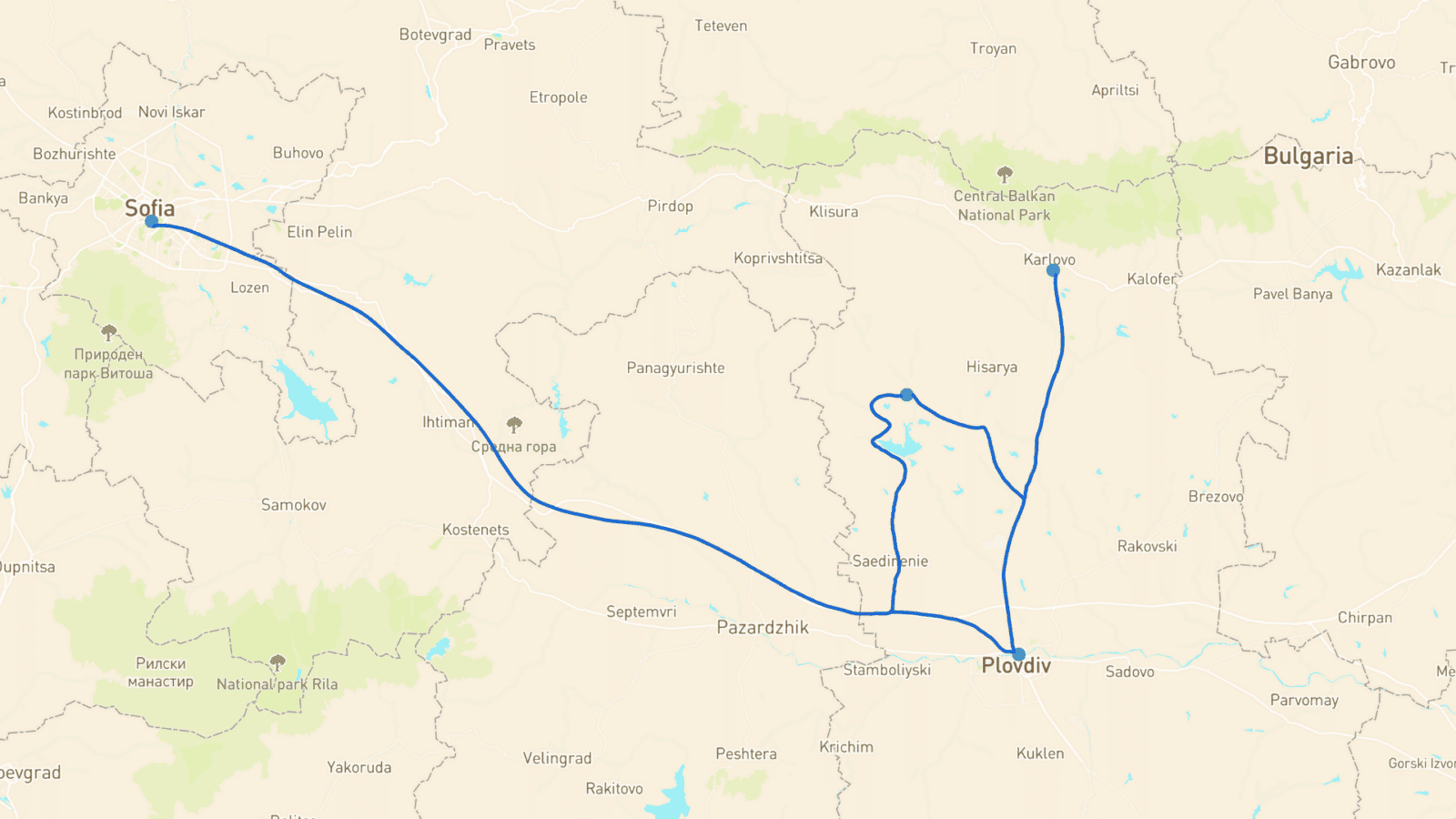 Trip details
First steps in the Bulgarian capital
Upon arrival at Sofia airport, a driver was waiting for us with a nameplate. He drove us to an amazing 5-star hotel in the heart of Sofia. A French-speaking guide came to the hotel reception in the afternoon and picked us up for a 2½-hour private city tour.
We then had dinner in a classy restaurant – a table was kindly reserved for us by Velstana. The food and wine were both exquisite!
Read more
Hide
Wellness & Vineyards
After an amazing rooftop breakfast, the rental car was delivered to the hotel address. We drove for a little less than two hours and arrived at a superb spa hotel surrounded by vineyards and wineries. The scenery was stunning! We unwinded and had a unique massage based on wine products.
Before dinner, we took part in a guided tour of the winery followed by a wine tasting. It was a great experience that ended up with a nice dinner at sunset in the hotel's restaurant situated just meters away from the vineyards.
Read more
Hide
Plovdiv & Opera in an ancient Roman theatre
In the morning, we relaxed a little longer at the spa centre. Then we went to Plovdiv - the 2019 European capital of culture - and wandered around to soak up its atmosphere. We attended an open-air opera in an ancient Roman theatre.
It was an unforgettable evening! We stayed at a luxury hotel.
Read more
Hide
A flight above the Rose Valley
We had a memory for a lifetime with a thrilling balloon flight above the Rose Valley for just the two of us! We had a fascinating 2½-hour private guided city tour back in Plovdiv in French.
Last stroll in Plovdiv
After breakfast, we strolled once more in the cobbled streets of Plovdiv. Then we drove to Sofia airport to return the car and be on time for our flight back home.
Price and services for this outstanding journey: €960 per person
Included:
4 nights (breakfast included) in premium double room or suite of high-end hotels

Private transfer from Sofia airport to the hotel

Car rental for 4 days (SUV with automatic gearbox) with third-party liability insurance and standard coverage in case of damages and theft (CDW and TP) + car delivery to the hotel 

Private city tour of Sofia with a French-speaking guide

Private city tour of Plovdiv with a French-speaking guide

Guided tour of the winery and tasting of 5 selected wines

70-minute massage

Hot-air balloon private (VIP) flight

Travel Book accessible anywhere, anytime, including a one-of-a-kind itinerary
Excluded:
Flight tickets

Car fuel and security deposit for the car rental

Additional car coverage (on request)

Lunch and dinner

Travel insurance
The abovementioned sample prices are for guidance only and are not binding. The total cost of your holiday will depend on a number of factors, including time of year of travel and choice of accommodation and transport. The actual cost of your holiday is as set out in the Booking Confirmation.